Sledding Yellowstone National Park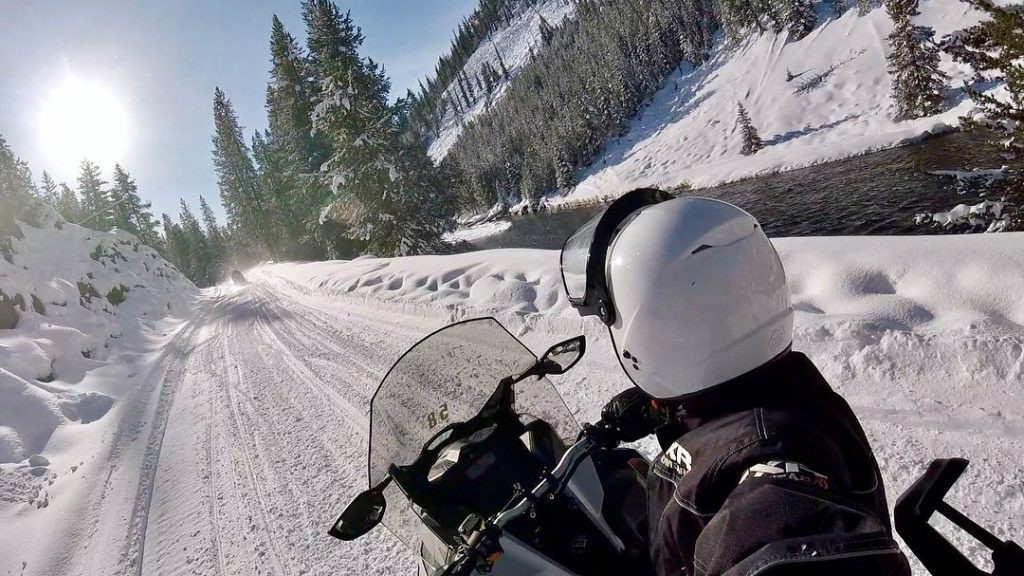 Photo, @piersconstable
Topping the list of places to sled, 
Yellowstone Country Montana
 is a 
premier snowmobiling destination
. But, you might want to take a break from
the adrenaline rush to explore 
Yellowstone National Park
. We can't say it enough— if you haven't visited the park in winter, you should, without a doubt, add it to your bucket list.
There is something truly magical about winter in the park— solitude meets beauty, and a whole lot of it. Yellowstone is home to over half of the world's geysers, and these otherworldly hot spots, along with full-spectrum pools, fumaroles, hot springs and bubbling earth, seem especially steamy and vibrant set against the backdrop of pure white snow and impossibly blue skies. If you're not afraid of the brisk morning air, visit the Lamar Valley in search of the elusive gray wolf. You'll also find Yellowstone's iconic bison wearing heavy coats of ice.
Brave the cold and don your bathing suit for a dip in the famous Boiling River. Just outside of Mammoth Hot Springs, the Gardner River combines with hot-spring waters, creating the perfect temperature for a soak in nature's hot tub.
The majority of park roads close in early November, with the exception of the road from Mammoth Hot Springs to the northeast entrance and
Cooke City
, another premier snowmobiling haunt. But, if you're still eager for a day on the sled, it's not a problem. Snowmobiling in Yellowstone is not your typical sledding experience. To decrease noise and relieve pressure from park wildlife, snowmobile excursions in the park are offered through
guided tours
. It's a good time to slow down and take in the allure.
This isn't an all-or-nothing proposition, however; if you really want to explore on your own, Yellowstone National Park offers a 
Non-Commercially Guided Snowmobile Access Program
. This allows up to four non-commercially guided groups to enter the park daily, one at each oversnow entrance. Permit applications are accepted September 1 – 30, and permits are awarded in early October through a lottery.
If not everyone in your party is ready to power up a sled, the park can be accessed this time of year by 
snowcoach
. These over-the-snow vehicles offer park tours without having to brave the elements. Think all-terrain vehicle meets tour bus.
Interested in learning more about Yellowstone? Try a 
ranger talk
 by snowshoe.
Feel like getting some exercise? Rent or bring your Nordic skis and explore deep into the park along one of the many beautiful 
ski and snowshoe trails
.
For a real treat, plan to stay overnight. There is nothing quite like being immersed in a true winter wonderland. Two of Yellowstone's lodges remain open in the winter— 
Old Faithful Snow Lodge and Cabins
 and 
Mammoth Hot Springs and Cabins
— both offering warm meals and cozy beds.
As for the rest of your stay, the towns of 
Gardiner
, 
Cooke City
 and 
West Yellowstone
 are all located at park entrances and offer warm and friendly lodging, dining and entertainment experiences. Book early— rooms fill up fast!
For more information on visiting Yellowstone National Park in the winter, go to 
visityellowstonecountry.com
.