Montana's Yellowstone Country: Most Beautiful Drives
-Story and photos by Melynda Harrison
Montana's Yellowstone Country is a land of rugged beauty and tranquil landscapes, where the majesty of the mountains meets the wilderness of Yellowstone National Park.
One of the best ways to experience this natural wonderland is by taking a road trip on its scenic highways and byways.
From winding mountain roads to serene stretches of highway, here are some of the most beautiful drives in Montana's Yellowstone Country, complete with key places to stop along the way.
Beartooth Scenic Byway
Distance:
Approximately 68 miles
Start:
Red Lodge, Montana
End:
Cooke City, Montana
The
Beartooth Scenic Byway
is often hailed as one of the most stunning drives in the United States, and it's not hard to see why. This road winds its way through the towering Beartooth Mountains, offering breathtaking views at every turn.
We try to get into the Beartooths a few times each summer, and the "most beautiful drive in America" is a great way to get up high where sparkling lakes and alpine meadows dot the landscape.
The Beartooth Highway is typically open from late May to mid-October, depending on weather conditions. It's best to check the 
Beartooth Highway status and road conditions
 before planning your trip.
Key Places to Stop on the Beartooth Highway
There are so many places to stop along the way and enjoy the scenery, take a hike or angle for trout. Pull over as inspired—there are many pullouts and parking areas along the way.
A few of the many highlights include:


Rock Creek Vista Point: This viewpoint offers an awe-inspiring view into the Rock Creek Valley.


Beartooth Pass: As you climb to an elevation of over 10,000 feet, stop at Beartooth Pass for panoramic views that stretch as far as the eye can see.


Beartooth Ravine Interpretive Site: Learn more about the unique ecology and geology of the Beartooth Mountains at the Beartooth Ravine Interpretive Site. It's a fantastic opportunity to gain insight into the natural wonders that make this area so special and get a good look at the newest section of road.


Cooke City-Silver Gate: These charming mountain towns at the end of the byway are a great place to relax and grab a bite to eat before or after your drive.


Restaurants en Route:



Top of the World Store (a few snack items and drinks)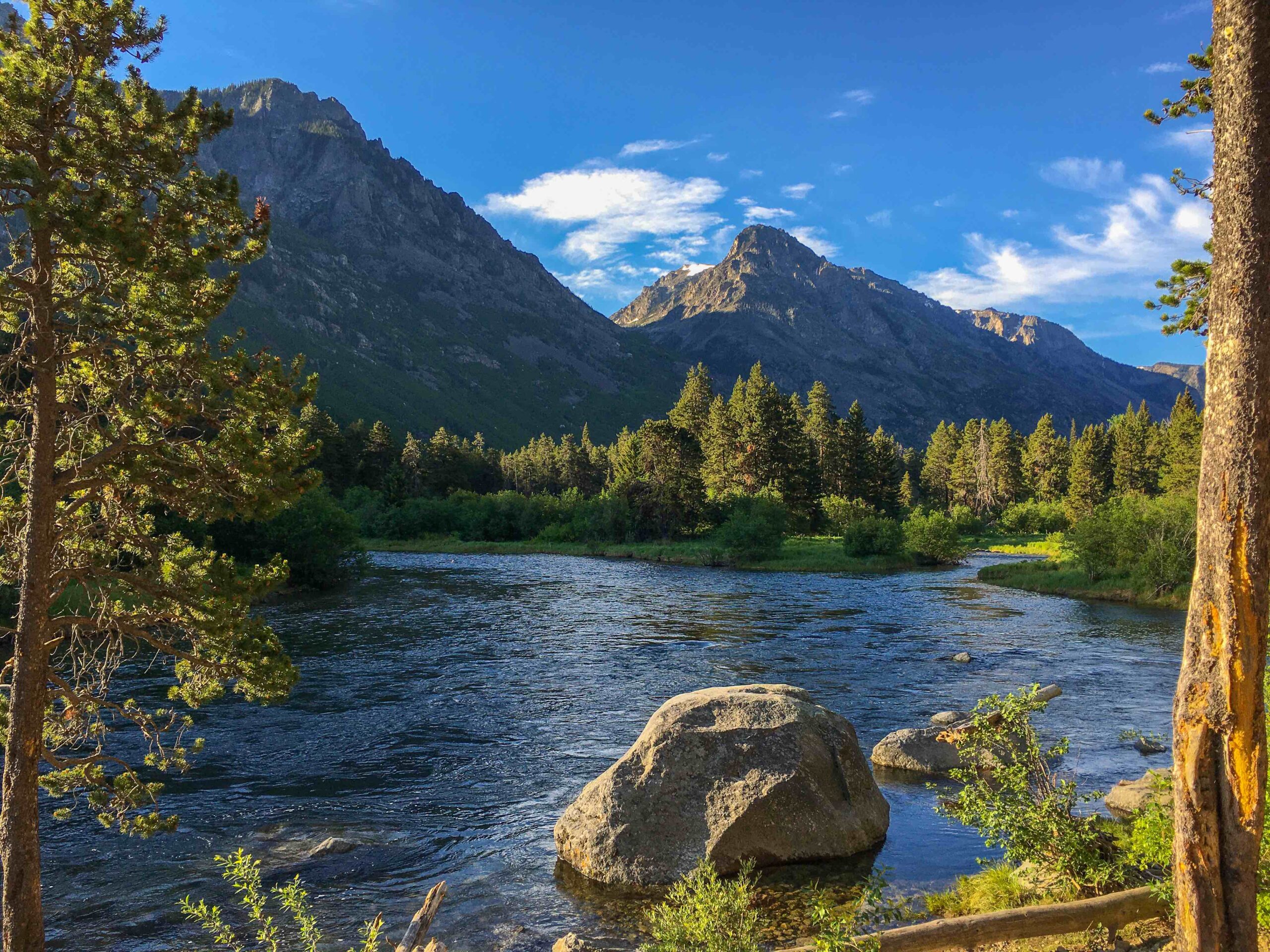 Nye Road (Absarokee - Woodbine Campground)
Distance:
Approximately 31 miles
Start:
Absarokee, Montana
End:
Woodbine Campground, Montana
Nye Road is a short but incredibly scenic drive that takes you along the banks of the picturesque Stillwater River. The road is flanked by lush forests and rolling hills, making it a peaceful and refreshing journey.
Key Places to Stop:


Stillwater River: Pull over and enjoy some fly-fishing or simply dip your toes in the crystal-clear waters of the Stillwater River. Old Nye Picnic Area and Fishing Access is a great place to get close to the river.


Woodbine Campground: Woodbine Campground offers a serene setting and access to hiking trails. The 1.5-mile (round trip) trail to Woodbine Falls is lovely, and the 260-foot waterfall makes the 300-foot climb worthwhile. If instead of turning into the campground you continue straight to the Stillwater Trailhead, there's another fun walk. The Stillwater Trail to Sioux Charlie Lake is a mellow, but dramatic trail. It starts out in a rocky canyon where the river cascades over shelves and dances among the rocks. At around 3 miles you reach Sioux Charlie Lake, which is actually a widening in the Stillwater River.


Restaurants en Route: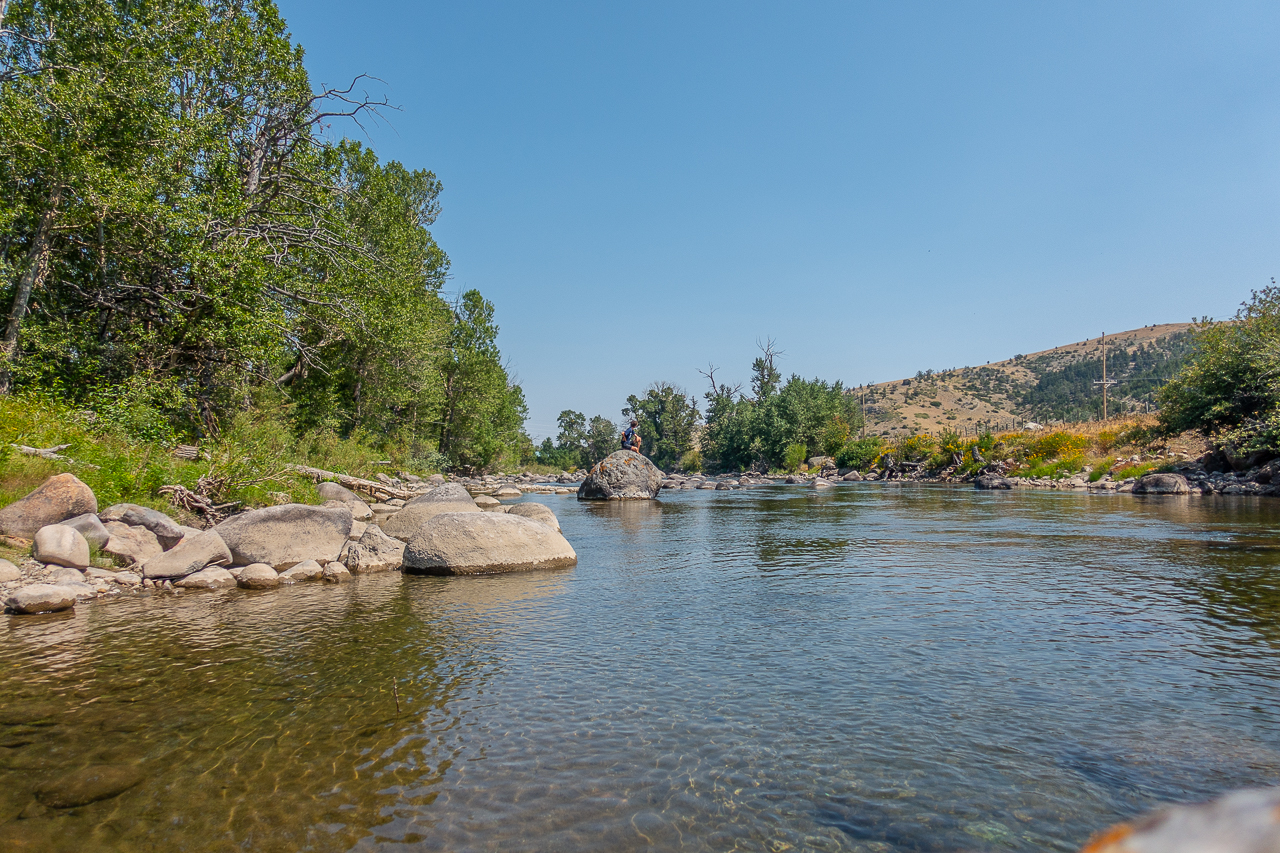 Boulder Road (Big Timber - Natural Bridge Falls Picnic Area)
MORE ON THE BOULDER RIVER: https://visityellowstonecountry.com/a-day-on-the-boulder-river
Distance:
Approximately 25 miles
Start:
Big Timber, Montana
End:
Natural Bridge Falls Picnic Area
The Boulder Road takes you through Montana's rolling foothills and provides a glimpse into the state's rich agricultural heritage. This drive offers a more relaxed pace compared to some of the more rugged mountain routes.
Key Places to Stop:


Big Timber: Explore this charming small town, known for its historic Main Street and welcoming cafes. It's a great place to start your journey and grab some supplies for your picnic.


Boulder Forks Fishing Access Site: Wade around in the Boulder River, cast a line for fish and cool down. Big boulders dot the river and cottonwoods provide some shade.


Natural Bridge Falls Picnic Area: The highlight of this drive is undoubtedly the Natural Bridge Falls Picnic Area; the Boulder River drops under a limestone ledge and appears downstream as a waterfall. Take a short hike to witness this remarkable geological wonder, read the interpretive signs and enjoy a leisurely picnic in this beautiful natural setting. The picnic area provides tables and grills.


Restaurants en Route
Hwy 191 (Bozeman - West Yellowstone)
Distance:
Approximately 90 miles
Start:
Bozeman, Montana
End:
West Yellowstone, Montana
Hwy 191 through Gallatin Canyon and Yellowstone National Park is a spectacle of nature. You'll traverse through a dramatic canyon, skirt along the picturesque Gallatin River and drive through a section of Yellowstone National Park.
Key Places to Stop:


Gallatin Riverside Trail: Stretch your legs along the Gallatin Riverside Trail. This path offers a tranquil walk along the Gallatin River, where you can enjoy the soothing sound of flowing water, watch kayakers and rafters bounce by, pause under looming cliffs, and enjoy getting out of the car and into nature. Park at the Lava Creek Trailhead or Storm Castle/Garnet Mountain Trailhead. The trail runs for about 2.75-miles between the two trailheads.


Big Sky: The town of Big Sky offers excellent dining options and opportunities for outdoor recreation. Take some time to explore the vibrant mountain community and soak in the majestic views of the surrounding peaks.


Baker's Hole: Located along the Madison River, Baker's Hole is a popular fishing area and campground. It's a great spot to cast a line, have a picnic or simply relax by the river and take in the natural beauty.


West Yellowstone: Your journey ends in the charming town of West Yellowstone, which serves as the perfect gateway to the wonders of Yellowstone National Park. Here, you can visit the park's informative visitor center, dine at local restaurants and prepare for your adventure into the park itself. West Yellowstone also offers various accommodations for those planning to stay overnight.


Restaurants en Route:


Bozeman


Four Corners


Gallatin Gateway


Big Sky


West Yellowstone


All four of these scenic drives offer captivating views and diverse landscapes, which are sure to leave you in awe of the natural beauty that this region has to offer.
Prepare to be enchanted by the wonders down the road.
There are a few principles of Montana's Recreate Responsibly guidelines that especially apply to driving Yellowstone Country's backroads.
Know before you go.
Some roads are only open in summer or depending on weather conditions. Check the Montana Department of Transportation website for road conditions before you go.
Cell service is spotty or nonexistent on these byways. Download an offline map before you go and be prepared for any emergencies that may arise, as you might not be able to call for help.
Plan where you are going to eat, or pack a picnic, since a restaurant may not be readily available when you get hungry. Carry water or other hydrating beverages with you.
Wildlife safety.
It is likely you will see wildlife on these drives; I hope you do! Just be sure to stay alert while driving, both for the safety of animals on the road and other drivers who have stopped to watch wildlife.