Winter Camping! 6 Year-Round Forest Service Cabins in Yellowstone Country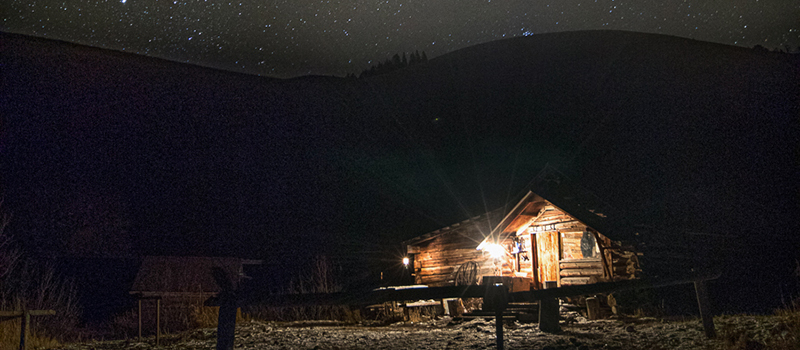 Photo by Andy Austin
There's something inherently romantic about cabins. Not in the amorous sense, but in the idealized version of the experience. Tucked away in the quiet of the woods, a simple, primitive feeling takes over. The pace slows down and time becomes irrelevant. Winter amplifies this experience, giving everything a crisp edge and a brisk energy.
Yellowstone Country is home to 24 Forest Service Cabins, many of them available year-round. These primitive cabins are often only accessible via skiis, snowshoes or snowmobile, adding another layer of adventure to the experience. Most cabins have a wood stove for heat, with firewood supplied during the winter months and beds with mattresses. You'll need to bring your own food, water, cooking supplies and bedding.
While there, spend your days exploring the backcountry; it's likely you'll be one of the few people in the area. But don't limit your explorations to the daytime, step out under the night sky for a show unlike anything you'll find in urban areas. Away from the noise pollution, the stars are thick and spectacular. If you time it right, you can ski or hike under the moonlight. You'll be pleasantly surprised at how the moon illuminates the snow, lighting things up as though it's daylight.
Bring a deck of cards, a good book and some hot beverages to round out a relaxing stay.
Big Sky
Spanish Creek Cabin
Situated in the Lee Metcalf Wilderness, an important wildlife corridor, Spanish Creek Cabin sits in a large meadow, reached by a 3.5-mile hike, bike, ski or snowshoe. A network of trails for Nordic skiing runs through the wilderness as well as non-wilderness areas. The cabin is accessed via Big Sky, so if you're a downhill skier, you'll want to plan a day at Big Sky Resort on either end of your stay.
Livingston
Mill Creek Cabin
This cozy, 4-person cabin has a back porch that overlooks Mill Creek, a tributary of the Yellowstone River, along with an electric range and lights. Nearby snowmobile trails make this a favorite for sledders, and the local hot springs,
Chico Hot Springs
and
Yellowstone Hot Springs
are perfect side-trips.
Wilsall
Porcupine Cabin
One of the most stunning, rugged and least-accessed mountain ranges in Yellowstone Country is the Crazy Mountain Range. Porcupine Cabin overlooks the Shields Valley with view of the northern peaks of the Crazies. This is one of the larger cabins, holding up to 8 people. You can access the cabin through
Livingston
, and we highly recommend an afternoon or evening exploring this quaint town full of great art, good food and friendly people.
Big Timber
Four Mile Cabin
Located near Fourmile Creek, this is one of three cabins in the Absaroka-Beartooth Wilderness, accessed by skiing, hiking or snowshoeing 3.5 miles in. Nestled in a canyon, in an open, grassy area, the cabin holds four people and has both an electric stove for cooking and a wood-burning stove for heat. The area is ideal for Nordic skiers. Be sure to stop for cinnamon rolls at
Big Timber Bakery
!
Bozeman
Battle Ridge Cabin
A short half hour drive from Bozeman, up beautiful Bridger Canyon, and you'll arrive at the trailhead for Battle Ridge Cabin. From there, it's a short ¼ mile hike or ski into this cabin that can house 4-5 people. This cabin is located in one of the more forested areas, but there are still plenty of options for Nordic skiers and snowshoers. If you're bringing the little ones, you'll also find some great sledding terrain.
Crosscut Mountain Sports Center
, located just a few miles down the road, is a must-do for Nordic lovers.
West Yellowstone
Beaver Creek Cabin
Beaver Creek Cabin is located just 10 miles from Hebgen Lake, and 30 miles from Yellowstone National Park, both worthy winter jaunts for ice fishers and those wanting to get a taste of Yellowstone in its winter whites. Accessible only by snowmobile, snowshoe or skiing, it's a short 3.5 miles from the trailhead, and is tucked up under Hilgard Peak, the highest peak in the Madison Range at 11,316 feet.
For all available Forest Service cabins, go to
Recreation.gov
.