Photo, Loretta Hurley
Sometimes you just need to get out of dodge—to put on your traveling boots and set out on a mini-adventure. Living in Yellowstone Country, the opportunities for adventure are endless, and even the most ambitious explorers would be hard-pressed to experience everything. Personally, I am amazed at how many places I have yet to see, all within a couple hours of home.
For this reason, when I started itching to get out of town I gathered my sweetheart for a surprise visit to Big Timber, MT. Situated between the majestic Crazy Mountains and the beautiful Boulder River Valley, the countryside is sprawling and gorgeous—perfect for some much needed R&R.
In 1895, Big Timber had the largest wool market in the United States, shipping more than 5 million pounds of wool that year. To really get a feel for the vast land where these sheep were raised, take a side trip on U.S. Highway 191 through the rolling hills to Melville, Montana. Though the town is tiny, it's worth the drive to see the historic Melville Lutheran Church, built in 1912. Framed by the Crazy Mountains, the congregation has done an exceptional job maintaining and preserving the building. Time your day to include a stop at Bill's Place Diner for lunch or dinner. (Insider's tip; they are known for their barbecue.)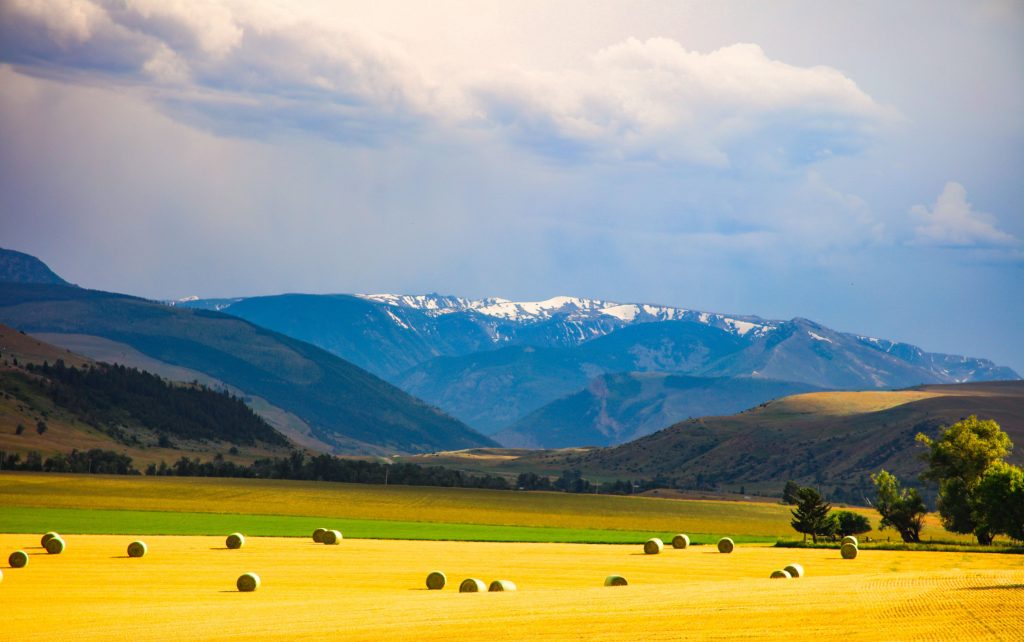 Photo, Loretta Hurley
Although I'm a hiker rather than a hunter, my partner loves to hunt. After studying public land use maps, our plan was to take a drive along the Boulder River and scout out potential hunting spots. I knew the area was said to be beautiful, but I had no idea just how breathtaking it would be. We visited in the fall, and the golden hues of the fields and hillsides shed a warm light over the entire valley. The plan was to visit Natural Bridge Falls and meander our way back. Unfortunately, we quickly realized that hunting was not going to be an option. Large family ranches line the banks of the river and for miles on end, hundreds of deer nestled in the middle of the fields, happily feasting on lush grasses. There wasn't a chance of finding game in the surrounding hills.
Photo, Grace Foulk
We continued on to Natural Bridge Falls, which did not disappoint. These falls pour over a 105-foot limestone wall. Historically, they created a beautiful natural bridge, which unfortunately collapsed in 1988. However, the falls are spectacular on their own. The soft limestone has eroded, allowing the river to flow through several underground channels. In low water, above the falls, the entire river goes underground, eventually erupting from several places and shooting out to create a river bursting from the cliff walls.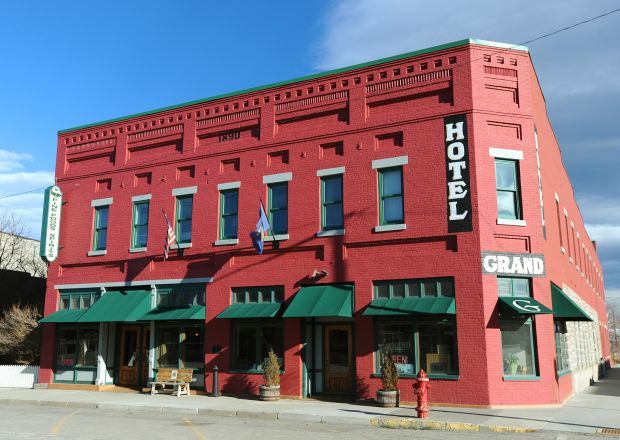 It was later in the evening when we arrived at The Grand Hotel so we weren't able to explore the shops, but it's true that the town has character. Local favorites such as the Frosty Freez Family Diner or Big Timber Bakery are hot spots for a tasty bite, and if you haven't been to a true quilting shop, it's worth a peek into Little Timber Quilts and Candy.
Known simply as The Grand, the historic hotel has comfortably appointed rooms, a formal dining area, amazing food and a welcoming bar. You can eat in both the bar and restaurant, so we opted for the more casual atmosphere at the bar. A new digital jukebox adorns the wall and is packed with a variety of musical genres.
The menu is delightful, including an impressive lineup of steaks such as the Montana Cowboy Coffee Rub New York cut with caramelized onions and au jus. For something out of the ordinary, try the Braised Pork Osso Bucco with rhubarb piquant sauce. Purists will love the Rocky Mountain Trout. I ordered finger steaks, something you rarely see on menus these days. These breaded and fried little nuggets reminded me of my grandfather, and I just couldn't resist.
The next morning, we accidentally discovered the Sunday brunch, which is more impressive than a special holiday meal. Everything from prime rib to fresh pastries lined the tables with salads, vegetables and breads to round it out.
Our original idea was to spend the second day hiking to Twin Lakes in the Crazy Mountains. Unfortunately, the weather didn't cooperate, so instead we took a side tour to Paradise Valley where we did a casual hike and a long soak at Chico Hot Springs.
Though short, our jaunt was certainly sweet. Big Timber boasts historic landmarks, picturesque scenery and is home to a multitude of charismatic characters always ready with a story. Will we be back? Absolutely.