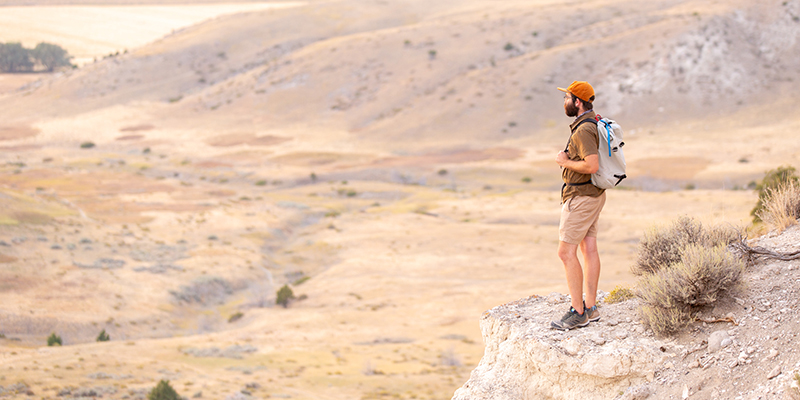 Photos by Jonathan Finch
Montana is rich in public land, beautiful acreages full of outdoor recreation for all to enjoy regardless of age or ability. In Yellowstone Country, we are fortunate to have four state parks within our region, providing camping, hiking, fishing, swimming, boating, biking, and learning about the culture and history of our area.
Two of these parks offer camping, Cooney Reservoir, and Missouri Headwaters, and two are day use, Madison Buffalo Jump and Greycliff Prairie Dog Town. Whether you're exploring for a day or planning an extended camping trip, there are a few things to know before you go!
Fees
Visiting our state parks is affordable. If you are a Montana resident, you most likely already pay your park annual day-use entrance fee when you register your vehicle. As a non-resident, you have a couple of options; a day-use pass is $8 per vehicle or $4 if you walk, bicycle, or arrive by bus. Or, if you plan to visit more than one park, you can purchase a non-resident entrance pass for $50 per vehicle, good for 12 months; for a shorter-term option, a 7-day pass is $35 per vehicle.
There are four options, campsites, cabins, yurts, and tipis if you're looking to camp. Here in Yellowstone Country, you can rent campsites with or without power at Cooney Reservoir, or campsites and a tipi are available at Missouri Headwaters. Some sites are available for reservation; others are first-come, first-served, which you will find noted as "walk-in only" on the state parks reservation website. Fees vary depending on location, type of stay, and amenities available. Montana residents who are disabled, Montana seniors 62 years and over, and Montana veterans receive 50% off camping fees. You can make reservations at https://montanastateparks.reserveamerica.com/.
Before You Get Here
As you're planning for your trip, there are a few things to keep in mind. First, the weather in Montana is unpredictable. Yellowstone Country is high up in the mountains, and a beautiful sunny day can quickly turn into a summer storm. Pack layers of clothing, including a waterproof outer layer. You'll also want to bring ample sun protection; the rays are intense at these elevations and can burn you quicker than you realize! Hats, sunglasses, sunscreen, lip protection, and lightweight, long clothing are essential. You'll also want to bring bug spray; the mosquitos can be thick, mainly near rivers and lakes.
If you are camping, be sure to check the fire restrictions. Most campsites allow campfires within a designated fire pit, but there may be fire restrictions if conditions are dry. If you have a campfire, please be sure the coals are out and cold before sleeping or leaving. Both Missouri Headwaters and Cooney Reservoir have camp hosts who will be happy to bring you up to speed on current restrictions.
Leave no trace. Be prepared to carry out all of your trash and stay on designated trails and within campsite boundaries.
If you're bringing a watercraft, be sure to clean your boat and have it inspected. If you are coming from Idaho or Wyoming, those inspections will qualify in Montana. Invasive species can become devastating to our waters; please be vigilant in helping to keep them away. You can find a complete list of how to prepare your watercraft here. Please be courteous at boat launches. Get your craft in quickly and don't linger so others can also enjoy their time.
Once You are Here
Be sure to review park amenities before you head out. There are no concessions or retail at any of Yellowstone Country's state parks, so you'll need to bring your food, drinks, and other supplies. There are charming towns near all of our parks where you can stock up or simply spend some time enjoying the restaurants and retail shops!
Pets are allowed as long as they are on a leash, and you clean up after them. Please be mindful of other campers; if your dog is particularly "vocal," consider leaving them at home so as not to disturb others.
Our public lands are indeed a treasure, a piece of nature we all have access to. We invite you to enjoy them.