Vegetarian Fare in Montana's Yellowstone Country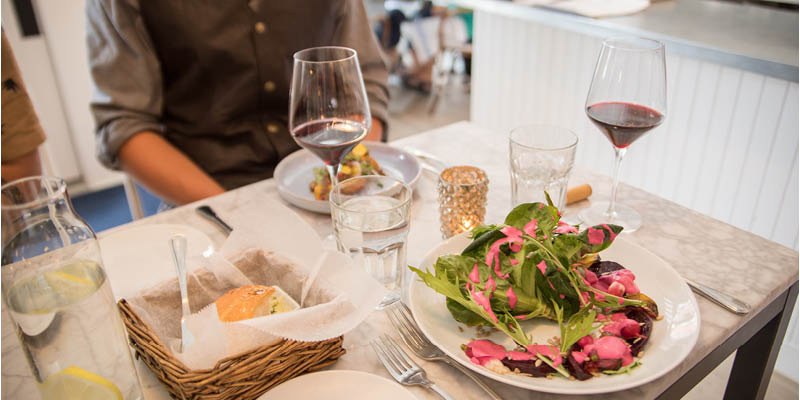 Eating a plant-based diet isn't what it used to be. Today's menus are graced with creative, locally sourced, fresh dishes that are every bit as flavorful (and often even more so) than their counterpart meat dishes. As food blogger Sapna Dalal (@vegtourist) said in her recent post, "From the land best known for beef and bison, it's incredible to see how many culinary offerings are now available for those with dietary restrictions. With more and more menus clearly denoting gluten-free, vegetarian and even vegan options, there is no shortage of delicious choices for everyone."
Here are a few of our favorite spots, but don't limit yourself; you'll find great food from one end of the region to the other!
A James Beard Award nominee, PREROGATIve Kitchen has a fun, welcoming atmosphere and a delicious rotating ala carte menu. Vegetarian dishes such as Buffalo Brussels Sprouts and Risotto Sliders are local favorites. Plus, they put a lot of effort into being 
environmentally conscious
.
Neptune's has an extensive menu, including what they call surf-style sushi and coastal cuisine, which resembles what you would get at a local fish shack. The veggie rice bowl sounds delicious, and they have a long lineup of salads. Try the Tofu "Banh Mi" sandwich with blackened tofu, Asian slaw, ginger basil aioli, cucumber slices, and pickled onions on a vegan bun!
A Roman-inspired restaurant, you'll need a reservation in advance for this particular little spot. Come hungry; you'll want to enjoy all the courses, including one of their signature salads, such as Panzanella, arugula, or kale. Other vegetarian options include Pasta Dei Campioni with fresh pappardelle, roasted mushrooms, mustard greens, snap peas, pecorino, olive oil, and cracked pepper.
Everything at Pakeezah is made from scratch, and the quality is exceptional. Choose from 16 different vegetarian entrees, ten varieties of naan, and a great selection of appetizers. Try the Samosa Chaat or the Aloo Tikki – a popular street snack deep-fried with potatoes, veggies, and house ground spices.
For a quick and healthy lunch or dinner, the Co-op has two locations: outstanding soup and salad bars, a rotating hot bar, and grab-and-go sandwiches and salads.
Open Mon-Friday, Farmacy creates vegan bowls with whole foods and healthy ingredients. Choose from many vegetables, fruits, grains, and sauces to make your favorite flavors!
Chef Alex Omania creates authentic Asian cuisine that draws people back repeatedly. The papaya salad is fresh and spicy, the Pad Thai perfectly flavored, and you can't go wrong with any of the curries. Plus, she uses local and organic produce, which takes it to another level of flavor.
After visiting Yellowstone National Park, enjoy a lovely dinner at Serenity Bistro, where they have rotating soups, grains, and vegetables of the day, along with an entrée special. Pasta lovers will enjoy the vegetable pesto pasta with white wine and a light pesto cream sauce.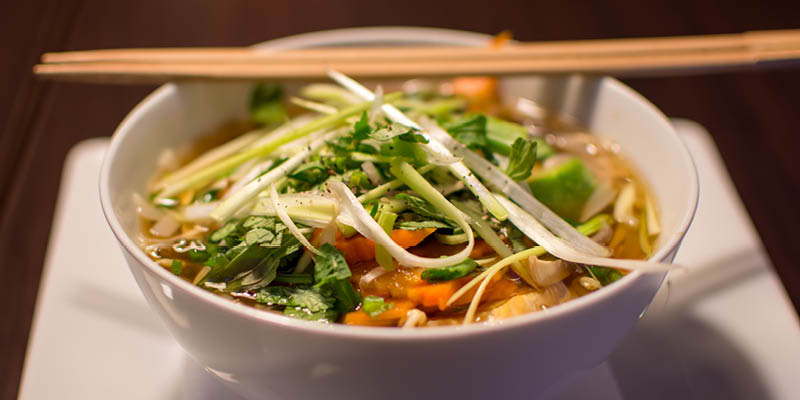 This Vietnamese packs a punch for flavor: bright, fresh, and bold! Enjoy the Broken Jasmine Rice with Tofu or grilled tofu with vermicelli, veggie spring rolls, and a vegetarian salad.
A pop-up restaurant, Ox Pasture, hosts Chef Philip Guardine and his Sicilian kitchen, Piccola Cucina. The menu comprises fresh ingredients, with locally raised beef and vegetables and authentic Sicilian flare.
If you love breakfast, Pinky's is the place to be. They serve only breakfast, and their rotating menu includes creative dishes such as strawberry shortcake French toast, Scotch Eggs, and Eggs Florentine with fresh hollandaise sauce.