Touring Yellowstone National Park in Winter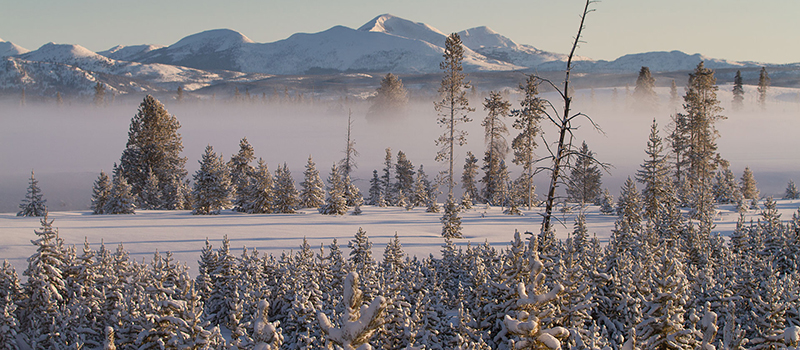 Photo by Dave Hebert
Yellowstone is magnificent in its winter whites. The seemingly endless miles of snow-covered wonderland appear rugged, mysterious, and somewhat surreal. Bison wander among the steamy hot springs, their coats covered in ice. And the hot bubbling mud pots, shooting geysers, and brilliantly colored pools are even more intriguing against the deep snow and blue skies.
Most of the roads are closed to vehicles during winter. (The road from the North entrance at Mammoth Hot Springs to the Northeast Entrance at Cooke City remains open year-round.) While you can still ski or snowshoe into the park, travel by guided snowmobile or snowcoach is the only means of traveling by vehicle.
Local guides bring the park alive. Details about the geography, wildlife, and history give depth to the experience. If you're new to the sport, guided cross-country skiing and snowshoeing trips are also available.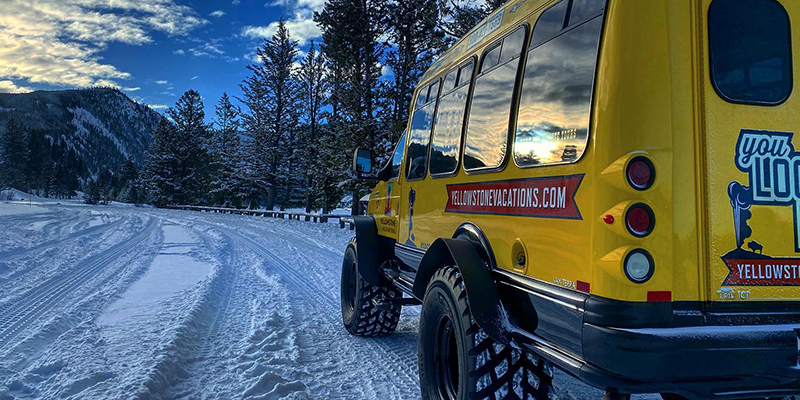 Photo by IG user, @flyin4free
Snowcoaches are small tour buses converted to drive over the snow, generally with tracks instead of tires. There are several authorized tour companies from both the West entrance at West Yellowstone and the North entrance at Gardiner and Yellowstone National Park Lodges within the park. You can choose from short excursions to full days of touring, some focusing on wildlife watching, others taking you to the park's thermal features. Regardless of the tour, you'll have spectacular landscapes, a warm vehicle, and exciting conversation.
Snowmobiles have come a long way; these days, they have elaborate heaters and comfortable seats and are much quieter. Snowmobiles are fun to tour the park, out in the elements and up close to nature. The Non-Commercially Guided Snowmobile Access Program allows four groups access to the park each day without a guide for experienced riders. You can apply to the lottery from August 1-31, with permits being awarded in mid-September.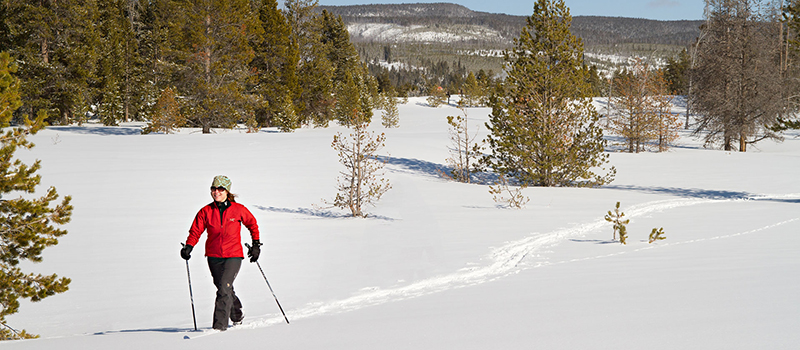 Photo by Dave Hebert
Cross-country skiing is exceptional in the park. A few trails have set track, but all unplowed roads and trails are open for cross-country skiing and snowshoeing. For a day trip, try this Tower Ski Tour, which takes you through Blacktail Plateau, full of wildlife. Or, for a more extended adventure, check out the Yellowstone Yurt Camp. Based out of West Yellowstone, you'll be shuttled into the Cross-Country Ski Camp in the heart of Yellowstone, complete with heated tent cabins and a sauna!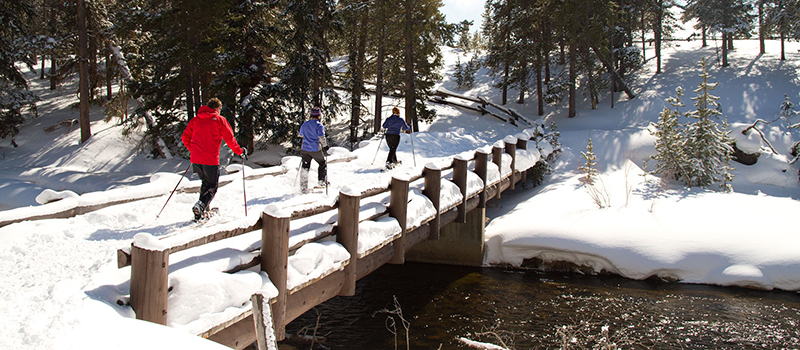 Photo by Dave Hebert
Snowshoeing in the park is one of the easiest and most beautiful ways to explore. Today's snowshoes are lightweight and come in a variety of styles for different terrain. Snowshoes distribute your weight evenly, which keeps you on top of the snow. If you love hiking, snowshoeing is a great way to extend the sport through winter. You can rent cross-country skis and snowshoes at Parks Fly Shop in Gardiner, Free Heel and Wheel in West Yellowstone, or Bear Den Ski Shop in Mammoth.
Regardless of how you choose to explore, be prepared for inclement weather. Dress in layers with a waterproof shell on the outside and wool or synthetic base layers underneath. Mittens are warmer than gloves, and be sure you have plenty of room in your boots to wiggle your toes; if they are too tight, you'll lose circulation, and your feet will get cold. Don't forget sun protection! High altitude sun reflecting off the snow can cause sun damage quickly. Be sure to bring water, snacks, and your camera!
Know Before You Go
Know the public health guidelines before arriving at your destination. Stay home if you are sick. Understand that some services and destinations may be limited.