The People of Yellowstone Country: David O'Connor, Buck's T-4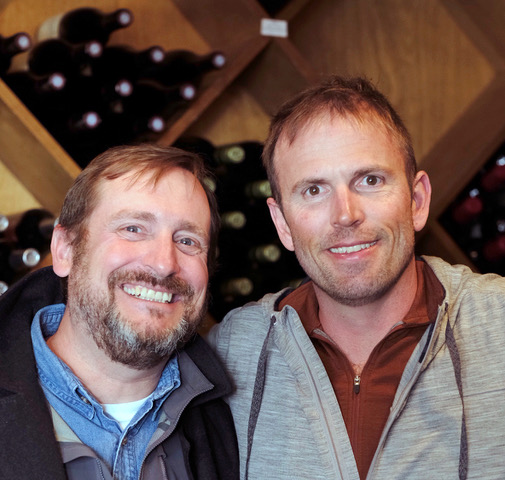 David O'Connor and Porter Elliot
Yellowstone Country is a hidden wine destination, full of people who love good food and good wine. Across the region, you'll find wine lists that rival the best, all paired with amazing local cuisine. We sat down with David O'Connor, co-owner and general manager of Buck's T-4 Lodge & Restaurant in Big Sky, to get his thoughts on what makes a good wine list.
"What's unique about Yellowstone Country," O'Connor begins, "is that many winemakers enjoy coming here, so they make their wines available in this area. Combine that with a wine community that is savvy enough to take advantage, and it makes for some unique and well-rounded lists. With people coming to visit from all over the world, many are pleasantly surprised to find selections they can't get in their hometown."
YC: In your view, what does a great wine program look like?
DOC: Anyone can assemble a huge list of hundreds of wines if they have the budget and storage to do so, but that does not necessarily make a great list.
My favorite wine lists are those that demonstrate a sense of thoughtfulness and intentionality. There should be some stylistic relationship between the wines, the food menu and the restaurant as a whole.
I think diners are not only looking for a bottle they know and love; they are also looking for that element of curation that goes with a well-thought-out list. People are very open to trying something unfamiliar if we can explain why they should stray from their comfort zone for a given wine. If we think it's a good wine, chances are they will, too.
Details matter on wine lists. Each and every label represents a great deal of thought and passion on behalf of a winemaker, a grower and their team; it's important to represent this.
YC: How would you describe the personality of your wine list?
DOC: Our list is managed by myself and our wine director, Porter Elliot. Porter's love of food, wine and traveling through wine country is infectious. He has a great appreciation for the stories behind the wines. You'll often find him showing guests around the wine cellar and pointing out his latest finds. He has a particular affinity for winemakers and growers who are doing cool things and it's reflected all over the list. Each wine on our list is there for a reason.
We shoot for a combination of familiarity and adventure in our selections. If Napa cab is your favorite, we have a selection of cabernet that we feel is truly representative of what makes Napa the world-class wine producing region that it is.
If you tell us you are into trying something new, we can use that taste to drive a recommendation from a different region, grape or winemaker. We will cheerfully serve the familiar, but what we really love is to share these new discoveries and experiences with our guests.
Our menu often features meats and ingredients that are perhaps unfamiliar, which is one of the core reasons people come to Buck's. We are working to present a wine program that expresses that same desire; to try something new, and delicious.
YC: What's your favorite thing about the list?
DOC: I am particularly proud of our appreciation for the myriad stories behind every bottle, and our goal is to try to connect those stories to our own.
Knowing the research, relationships and experience that goes into those selections, I'm proud that our guests appreciate what we are trying to express through our wine program.
Buck's T-4's wine list has been the recipient of Wine Spectator's prestigious "Award of Excellence" since 1995. They feature over 175 selections from dozens of wine regions around the world.