The People of Yellowstone Country; Chef Dave Wells, Chico Hot Springs Resort
It was early fall when I met with Chef Dave Wells, the executive chef at Chico Hot Springs Resort. Located in the aptly named Paradise Valley, the drive alone is gorgeous. For those not familiar, Chico is iconic in Yellowstone Country. A fabulous natural hot springs pool, an exceptional variety of accommodations, outdoor adventures and some seriously tasty food.
When I arrived, Chef Wells immediately took me to the gardens where much of the produce is grown on site. Most of the vegetables had been harvested, but the tomatoes, (an entire greenhouse full) were still prolific. "Try some," he tells me. I opted for a small purple tomato that exploded with flavor, and a ripe green tomato, (yes, it was supposed to be green) that was a bit more tart and equally delicious. Guests are encouraged to tour the gardens. "I think a lot of the tomatoes get eaten by guests," Wells smiles, "but that's what they're here for."
As I was fawning over the numerous varieties of tomatoes, Jeannie Duran, the resort's head gardener, brings Chef Wells three varieties of basil, which he will use for pesto and oils. Even though the garden is winding down, he is still utilizing everything available. "I coordinate with Jeanie to see what's ready and then plan the specials around that," he says. "Tonight's menu is eggplant parmesan. The eggplant is from the garden and the sauce will be made with our own tomatoes, served over homemade noodles."
(Cue: my mouth watering.)
Guests are welcome to tour the gardens and I for one, am planning to return next summer when it's in full swing, including the plum, apple and sour cherry fruit trees.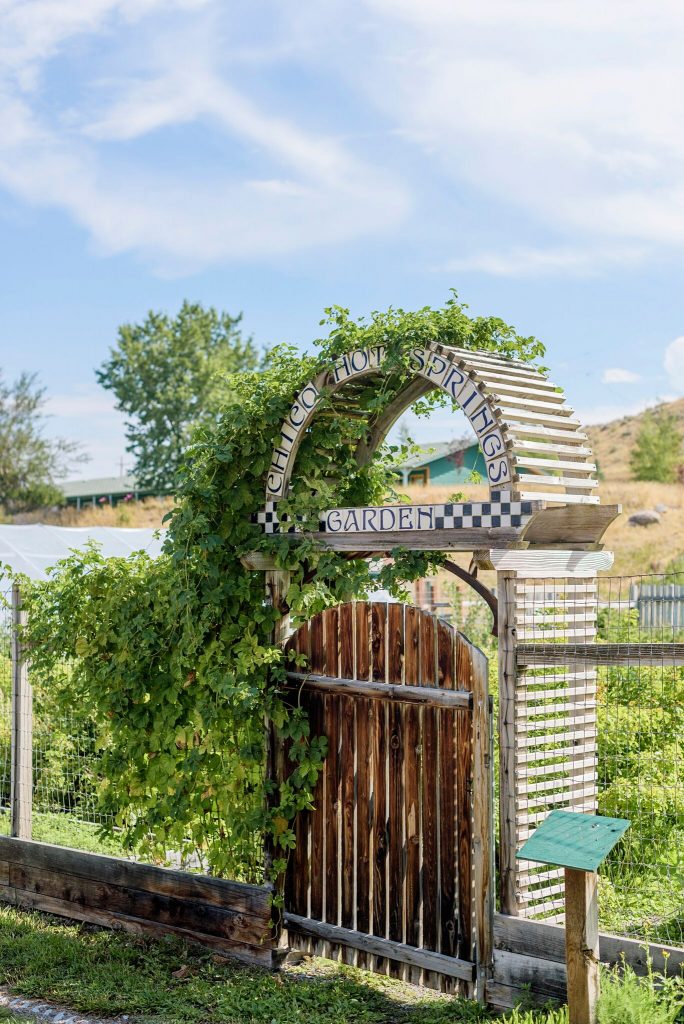 We moved into the kitchen which was bustling with dinner preparations; the smells alone were amazing. Chef Wells showed me to a table in the dining room, then slipped away to make me a little something to eat.
What arrived was not your ordinary snack. This was a sampling of his culinary art; Salmon belly seared with a Peruvian red chili base, pickled carrots from the garden, asian micro-greens and Yuzu (a Japanese citrus that tastes like a cross between lemon and lime.) Drops of wasabi aioli gave it just the right amount of spice.
(It was incredible.)
Chef Wells sat down, and in the most humble manner, began telling me his story. Born in Wallace, Idaho, but raised in Nashville, Tennessee, his mom often told him about the beautiful mountains in the west. "When I was 18, I saved up enough money to take a trip to Colorado. It was my first time seeing the Rocky Mountains and I knew I was home as soon as I saw the Front Range," Wells says.
Eventually Wells ended up in Bozeman, MT where he got a job at his favorite restaurant, The Naked Noodle, washing dishes. He was quickly drawn to cooking and launched into his career. "I worked on guest ranches in the Madison and Bitterroot valleys and had the opportunity to learn firsthand from some amazing chefs," he explains.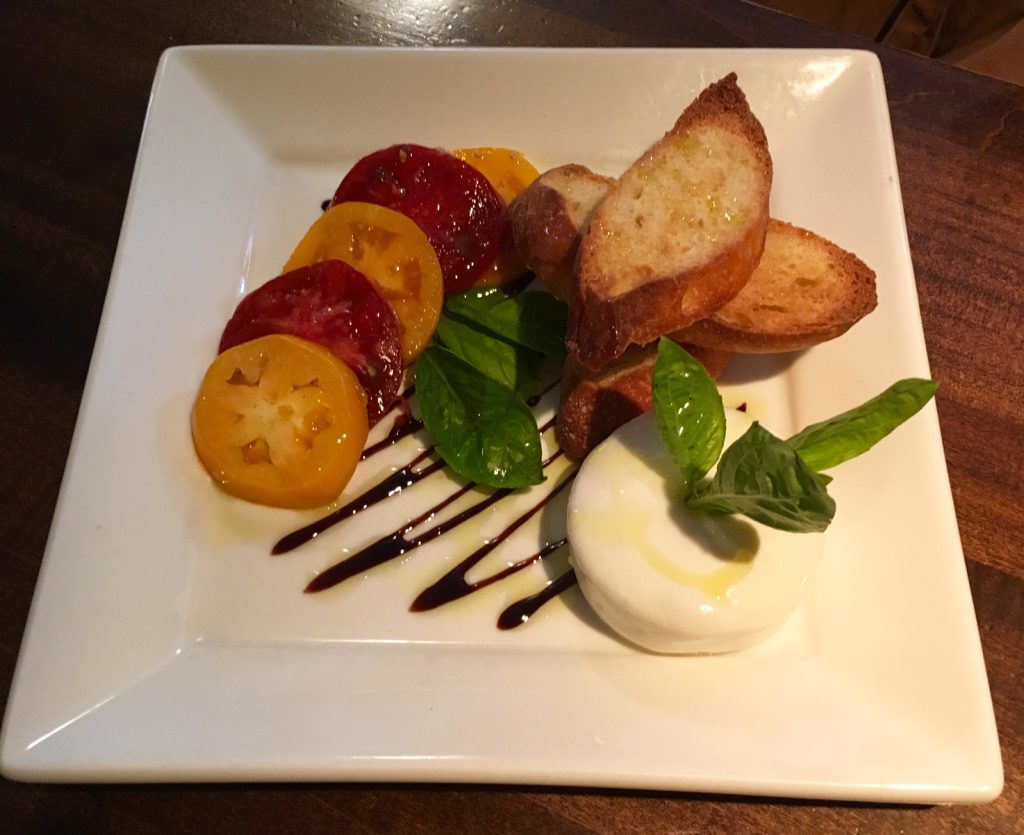 At this point, he orders a plate of burrata, a fresh Italian cheese made from mozzarella and cream "It's from Petaluma, CA," he tells me, "…it's really good." It was a beautiful piece of cheese, surrounded by more tomatoes— red and yellow, juicy and amazing. Grilled bread, garden basil and a drizzle of balsamic vinegar topped it off.
(I am still craving that dish.)
When asked how he ended up at Chico Hot Springs he explained, "I was looking to relocate back to the Gallatin Valley, and I saw there was an opening for a sous chef. They hired me, and when the Executive Chef position came available, they asked me to take over." 
His biggest draw? "Chico is a Montana institution, they are credited for bringing fine dining to Montana. It's an honor to work in a historic kitchen like this." He goes on to tell how the owners, Seabring and Colin Davis, still drive innovation and set the bar for what dining can be in Montana. "I'm happy to get an opportunity to be a part of that; to actually step in and help elevate the cuisine. Plus, I love Paradise Valley, it's amazing over here," he says with a sheepish smile.
He describes his cooking style as New American. "I use a lot of different influences, a little bit of everything." Chef Wells explains. "Obviously some southern flavor where I grew up, but Asian, Spanish and French as well. I like to play around and have fun but I still want guests to feel like they are in Montana," he says.
Chico has loyal patrons who come back year after year for signature items such as the Beef Wellington, carved table-side for two, or the Duck a L'orange. Asked how he is going to keep the classics while introducing his own unique flavors he replied, "Our goal is to do them even better; to take some of the favorite dishes and refine them by bringing in more seasonal ingredients or changing the preparation. For example, instead of roasting the duck, we want to sear the breast in confit and top with the same orange-infused honey," (made with honey from the resort). "We want to give nod to the original recipe, but treat it with a little more thoughtfulness," Chef Wells explains.
He goes on to tell, "If anything, I try to throw things on the menu for the more adventurous diner; things like wild boar or bison. I put camel tenderloin on the menu as a special once," he smiles. "It's a deep red meat with a very mild finish, close to an elk tenderloin." He prepared the dish by rubbing the tenderloin in Moroccan spice and then searing it mid-rare with a golden raisin and onion chutney. "We want you to come away with a story," he says.
What's his favorite thing to cook? "Everything," he immediately says. "I like things that take time. I like to braise, pickle and ferment. Anything that is a process. I also like cooking breakfast if I'm home and not in a hurry," he says. "However, I would much rather have my mom cook her biscuits and gravy for me…there's nothing like it."
His favorite food? "Elk burger is one of the greatest things in the world for me. I like to hunt and the elk I eat is either my own or my friends," he says. His least favorite food? "Processed food," he quickly replied, "I just don't do it."
How does he spend his spare time? "I like hiking, backpacking, skateboarding, fly fishing, and hunting. I just like to be out in the woods in Montana," he says.
When asked what he is most excited about he was quick to answer. "The fact that Seabring and Colin are very supportive about what we are doing and they give us the tools to succeed. I look forward to working with Jeanie over the winter planning the garden, and I want to expand our farm to table experience. I'm also excited that we have a lot of good people in the kitchen; young motivated cooks trying to step their game up. I'm exited to see what they are going to bring to the table."
From what I've tasted, Chef Wells, I can't wait to see what you bring to the table.
For reservations, Chico Hot Springs Resort, or call (406) 333-4933.