The People of Yellowstone Country: Betsy Scanlin, Red Lodge, Montana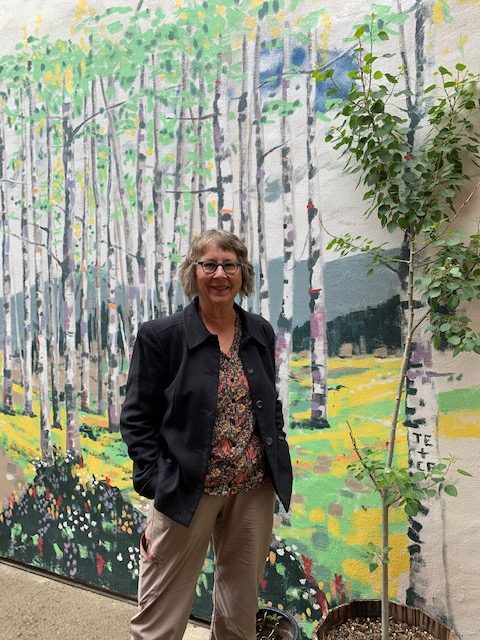 Betsy Scanlin emanates enthusiasm. I could see it the minute she walked in the door, casually chatting with everyone as she made her way to our table. Rather than talking about herself, she was more interested in introducing me to the restaurant owner, showing me the wonderful little patio outside, and gently pressing the latest Red Lodge Visitor's Guide into my hands.
"I grew up here when the town was very, very poor," she says. "There were a lot of fatherless kids from the mine explosion."  Additionally, the town went into an economic downturn after WWII. "I guess I knew we were poor, but I didn't feel like we were. We all took care of each other."
"The town hasn't changed a lot," she continued. "It still has a great deal of humility and generosity. When COVID happened, we saw signs all through the town, 'Together We Can Do This!'  People are united, facing a big economic and social challenge. It's a neat town; I'm very proud of it," she says. Then as an aside, "We also love our controversy. If we don't have one, we make one up," she joked.
Scanlin's enthusiasm has followed her everywhere. "My first job was Carbon County News," she says, then clarified, "…when I wasn't a cabin girl at the Beartooth Butte Lodge near Cooke City."
"At the end of the summer one year, the wrangler had to go home, and I got to be the wrangler for the rest of the summer," she tells me with girlish excitement.
From there, she worked as a waitress, weekly reporter, journalist, and editorial writer. "I really appreciate having those opportunities when I was young," she says. Scanlin then headed to Missoula on a Journalism scholarship at the University of Montana, studying English, Russian, Political Science, Journalism, and getting her English teaching certificate. She quickly went on to write for the Billings Gazette.
A year later and full of adventure, Scanlin bought a Volkswagon Van. She came home to Red Lodge before hitting the road to Alaska. "I remember my father helped me put curtains in," she says. But just before she left, the local ski area manager caught her and asked her if she would be willing to stay and help promote Red Lodge Mountain. "I could write, and I ski," she thought. "I can do that."  She planned to stay for the winter and go to Alaska in the spring. Four years later, she was still in Red Lodge.  In the third year of her employment, she met her husband, Jeff Anderson. They married, and she went on to law school.
"There were feminist issues," she explained. "I had to have a male—
any male!
--co-sign for the loan for our home. It drove me to law school." At the time, 8 out of 78 students were women. "But we had women ahead of us who were quite brilliant and strong. We followed them," she said. After law school, she was offered a clerkship with the MT Supreme Court. She spent a year there before returning to Red Lodge, where she practiced law four years before what she called a "midlife crisis."
Scanlin tells me, "A friend said to me, 'You have accomplished all your goals. You have a career, a kid, a house…you're bored.'"
Anderson was a fine artist with an MFA. At his suggestion, they packed up 14 boxes of essential goods and a 2-year old and arrived in New York City. "I first looked for a job in journalism," she says. "I had a friend that went to work for Time-Life. So, I just called them. This editor took me to sushi. I had never had it and didn't know if I could swallow it. Along with the sushi came saki, so somehow, I did," she laughs. "But I didn't get the job."
She did know how to type 90 words per minute, and the woman at the temp agency was stunned. Scanlin recounts, "They placed me in high-end law firms in New York City for six months. I could make a bundle of money. They didn't know I was an attorney."
This was back in the '80s when a massive drought hit that part of the country. The city was trying to allocate water to the most economically necessary businesses. Scanlin spent the next two years working for the water division of the Department of Environmental Protection, developing a water management plan. "Broken lines were gushing," she explained, "and they were only able to bill for 25% of the water, the rest was wasted."
Through this project, she formed contacts with the Department of City Planning. They invited her to be their legal counsel. "There were just eight of us," Scanlin says, "We ended up working with environmental issues--some very big projects, zoning, sewage treatment plans, historic preservation. It was a wonderful seven years with them."
The couple had only planned on being in the city for two years, but that quickly turned into eleven. "We had a second child by then," she says. "We called ourselves resident tourists.  My husband's art background made us able to have a warehouse loft with studio in SoHo. He would pick up the kids and do the shopping." She laughs, "Uniquely New York, our kids learned to ride bikes around the kitchen island."
"I loved my job, I could walk to city hall," she says. "My husband and I had a standing date on Thursday night. We would take the subway somewhere and then walk home. $5 for a babysitter was a lot, but when you live there, you can do things very cheaply."
With all of their parents still alive, the couple eventually brought their children home to Red Lodge. "My kids were able to enjoy their grandparents," she says. "All of my other relatives were [past] east of the Hudson. It was great to have them here." She speaks fondly of the family cabin on East Rosebud Lake, where Scanlin and her husband were married, and where her son would soon be honeymooning.
The couple bought the building we were lunching in and renovated it for her office, with her eventually moving her law office next door. For twenty-five years, from 1993-2018, Scanlin practiced law in Red Lodge, focusing on civil work. "It's been hard to give that up," she says. Though retired from law, she still works. "When I came home, I got involved with planning. I was elected to the city council three times, served as the mayor, and now am involved in county planning."
"We're still dealing with land use," she says. "That is our identity, our association with the land. Our town and businesses are all connected; it's who we are," she explained.
Scanlin and her husband care genuinely about the buildings in Red Lodge. "My husband and I are preservationists," she says. "I grew up here; I love it here." They also own the Roman Theater, which started in 1918 and has run continuously for 102 years. "We think that's an important part of the community. It has character, and always has something going on." She goes on in her typical optimistic fashion, "It's struggling with competition from home movies, Netflix. But people like to sit in a theater and eat popcorn. Popcorn is what keeps it going."
She becomes somewhat reminiscent. "One of the highlights of my life was the Festival of Nations," she says. "My father was one of the founders in 1951. The whole town participated, it was fabulous. We shared each other's heritage; it was a real melting pot. It was fun to share in each other's food and dancing.  It doesn't exist anymore; the times are different. People want to be outside, and we don't have an ethnic identity. But that's okay; we're Americans now," she said. Scanlin gets a nostalgic smile, "Even back then, they said, 'We're Americans.'"
So, what's next for Betsy Scanlin?
Politics. This fall, she is running for House of Representatives, District 58, for Carbon County. I asked her what drove her to run for office. "For one thing," she says. I have all this experience, which I think is relevant to Carbon County. What can I do with all this experience? Share it for the benefit of everyone."
She continues, "When you are retired, you look for something that is a statement of your life. In Red Lodge, the volunteerism is huge. Everyone has such a rich life and interactions with people. COVID has been hard, not to have that interaction."
"One of the wonderful things about small-town living is you become familiar with everyone. You get that richness; there are a lot of retired people. Retirement allows you to do the things you care about."
She then turns the conversation back to her love of Red Lodge. "I feel very fortunate to have had this life experience. Red Lodge is real; it's humble. We have two busy seasons a year, and then we have it to ourselves," she says with a smile. "Everyone works hard when needed, and then we get to enjoy it."
She goes on to tell me, "The hiking club has 72 members! Everyone likes to ski, hike, be active. We have a great arts community, performances, rodeo, ranching, 4-H…there's no end to the activities this town provides and shares. We share with visitors. We're not going to have a parade or rodeo this year, which is unfortunate, but we'll get through it. Together we'll get through this."
She wraps up our conversation with this memory.
"I remember going back to the K-Bar-Z, with a New York friend," she says. "There was a placard on the wall that said, 'Our Job is to Make Memories.' And I thought, 'That's what life is about, making memories. You have to look for them. Enjoy them.' I believe Red Lodge makes memories for people. Even those who have only lived here briefly feel like it's home."
Scanlin, for one, certainly knows how to make someone feel that way.