The Great Yellowstone Country Beer Trail!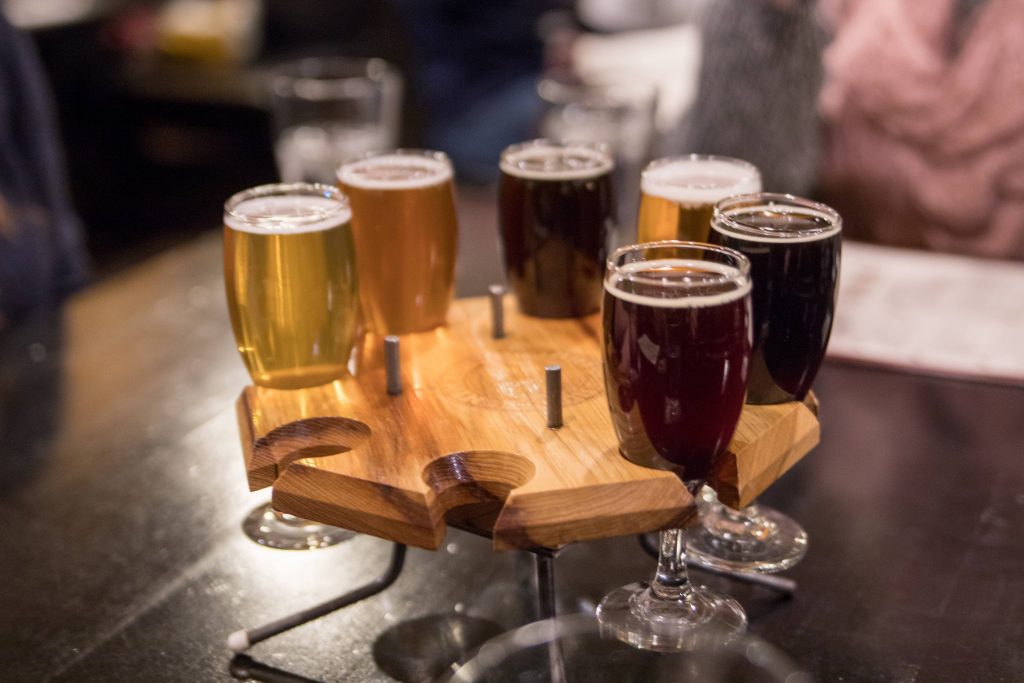 We take our beer seriously in Yellowstone Country. Across the region you'll find styles as unique and varied as the towns they are brewed in. Tasting rooms are filled with local personalities eager to swap stories, the noshes are top notch and local bands bring down the house. Tap Into Montana in Livingston is a week-long celebration of Montana's craft beer culminating with a Montana Brew Fest drawing brewers from around the state to showcase their newest creations.
If you're a beer lover, you can't go wrong adding a few (or more) of these stops to your itinerary.
Cheers!
Red Lodge
One of the original breweries in Yellowstone Country, Red Lodge Ales not only turns out great beer, they are avid supporters of recreational music events. For beer, try the popular Czechmate Pilsner or one of their Busted Barrel Series aged in bourbon and rum barrels. If you happen to be there on a Wednesday, stop by for "Wicked Cheap Growler Fills." Sam's Tap Room adjacent to the brewery features pub favorites including grub made with Applewood smoked meats. Pulled pork anyone?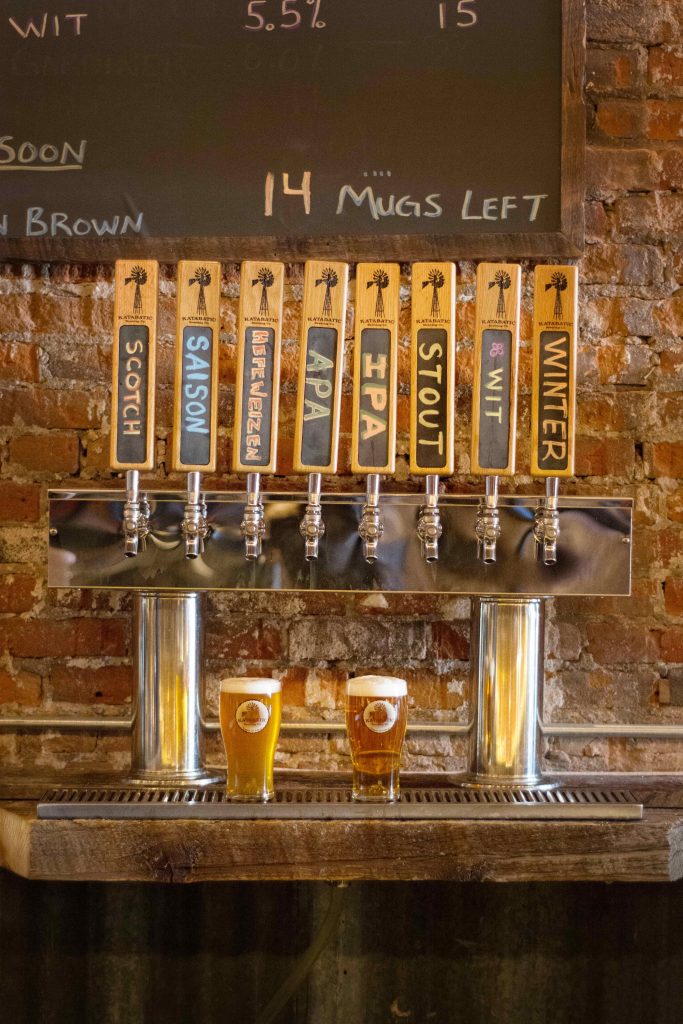 Livingston
You'll find four standard types of beer here (Hefeweizen, Scotch Ale, Pale Ale and India Pale Ale) along with four rotating seasonal brews: big, bold, bitter and session. Hefeweizen fans, you'll enjoy this version of the German Style brew, slightly grainy-sweet with wheat character and a big frothy head of foam. Watch the schedule for live local bands. Mexican food lovers will enjoy dishes from Fiesta en Jalisco.
Looking for some unusual flavors? The beer here is full of them. Try the Belgian Apricot Monk, a seasonal Belgian single ale with hints of clove and banana with real apricot to give it a fruity undertone. The Winterfest Ale is a classic nut brown ale combined with cinnamon, nutmeg and their own Willies Bighorn Bourbon vanilla extract for a smooth, creamy finish. Sushi lovers can eat their heart out, (meat lovers don't worry, they have delicious burgers, too!) and there are plenty of menu items to please the kiddos.
Bozeman
Fondly known as simply "The Tap Room," Bozeman Brewing is a local favorite. In addition to their well-loved, time honored classics such as the Bozeman Amber Ale, their specialty brews keep you coming back. Try the Andsoit Gose Passionfruit, a low alcohol wheat beer with toasted Indian coriander, spice and citrus finished with a Himalayan Pink Salt. For those who are glucose intolerant, try the Gluduced Pale, a pale ale with a malt sweetness and hop bitterness. An added enzyme chops up the gluten proteins making it easy on the tummy.
Located next to Montana State University (MSU), this brewery turns out both craft beer and craft pizza. Their newest release, the Hyalite APA, was brewed exclusively for the Bozeman Ice Festival. This American-style pale ale has a hazy, golden hue with a crisp malt flavor. You'll taste tropical fruit, floral earthiness and subtle spice. Bridger was voted best brewery, tasting room and pizza place in the 2016 Best of Bozeman Awards.
Look for this little understated brewery also next to MSU. The purists out there will love the Tank One Pilsner, a German style brewed with traditional methods. This thirst quenching beer has a crisp, clean and refreshing taste. For the more adventurous, try the Downtown Otis Brown featuring cocoa nibs and cinnamon—perfect for winter evenings. Tuesdays are game night; bring your friends and meet some new ones over a good old fashioned board game.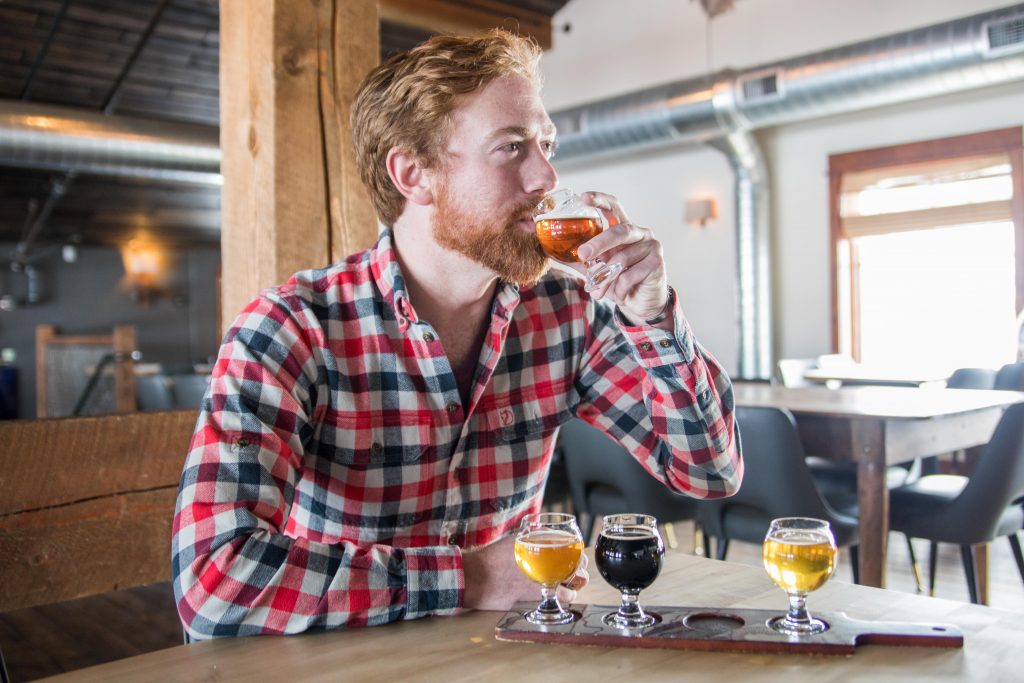 With unparalleled views of the Bridger Mountain Range, this uniquely located brewery turns out some traditional favorites coupled with some unusual concoctions. The award-winning Northbound Golden Ale is a local favorite. Or try the Mr. Miyagi, an American Pale Ale (ironically) which uses Japanese origin Sorachi Ace hops. The herbal flavor has an almost lemongrass characteristic. The Northside Grille serves a pub style menu featuring local bison, Yellowstone Grassfed Beef, hearty salads and more.
Mountains Walking Brewery and Pub
The newest brewery on the scene, Mountains Walking is turning out some seriously tasty beers. The Here, Friend Cream Ale is a local favorite— a light bodied, balanced beer. IPA lovers should try the Grazing Clouds, a hazy, aromatic and hoppy IPA. Sour beers are on tap and the future holds beer made via spontaneous fermentation from local yeast. The kitchen serves local and organic bites. Pro Tip: the Crispy Brussel Spouts and the Crunchy, Spicy, Salty, Sweet Wings both bring delicious twists to standard dishes.
If you're looking for a blend of traditional and creative, you'll love the beer at Outlaw. For a lighter option, try the Goeman's Gold Honey Lemon Ginger. For something a little more rich, opt for the Dubble Barrel which is fruity from Lacheuf strain of yeast and has a rich caramel flavor from house-made Candi Sugar. The Revolver IPA series is a real treat. Every 2 months, brewers create a new IPA— you won't get the same one twice, but you will never be disappointed! During the winter, cozy up to the indoor fireplaces and in the summer enjoy their outdoor patio.
Located on Main Street in historic downtown Bozeman, this brewery sports a custom Frost Rail that keeps your beer nice and cold. For IPA lovers, their specialty is the White Dog India Pale Ale. This traditional style uses English hops and boasts smooth, spicy and floral characteristics with a dry finish.
You'll love this bustling pub of activity that combibes fine local brews, food, spirits, music, art and friends. Try one of their many varieties of ales, and for a real treat, watch their seasonal rotators. The food is hearty with careful thought to beer paring. (Bonus, they source as much as they can from local, organic farms.)
Belgrade
A long-standing brewery in Belgrade, this tap room is full of local character. In response to requests for a lighter-bodied IPA, their brewers created Session IPA, the featured beer. The tropical fruit notes keep it light, and with just over 4% ABV, it's an easy drinking option. The Black Ghost Oatmeal Stout was originally made as a quality stout for winter, but became so popular they made it a year round option. It's balanced and smooth without a heavy finish. A local favorite, the Salmon Fly Honey Rye has a mild sweetness that comes from pure local Montana honey.
Big Sky
With a custom seven-barrel brewing system, the beer here is full of flavor. Try the 50 Caliber Coffee Porter, which is cold pressed coffee added to Beehive's Baltic Porter. Another pint full of deliciousness is Train Wreck, a Belgian strong, dark ale that's complex and rich with a copper color and notes of dark cherry. Not for the faint of heart, this beer boasts a 10% ABV.
This is a great stop for a beer and a bite after a day on the slopes. Try the Raspberry Wheat, made with Oregon raspberries making it crisp, light and not too sweet. Or try the Bourbon Barrel IPA, an English style IPA that ages perfectly in the barrels. The result is a dark color that's slightly sweet. Try their wide selection of burgers, sandwiches and deluxe Mac n' Cheese. (Think: Bacon cheeseburger or the Montana Hot with chicken, habanero sauce and bacon marmalade.) They also have a space for comedy, music and private events.