The Art Scene in Yellowstone Country, 2021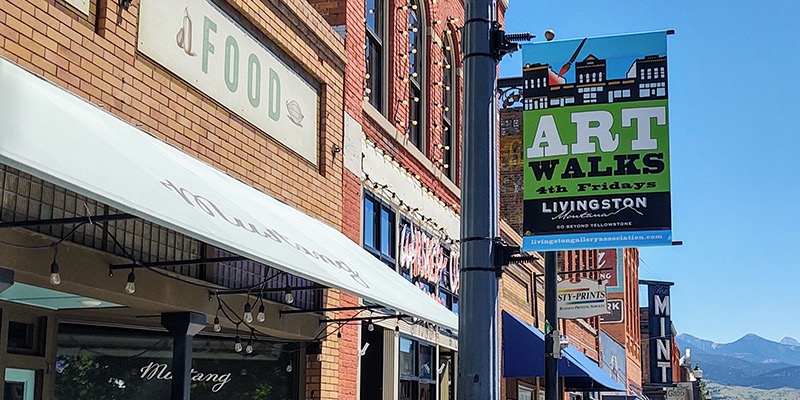 Photo courtesy Explore Livingston
There's something to be said for inspiring landscapes, colorful characters, and slow-paced life. In Yellowstone Country, neighbors become friends, sharing stories over a cold beverage or a homemade piece of pie.
Montana has long been the subject of artists, writers, and song makers. But for many creative souls, Yellowstone Country serves as more than just inspiration; it is the place they call home. From one end of the region to the other, artists of all walks adorn Yellowstone Country with their work.
Art festivals, concerts, and live performances dot the summer event calendars in large and small towns. Local galleries and studios showcase upcoming artists and long-time local favorites. And you'll always find local artisans at the Farmer's Market in town.
Mark your calendars, grab your family and friends, and decorate your summer with some local art!
West Yellowstone
Playmill Theatre
Live performances, including a variety show and a featured production.
Music in The Park
Free concerts beginning at 7:00 pm, Town Park.
July 4, 2021, 
Paige and the People's Band
August 6, 2021, 
Ronnie Riptide and the Tune-Tones
September 4, 2021, 
Remembering the Fabulous Four
Big Sky
Music in the Mountains
Free, family-friendly concert series 6:00 pm each Thursday, June through September
Town Center Park
Bravo! Big Sky Music Festival
Celebrating classical and jazz music from around the world
August 13, Ticketed concert at the Warren Miller Performing Arts Center, 
Angella Ahn, and Friends
August 14, Free show at Len Hill Park, 
Futureman/Silverman + Big Sky Festival String Orchestra
Public Art
Public art sponsored by the Arts Council of Big Sky can be found throughout the town and along the trails.
Big Sky Artisan Festival
Connecting local artisans with community, each other, art lovers, and collectors!
July 3, 10:30 am-6:30 pm
Town Center Plaza
Warren Miller Performing Arts Center
Music, dance, and performances are year-round in a state-of-the-art theater.
Art Shopping in Big Sky
Explore galleries, photography studios, jewelers, pottery, metal art, and more.
Bozeman
Downtown Bozeman Art Walks
Over 40 galleries and businesses participate in four evening events from 4:00 pm-8:00 pm in downtown Bozeman.
July 9, August 13, and September 10, 2021
Sweet Pea Festival
44th Annual festival celebrating the arts. Live music, juried art show, food, live performances, kid's activities.
SLAM Summer Festival
Supporting Local Artists and Musicians (SLAM); summer festival includes live music, art, and food.
August 7, 11:00 am-7:00 pm, three locations
Bogert Park
Story Mansion Park
Emerson Cultural Center Lawn
Music on Main
Free concert series in downtown Bozeman, 6:30 pm-8:30 pm
Live music, food trucks, shopping, kid's activities
Main Street
Tinworks Art
Building a sustainable creative community through grants, public events and pop-up exhibitions.
Art gallery open Friday-Sunday 1:00-6:00 pm
See schedule for special events
Livingston
Depot Festival of the Arts
Local work of artists from around the region on display and for sale.
July 2-4, 2021
Depot Rotary Park
Livingston Art Walks
Explore the paintings, pottery, books, sculpture, and jewelry made by local and regional artists on display at galleries and boutiques throughout town.
Red Lodge
Red Lodge Songwriter Festival
Singer/songwriters from Montana, Nashville, and across the country gather to make music for three days in Red Lodge.
June 24-26, 2021
First Friday Art Walk
Art, photography, ceramics, and galleries in Red Lodge, Montana.
Art Walk, First Friday of the month, June-September, 5:00 pm-9:00 pm
Open Studio Saturday, First Saturday of the month, June-September, 1:00 pm-6:00 pm
Art in the Beartooths
Carbon County Arts Guild and Depot Gallery fundraiser. Artwork from over 80 artists on display in the galleries
July 1-31, 2021
Labor Day Arts Fair
Celebrating local artisans and craftspeople.
September 6, 2021
Lion's Club Park and Depot Gallery
Women of the West
Four women share their views of the west through their art.
August 2- August 29, 2021
Carbon County Arts Guild
Gardiner
Yellowstone International Arts Festival
Founded by international ballet stars Teresa Khan MacKay and her four children, the festival brings the ballet back to their home in Montana.
August 19, 2021, 8:00 pm
Art shopping in Gardiner, Montana
Explore the art galleries, studios, and art classes.
Big Timber
Sweet Grass Fest
Vendor street fair.
June 26, 9:00 am-6:00 pm
2nd Street between McLeod Street and Anderson Street
Chalk Art Exhibition
Bring your talent and participate in decorating downtown Big Timber!
July 17, 2021, 8:00 am- 3:00 pm
Across Yellowstone Country
Montana Shakespeare in the Parks, 2021 Season
Free performances in local parks across the region. Family-friendly, bring a picnic, and enjoy the show!
Remember, masks are recommended for anyone not fully vaccinated. #RecreateResponsibly