Summer Events in Montana's Yellowstone Country 2023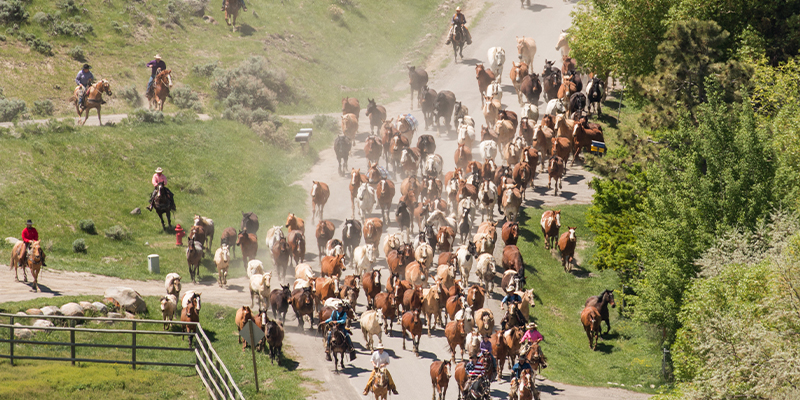 The summer season is just around the corner, and the event calendar for Montana's Yellowstone Country is chock full of music, rodeo, theater, art, and community gatherings. It's the time of year when residents play fast and furiously – carefully planning daytime adventures around evening happenings, often taking day trips to other parts of the region to relax and enjoy the warm sun, social happenings, and that good old-fashioned Montana hospitality.
We've listed some of the highlights, but wherever you are venturing, check our Events Calendar, you're sure to find some local happenings you will want to take advantage of!
West Yellowstone
Yellowstone Trail, 50, 25, and 10K Race
June 24, 2023
This mixed terrain race route meanders among three National Forests, large trout streams, and beautiful lakes. Be sure to add an extra day or two to explore Yellowstone National Park while you're here!
Celebrating America; 4th of July Community Activities
July 4, 2023
Recently listed as the Most Charming City in the World by World Atlas, West Yellowstone is a fantastic place to celebrate the Fourth of July. Enjoy an ice cream social, Farmer's Market, Pie on the Porch, a parade, free Music in the Park, a rodeo, and a fireworks display!
Big Sky
Big Sky PBR
June 24, 2023
What started as a three-day, action-packed event has turned into one of the biggest weeks in Big Sky with the Big Sky Rodeo, golf tournament, and community street dance.
Music in the Mountains
Thursday evenings, June-September 2023
This free, family-friendly concert series in Big Sky Town Center brings in nationally known musicians and regional favorites each Thursday from June through September.
Savor Big Sky
June 29-July 2, 2023
A food, wine, and spirits festival featuring world-renowned chefs, wineries, breweries, and spirits purveyors, with live music and stargazing under Montana's big sky.
Manhattan
Manhattan Potato Festival
August 19, 2023
Celebrating the crop they are most known for, the entire community comes out for this potato extravaganza with a fun run, parade, activities, and 85 vendors, including ten food vendors. Around 7,000 people turn out for this well-loved event.
Bozeman
Sweet Pea Festival
August 4-6, 2023
A Bozeman icon, the Sweet Pea Festival, a celebration of the arts, is a focal point of the summer. Families and friends gather for a weekend of art, crafts, music, theater, food, and many family activities.
SLAM Summer Festival
This family-friendly event showcases Montana's artists' talent, including an artists' market, demonstrations, live music, culinary delights, Montana-made libation, a silent auction, and family activities.
Big Sky Country State Fair
July 19-23, 2023
Nothing says summer like a state fair, especially with musical performances by national headliners, the Roundup Ranch Rodeo, livestock bar, motorsports area, food, and the carnival!
Music On Main
Thursday evenings, July 6 – August 10, 2023
Downtown Bozeman comes alive each week with live music, kid's activities, food vendors, and bar and restaurant specials galore. Regional favorites grace the stage, and the community comes out in full force for this one.
Cruisin' on Main Car Show
August 20, 2023
Check out vintage favorites, rare collectibles, and cool cars in the Cruisin' on Main Car Show on Main Street. All proceeds go to the Cancer Support Community.
Livingston
Tap into Montana Brewfest
June 24, 2023
Enjoy sipping Montana's best craft brews along the banks of the Yellowstone River, with the towering Absaroka Mountain Range in the background. Live music, great food, and friendly company round out the day.
Summerfest
July 15, 2023
Live music, food, a kid's zone, and a cornhole tournament round out this benefit for the Lean on Me Foundation, which cultivates a sense of community and provides resources for those in need.
Summer Outdoor Concert Series
Thursday, June 1- July 13, 2023
The Shane Lalani Center for the Arts brings its second annual free Summer Outdoor Concert Series. The whole family will enjoy this relaxed event. Food is available for purchase through the Soup Bar food truck.  
Livingston Roundup Rodeo
July 2-4, 2023
One of Montana's favorite rodeos, parade, and fireworks display! Get your tickets early; these seats sell out. But if you can't make it, you can stream it this year on the Cowboy Channel + App, a premier rodeo and western lifestyle network!
Livingston Classic PBR
July 15, 2023
This professional bull riding competition features bulls from twelve-time stock contractors of the year, Chad Berger and Clay Struve. Also, see one of PBR's favorite entertainers, Flint Rasmussen's last performances.
Depot Festival of the Arts
A juried art show featuring over 100 fine artists and craftspeople from across the Western region, including photography, painting, sculpture, woodworking, metal and blacksmithing, jewelry, furniture, glass, fiber arts, drawings and prints, ceramics, and more.
Gardiner
Hell's a Roarin' Horse Drive
May 27, 2023
Join in the annual running of the horses through town to their summer home in Jardin, culminating with a BBQ, live music, dancing, and a benefit auction.
Gardiner Rodeo
June 16 and 17, 2023
It gets real western at the annual Gardiner rodeo. A National Rodeo Association-sanctioned rodeo, cowboys and cowgirls from around the country come to compete. Tickets are available at the door, but book your accommodations early!
Gardiner, MT, Brewfest 2023
In addition to great craft beer samples, enjoy live music, food, and great camaraderie at Arch Park, just outside of the Roosevelt Arch and Yellowstone National Park.
Big Timber
Crazy Mountain Fiber Festival
May 19-20, 2023
Big Timber has a long history with wool, at one time being one of the biggest importers in the country. Celebrating the heritage that still thrives today, the Crazy Mountain Fiber Festival is a great way to learn about fiber arts and all that goes into this beautiful craft. If you can't make the festival but are interested in learning more, check out The Finer Points of Fiber Art.
Sweet Grass Fest and Rodeo
June 23-24, 2023
Enjoy a car and tractor show, vendor fair, fun run, live music, a kids' zone, bouncy house, face painting, and petting zoo, followed by a rodeo each evening and Rockin'Rodeo after parties each evening.
Big Timber Brewfest
August 18, 2023
This second annual brew fest is highly anticipated, with local brewers from around the region, live music, and great nibbles.
Red Lodge
Montana Renaissance Festival
June 3-4, 2023
Returning to its new home in Red Lodge, the Montana Renaissance Festival is full of period clothing, demonstrations, food, and libations. The costumes alone are worth a peruse, but the people are what make it fun. 
Red Lodge Songwriter Festival
June 22-24, 2023
The Red Lodge Songwriter's Festival draws professional and aspiring songwriters from Nashville and across the nation to share music, stories, and songs throughout different venues in Red Lodge.
PRCA Extreme Bulls
July 1, 2023
This extreme bull riding competition kicks off the Fourth of July festivities in Red Lodge. Please get your tickets at the link above; they sell out quickly!
Home of Champions Rodeo
July 2-4, 2023
Now in its 94th year of roping and riding, the Home of Champions Rodeo draws some of the country's best cowboys and cowgirls. But Red Lodge doesn't stop there – they have daily parades and a killer fireworks display!
55th Annual Beartooth Run
July 8, 2023
This is one run so scenic you'll forget you're running above 10,000 feet! A double out-and-back race along the Beartooth Highway is one for the books. Walkers are welcome to join the 5K!
Beartooth Rally and Iron Horse Rodeo
July 13-16, 2023
Montana's largest motorcycle rally and iron horse rodeo is one of the year's most significant events. Riders from across the nation love riding the scenic Beartooth Highway and enjoying the excellent food, libations, and company of Red Lodge residents.
Nye
Nye Goes Nuts
July 8, 2023
Tucked up in the mountains, the tight-knit community of Nye puts on an afternoon of family-friendly fun, including a chicken chase, bouncy house, face painting, petting zoo, and more. There's plenty of entertainment for the adults, too, with a 50-50 cornhole tournament, live music, and fabulous raffle prizes.
Cooke City/Silver Gate
Forget Me Knot Fest
August 18-19, 2023
Nine critically acclaimed singer/songwriter bands from across the Northern Rockies perform at two venues between soaring peaks in the mountain towns of Cooke City and Silver Gate, Montana.
Three Forks
Three Forks Rodeo
July 14-15, 2023
Start the weekend with a Farmer's Market and kid's stick horse rodeo, followed by two fun rodeo nights. Friday night at the rodeo is Family Night, where kids get in free with a donation at the door to the Headwaters Area Food Bank.
Columbus
Montana BBQ Cook-off
June 10, 2023
This year there are almost 40 teams competing to advance to the American Royal and the Jack Daniels Invitational Draws. The event includes food vendors and live entertainment and draws quite a crowd!
Absarokee
Musician's Rendezvous
August 12-14, 2023
Musicians gather from around the region for three days to play together on the banks of the Yellowstone River in Itch-Kep-Pe Park. You'll see spontaneous picking, lots of laughter, and the always popular fresh corn on the cob!