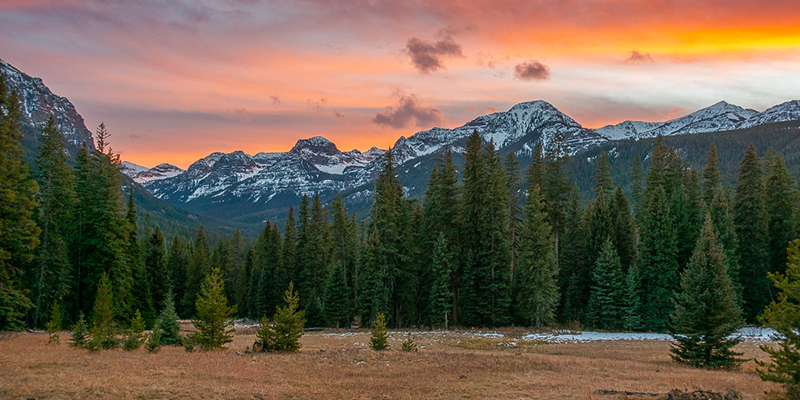 By Melynda Harrison, Traveling Mel
If you are looking for an iconic cabin-in-the-woods getaway in Montana's Yellowstone Country, look no further than Forest Service cabins. You'll feel like you are roughing it, but with a few extra creature comforts.
The Custer Gallatin National Forest has more than 20 cabins and fire lookouts for rent —most built in the 1920s and 1930s for Forest Service Rangers. Back then, Rangers would stay in the cabins and patrol the area around them. The Forest Service no longer needs the cabins for Rangers, so they offer them to the public for a small fee.
The cabin experience is a step up from camping since they provide shelter, beds, and heat, but it's not exactly a luxury experience. These cabins are rustic, often don't have electricity, and sometimes can only be reached on foot or ski.
All the local Forest Service cabins have wood stoves and wood, and many have propane lanterns (bring your own propane); some have electricity, but none have water in the winter.
Potties are pit toilets outside the cabin. Depending on what amenities and individual cabin has, you'll need to bring a stove (or plan to cook over a fire), dishes, sleeping bags, food, water, matches, and hot cocoa mix.
Some cabins are accessible by vehicle while others are accessed by skis, snowshoes or snowmobiles.
What the cabins do offer is an affordable place to stay in the woods. You'll take in dreamy vistas while you sip tea on the porch, create memories playing board games around a wood stove, and have close access to trails.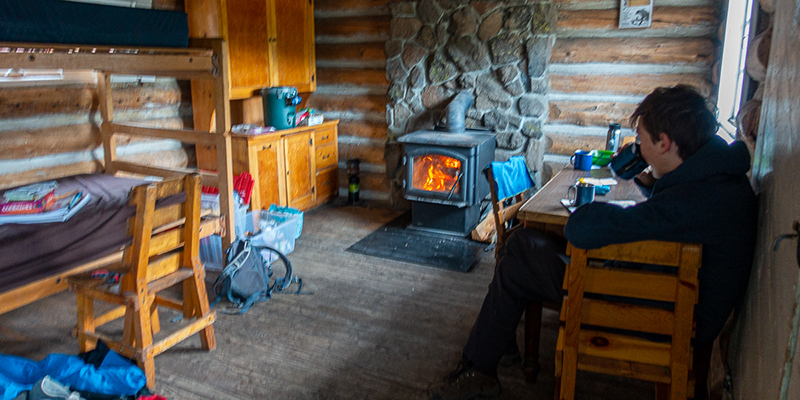 How to Rent a Forest Service Cabin
To rent a Forest Service Cabin, first look at the Custer Gallatin National Forest cabin page to choose a cabin based on size, location, and amenities. Next click through to recreation.gov to make your reservation.
Reservations are taken 3 - 180 days prior to your desired stay. If you are looking for a cabin less then three days before to a stay, call the Forest Service District housing the cabin. Cabin reservations fill up quickly, especially for weekend dates, so get online six months out, if at all possible.
There are a lot of cabins to choose from, but here are a few of my favorites.
About 12 miles up Mill Creek Road from the Paradise Valley, the Mill Creek Cabin sits at the end of the plowed road, in winter. Mill Creek runs along the back of the cabin and a sledding hill is across the road. Cross country ski or snowshoe right out the cabin door. The cabin can be accessed by car year round. In summer, a short drive takes you to several trailheads.
The cabin sleeps four in two bunk beds. We've rented the Mill Creek Cabin for birthday parties and other gatherings since it is a reasonable drive from Bozeman or Livingston for a day trip, and the outdoor fire pit makes a great gathering place.
In winter, this cabin requires a 3.5-mile ski or snowmobile ride, but it is pretty flat. The cabin is on the Beaver Creek Road north of Quake Lake, about 25 miles northwest of West Yellowstone.
The small cabin sleeps four, with a loft. In addition to the usuals, you may need to bring your own sleeping pad as only two mattresses are provided. Snowshoeing and skiing are right out the door. In summer hiking and horse trails lead into some of the prettiest mountain scenery around.
In college, I dreamed of working as a fire lookout and when I stay at the Garnet Mountain Lookout, I feel like one. The lookout is perched atop the eponymously named mountain overlooking the Gallatin River and the Gallatin and Madison Mountain Ranges, 19 miles southwest of Bozeman.
The lookout sleeps four on two bunk beds. Since it is at the top of a mountain, there isn't any water available in summer; you have to pack it in. During winter you can possibly melt snow.
To access the Garnet Mountain Lookout in winter, it's up to a ten-mile ski or snowmobile in via Rat Lake (depending how far you can get in your vehicle) and an elevation gain of 1,300 feet. In summer, it's a 3.5-mile hike on a single-track trail.
My family loves this cabin for winter and summer stays, in part for the outrageously beautiful view from the cabin, and in part for the proximity to many trails for hiking, biking, and skiing. The cabin is 18 miles south of Bozeman in Hyalite Canyon.
The main cabin, with wood stove, sleeps four on two bunk beds. In summer you can use a second, unheated building with two additional bunk beds, for a total of eight sleeping spots.
The cabin is accessible by car in the summer. During the spring (from March 31st through May 15th) the road to the cabin is closed to motorized vehicle traffic. Be prepared to hike or bike 12 miles to the cabin during this period. During winter months the newly paved road is plowed (usually) to within a mile of the cabin. The final mile on the Maxey Cabin Road is not plowed during the winter and you get to ski or snowshoe to the cabin.
For more Forest Service Cabin adventures, go to www.travelingmel.com.