Soaking It Up: Hot Springs in Southwest Montana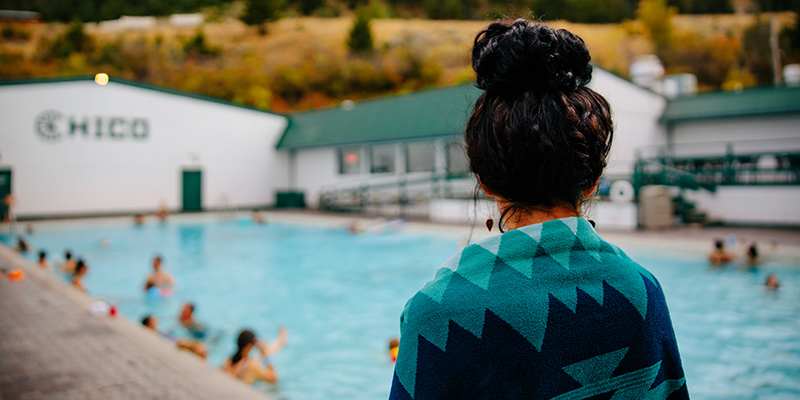 Chico Hot Springs, Photo by Alyssa Henry
For thousands of years throughout numerous cultures, people have heeded the therapeutic benefits of soaking in natural hot springs.
Natural hot springs contain minerals dissolved by geological forces from the surrounding rocks from which they have emerged. The underground waters surface with minerals and compounds, including calcium, iron, magnesium, potassium, and zinc. Our bodies soak up the minerals and other compounds, which can improve circulation and overall health. It's also great for tense muscles and can help people relax and sleep better. 
Yellowstone Country is home to three hot springs, Bozeman Hot Springs, Chico Hot Springs, and Yellowstone Hot Springs, each excellent in its unique way. Drive just a couple of hours, and you'll find even more. We've compiled a list of our favorite, but don't stop there; you'll find gems like these all across the state, and the drives are exceptionally scenic!
While day trips are certainly possible, it's always fun to plan overnight and combine it with a hike, fishing, skiing, or snowshoeing! End the day with a lovely soak, and you'll fall straight into a deep slumber.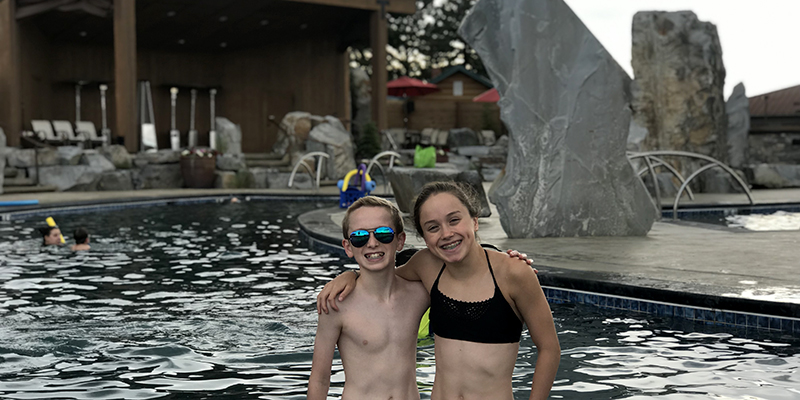 Bozeman Hot Springs, Photo by Colleen Padilla
Bozeman Hot Springs
Bozeman, Montana
With 12 different pools, both indoor and outdoor, there is plenty of room to relax. Temperatures range from 59-106 degrees in the pools. Try the steam and dry saunas or feel the therapeutic effects of a cold plunge! The outdoor pools are lovely at night; watch the schedule for live music while you soak! The campground is beautiful, and if you're looking for a workout, they have a full fitness center. Closed sundown on Friday until sunset on Saturday.
Chico Hot Springs
Pray, Montana
What began as a modest boarding house for miners is now a sought-out destination for people who return year after year to enjoy relaxing at Chico. Dining is just as much a part of the experience; choose from the Poolside Grille, the saloon, or fine dining. Their garden produces an abundant amount of produce they use in their dishes, and if you're there on a Sunday, they have a lavish brunch. Other activities include a day spa, horseback riding, disc golf, hiking, mountain biking, fishing, cross country skiing, and snowshoeing.
Elkhorn Hot Springs
Polaris, Montana
Tucked away in the Grasshopper Valley, Elkhorn Hot Springs is a remote escape. Choose from rustic cabins with a wood stove or a more modern option with a full kitchen. Dorm-style rooms are available in the lodge. Enjoy a soak, then relax by the fire with a glass of wine, or try one of their signature burgers in the restaurant.
Jackson Hot Springs Lodge
Jackson, Montana
Jackson (population 40!) in the Big Hole Valley is an unlikely spot for an outstanding hot spring. Enjoy relaxing in the outdoor pool, then end your evening with a hearty dinner (they serve 100% local, grass-fed beef), a game of pool or shuffleboard, or a friendly chat around the fireplace.
Norris Hot Springs
Norris, Montana
"Water of the Gods" describes Norris Hot Springs, nestled into a tiny nook in Norris, Montana. Not only is the water plentiful, but the food is also delicious! They grow a huge portion of their produce during the summer, and what they can't grow, they source from other Montana growers and producers. They have a great beer selection and live music on the weekends!
Spa Hot Springs
White Sulphur Springs, Montana
For hundreds of years, native people used these waters to heal their sick. Since some of the tribes were warring tribes, they had to work out a truce, and the area became a neutral ground, a Valley of Peace. Today, people come to play in the vast recreation and rejuvenate in the healing waters.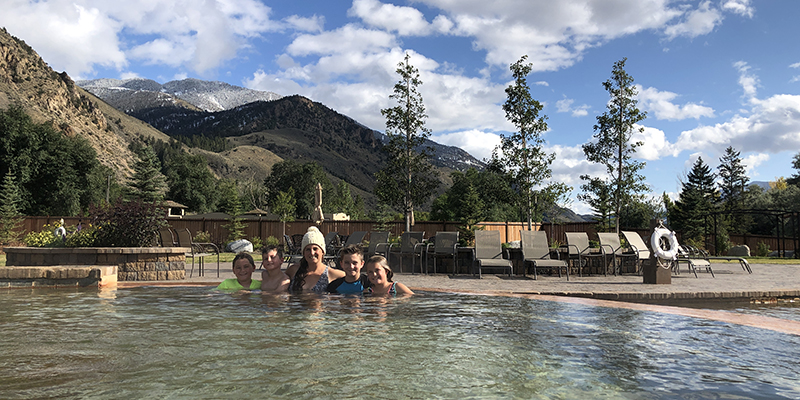 Yellowstone Hot Springs, Photo by Crazy Family Adventure
Yellowstone Hot Springs
Gardiner, Montana
Yellowstone Hot Springs' newest hot springs are just eight miles from the north entrance to Yellowstone National Park. Two hot pools and a cold plunge are served by fresh mineral water continually flowing from the earth to the pools. Flanked by two mountain ranges and the Yellowstone River running nearby, you can't beat the views!