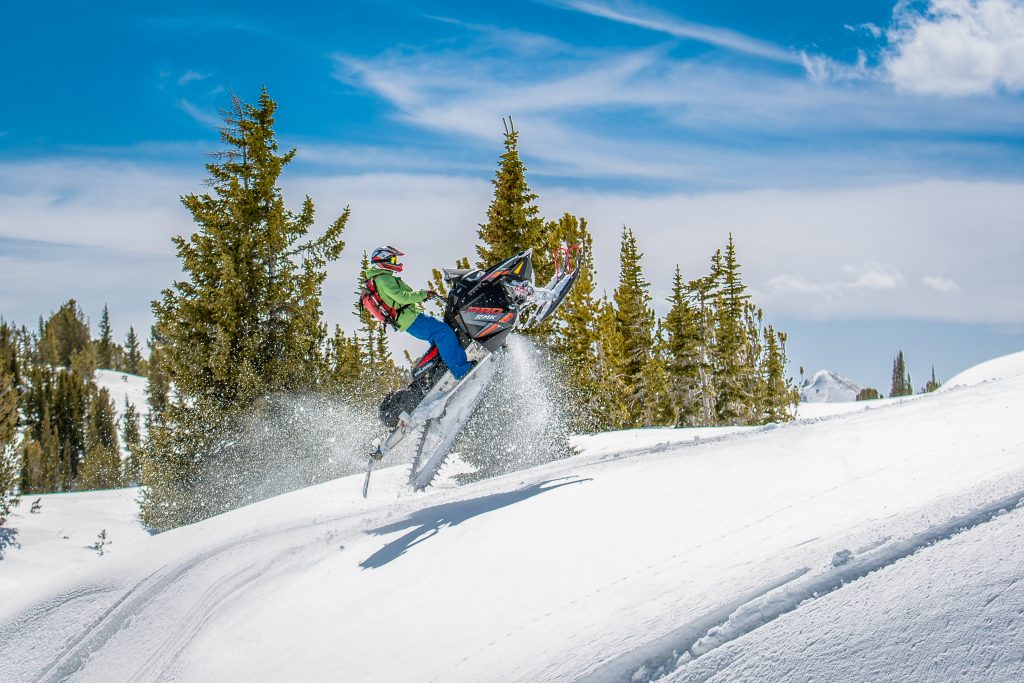 Photo, Dan Armstrong
"When I was a small child in the early 1970s, my parents loved snowmobiling. We gathered in big groups of family and friends and toured the mining roads high in the mountains. We would stop for lunch, build a big bonfire and enjoy chili, cocoa and homemade cinnamon rolls (my favorite part). I would typically fall asleep sandwiched between my parents on the sled as we finished out the day riding through forests at what seemed like breakneck speed. As a teenager, I rode behind friends in the backcountry as they ripped through powder and did some serious sidehilling, while I anxiously held my breath and held on tight. It was exhilarating, to say the least!"
Kali Gillette, Yellowstone Country Montana
Snowmobiling leaves an impression.
Montana's Yellowstone Country is home to some of the best sledding in the country. For the uninitiated, guided tours are the perfect way to learn how to ride, see the country most people only dream about and engage the whole family. For serious sledheads, the options are endless. Visit the
Glaciers to Geysers
snowmobiling site to learn about the epic terrain between Montana's two national parks.
You'll find hard-core riding, open meadows, and groomed trails, all of which are fantastic. But what really makes snowmobiling in Yellowstone Country unique is the distinct character of every town, which gives each experience a slightly different flavor. One thing is certain—you can't go wrong with any of your choices. One trip and we predict you'll be back for more!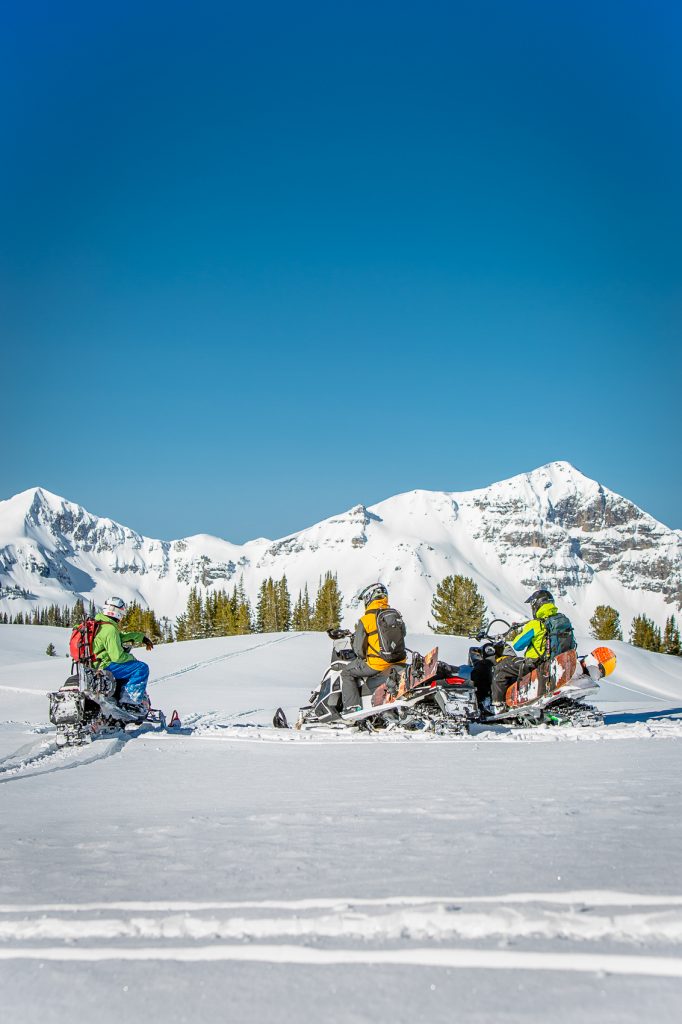 Photo, Dan Armstrong
Cooke City/Silver Gate
Tucked up at the end of the road is Cooke City, and, in the winter, we mean that quite literally. The only way to access this little outpost is through Yellowstone National Park via the north entrance in Gardiner, Montana. Once you arrive, you'll love the cozy feeling of this little town in the mountains, but as soon as you hit the trail, you'll realize you are in some of the biggest backcountry riding in the nation.
The local snowmobile club maintains 60 miles of groomed trails, which take you to high mountain passes, big powder fields, and technical high-marking. Daisy Pass, one of the most renowned, tops off at 10,000 feet with spectacular views, and you can also access the Beartooth Mountain Range, called the "Top of the World."
The sister cities of Cooke City and Silver Gate are known for long seasons, which often begin in early November and can last into late June or early July, (yes, you read that right). There are plenty of
outfitters and guide services
in the area, which we highly recommend even if you're an expert. Once you get the lay of the land, you'll be able to explore for days.
On your way home, watch for wildlife in the Lamar Valley, one of the premier wolf-watching destinations in the United States. Plan an overnight in
Gardiner, Montana
, and make time for a soak at
Chico Hot Springs
or
Yellowstone Hot Springs
to warm up and soothe those tired muscles.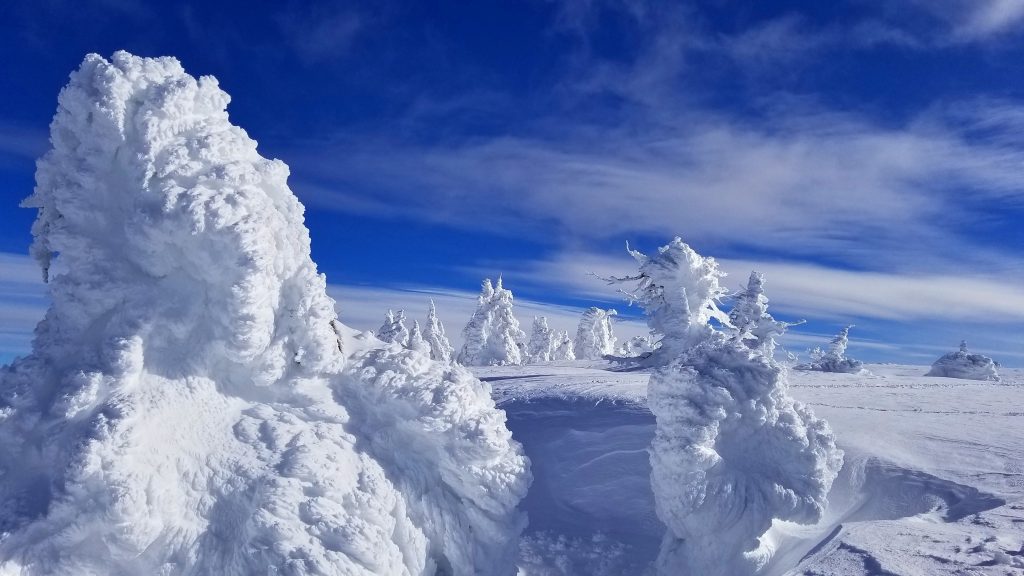 Photo by Dobson Enterprises, Inc., courtesy West Yellowstone CVB/TBID
West Yellowstone
Located at the west entrance to Yellowstone National Park, West Yellowstone is a snowmobiling mecca. Here, you'll find as many sleds as you will cars on the streets, with riders anxious to hit the 400 miles of trails that get 150 inches of snow every year. Watch for the famed "snow ghosts" on favorite trails like Two Top. The snow piles up so thick on these trees you can hardly see individual branches, hence the nickname.
There are plenty of
snowmobile rentals and guided tours
in town, which include clothing and equipment. Bonus: Most tours start right from town!
While in West Yellowstone, you'll definitely want to tour Yellowstone National Park via snowmobile. There's nothing quite like passing an ice-covered bison or steamy geyser up close and personally. In general, you'll need to take a guided tour, since non-commercial snowmobiles aren't allowed in the park, but experienced riders may apply for a
Non-Commercially Guided Snowmobile Access Permit
, a lottery which takes place yearly.
If you enjoy lively competition, plan to visit during the I
ntermountain X-treme Spring Fling, March 13 – 15, 2020
, with SnoCross and vintage races held at the old airport on the west edge of town.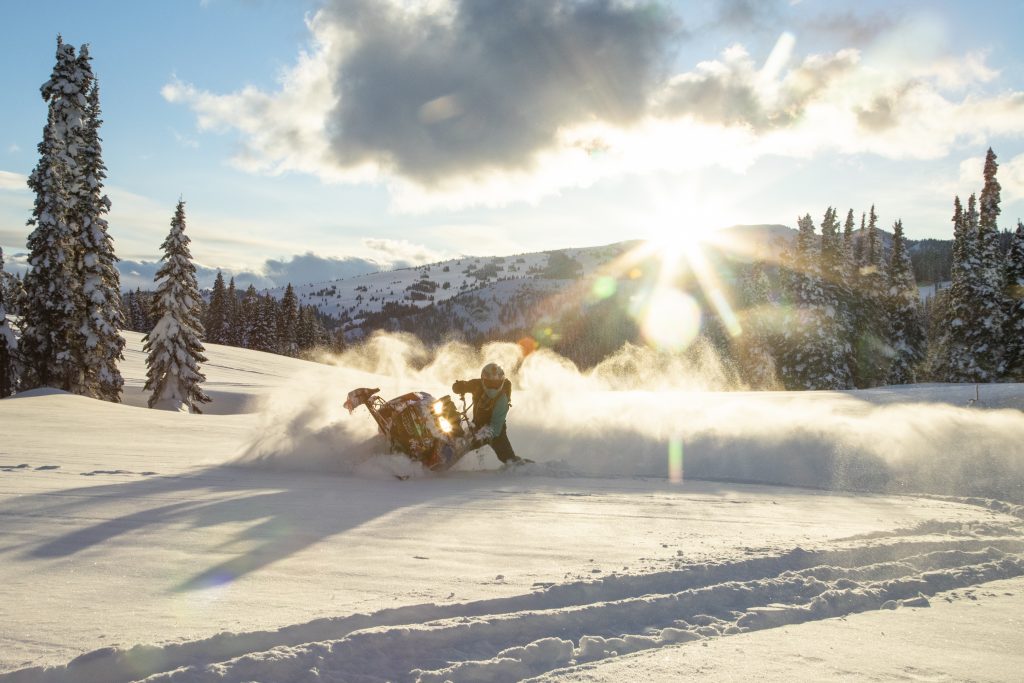 Photo by Jon Cracroft, courtesy West Yellowstone CVB/TBID
The energy in West Yellowstone is contagious; you'll play hard by day, and enjoy good food, libations and live music in the evenings. If you're bringing the family, be sure to stop by the
Grizzly and Wolf Discovery Center
while you're in town. This wildlife park and educational facility is home to grizzly and wolves unable to survive in the wild. Also watch for
Kids 'N' Snow
weekends, where kids learn to enjoy other winter activities like ice skating, Nordic skiing or snowshoeing!
Bozeman
A bit lesser known for
snowmobiling
, but no less thrilling, Bozeman has more than 350 miles of groomed snowmobile trails in and around the area. The Bridger Mountain Range has a variety of terrain ranging from the scenic, 6-mile Fairy Lake Road trail to the 24-mile Olson Creek Trail with stunning views of the Bridger and Crazy mountain ranges.
Expert riders may want to plan an extended ride along the Big Sky Trail. This 123-mile ride starts at Little Bear Creek outside of Bozeman and ends at Grayling Creek in West Yellowstone. This ride has all types of terrain, some of which are expert only, but there are groomed sections and opportunities to cut out at Squaw Creek, Moose Creek, Buffalo Horn Creek, and Taylor Fork.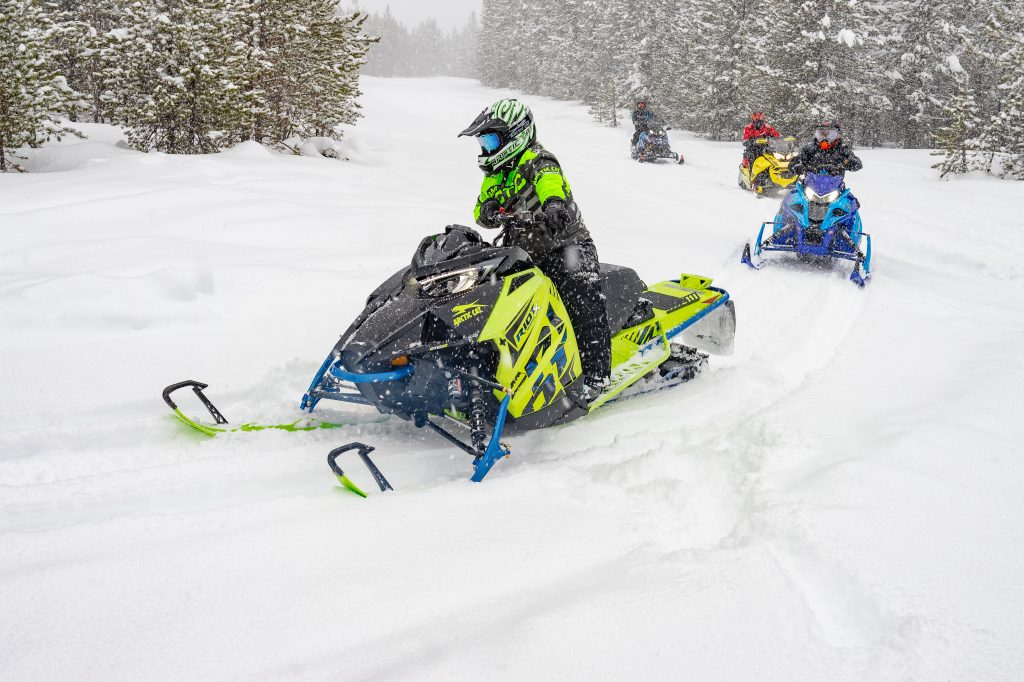 Photo courtesy ISMA, Wayne-Davis
Bozeman, a thriving college town, is so centrally located, you can explore remote areas by day and be back in time for a lively night out. The music scene is ever-evolving, with bands ranging from local favorites to national headliners performing in unique venues from well-loved dive bars to renovated theaters to college stadiums.
Bring your appetite; dining in Bozeman is top-notch! The strong agricultural roots of Bozeman deliver locally raised meats, dairy and produce to area restaurants, and the resulting dishes are amazing.
Big Sky
"Big Sky" aptly describes the views from this mountain resort town. While the resort is known for its skiing, winter sports enthusiasts love mixing it up and exploring the area via snowmobile. Beginners can learn the ropes on Doe Creek Trail, which leads into Buck Ridge Trail, a favorite hike of the locals in the summer. This makes for a great ride to magnificent views in the winter. At the top, you'll have 360-degree views of the Spanish Peaks, the Taylor-Hildegard Mountain Range, Lone Peak, and the rugged Sphinx Mountain. The photo op alone is worth the ride. These 16 miles of trail are both marked and maintained (they are generally groomed twice a week) and the trailhead is easily accessible, located next to the Corral Bar and Grill off of US 191.
For some low-key snow play, Taylor Fork is groomed twice per week and offers gentle riding with a lot of open play areas. Using Big Sky as a basecamp is a great option for groups with both skiers and snowmobilers. Lone Mountain Ranch offers incredible Nordic skiing, and you can easily do a guided tour of Yellowstone while staying in Big Sky.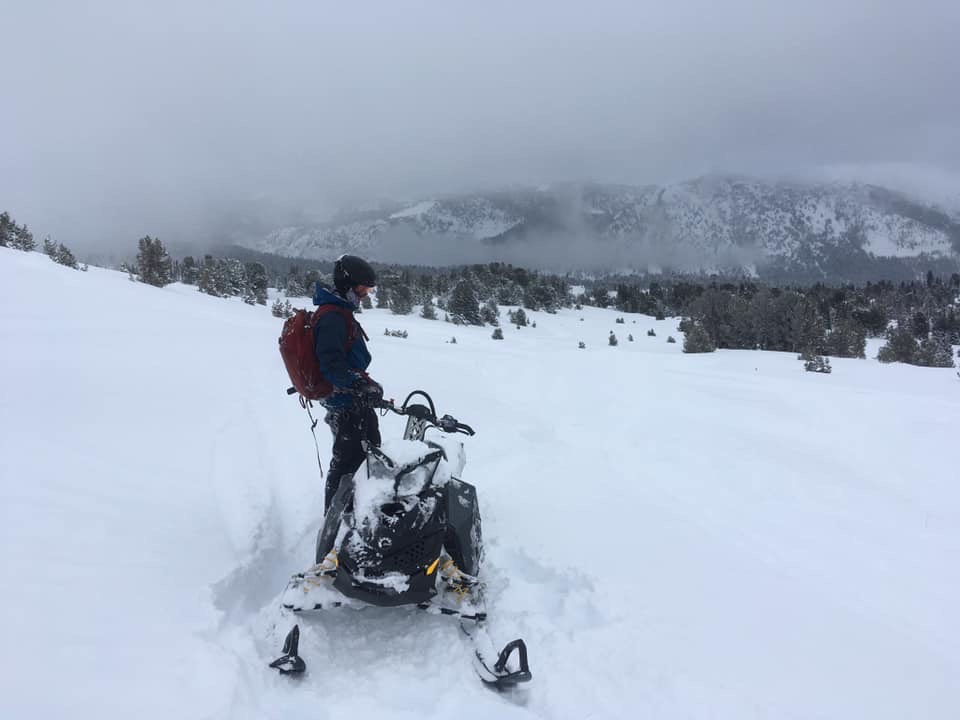 Photo courtesy Sweet Grass Chamber of Commerce
Big Timber
The Boulder River Valley in Big Timber has some of the best-untouched backcountry riding in Montana. Terrain ranges from rugged ridgelines to gentle mining roads and groomed trails. For a gentle ride, take the groomed Boulder River Snowmobile Trail located south of Big Timber, which runs for 16 miles alongside designated wilderness areas. For a longer ride, take the Boulder Canyon Trail, which is 25 miles along the Boulder River to the old mining town of Independence.
We suggest a stay at
The Grand Hotel
. This historic hotel has exceptional restaurants with both fine and casual dining. If you're there on a weekend, make sure to try their Sunday brunch from 11 a.m. – 2 p.m.; the spread is a perfect mix of sweet and savory dishes (including prime rib).
Remember, before heading out on any snowmobile excursion, be sure to check trail grooming conditions, avalanche conditions and the weather forecast!
Check out more winter vacation planning ideas.