Some of our favorite days are spent on the backroads with the open road, towering peaks, and endless skies. Traveling over the rolling hills, the pace of life slows, your mind wanders, and the moments have meaning. Once you're off the beaten path, you'll find leisurely conversations at local restaurants over lunch, unique boutiques featuring locally made arts and goods, live music, brew fests, lots of elbow room, and a new perspective.
There's no doubt that a tour through the small towns in Montana's Yellowstone Country is well worth adding to your schedule.
Day One:
Livingston to Gardiner
Distance, 54.3 miles (approximately one hour of drive time), US HW-89 S.
Start the day in Livingston with breakfast or lunch and some retail therapy. This little town is full of eclectic entrepreneurs, chefs, and artists, and the product of their talents is impressive. In addition, this little town is home to fifteen art galleries, four bookstores, numerous clothing boutiques, and a killer kitchen store. And as for the food, there are so many good restaurants; you'll want to return again and again.
From Livingston, head south to Gardiner on US-89. It's about an hour's drive, but we suggest taking your time. The scenery is beautiful, and it's a two-lane road, perfect for a slow drive to take it all in. Yellowstone Hot Springs is located just outside of Gardiner and makes for a lovely afternoon stop.
There is plenty of lodging in Gardiner, and with the North entrance closed, it's a great time to visit – on a typical year, accommodations sell out well in advance.
Day Two:
Explore Gardiner
We suggest a whole day for a guided tour, either into Yellowstone National Park, which will give you access to the North entrance, or try a whitewater rafting or eBike tour, just outside of Gardiner. Tours can accommodate most ability and age levels and range from gentle outings to rigorous adventures, based on your preference.
Check out the Gardiner Chamber of Commerce Membership Directory for an updated list of Gardiner lodging, restaurants, shopping, and tours.
Day Three:
Gardiner to Big Timber
Distance, 88.6 miles (approximately one and a half hours drive time), US HW-89 N, I-90 E
Get a reasonably early start because while Big Timber isn't far, you'll want plenty of time to explore. There are a handful of hotels in Big Timber but make your reservations in advance. Once you get to town, pick up a picnic lunch and head to Natural Falls Bridge up the Boulder Valley. You'll find accessible paved trails and picnic areas for viewing the falls. Unfortunately, the actual natural bridge collapsed in 1988, but it's still a beautiful sight as the river runs underground, emerging through the rock cliffs. The falls roar during the runoff if you're visiting in the spring. Hikers can continue and explore the Green Mountain Trail, which takes you to a lovely saddle with gorgeous views.
Back in town, be sure to stop at the Crazy Mountain Museum, which has a rich Norwegian history display, along with the story of the enormous sheep ranches that were producing most of the nation's wool at one time. Then, explore the downtown shops, restaurants, and taverns, and check the Events Calendar. This year there is a new weekly Pro Rodeo Series, and the Crazy Mountain Music Series at Café 191 in Melville, Montana, just down the road.
Day Four:
Big Timber to Columbus/Absarokee/Fishtail
41.2 miles, I-E, to Columbus
20.3 miles, MT-78 S, to Fishtail
By this time, you should be settling into the wide-open spaces and cool places vibe and are ready for the final stretch of scenery. No need to rush this morning; sleep in and enjoy your morning. From Big Timber, Columbus is just a short jaunt down the interstate. Make your first stop at Montana Silversmith's Factory Outlet, where you'll find a full line of fine silver jewelry, belt buckles, and other western accessories. Then, for a cold beverage and some interesting décor', The New Atlas Bar is a must-do. We won't spill the beans, but suffice to say, you won't find anything like it.
After Columbus, head toward Absarokee, where you can fill up with gas and snacks, before heading on to Fishtail, where you'll want to stop and visit the Fishtail General Store. You can learn more about this little gem in our Backstories series.
You can take a leisurely loop from Fishtail through the Nye and Beehive areas on Stillwater River Road back to Absarokee or turn around and head back to MT-78 S.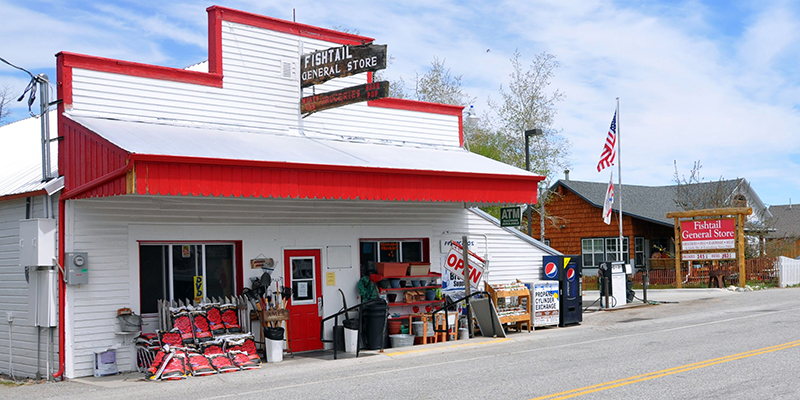 Day Five:
Absarokee to Red Lodge
33.3 miles, MT-78 S
It's a quick drive to Red Lodge from Absarokee, where you'll want to settle in and hit the downtown for some great restaurants and taverns, live music, and lively characters. In the morning, explore the shops, enjoy some killer hiking trails, or hit the Yellowstone Wildlife Sanctuary, home to wild animals who can no longer live independently.
Day Six:
Red Lodge to Cooke City via Chief Joseph Scenic Byway
78.5 miles, WY-120 E to WY-296
13.7 miles, US 212-N
Head to Cooke City via the Chief Joseph Scenic Byway from Red Lodge. The scenery is spectacular, and once you're there, you can access the Wyoming side of the Beartooth Highway, and if you choose, you can walk or bike into Yellowstone National Park through the Northeast entrance.
Lodging proprietors, such as Silver Gate Lodging, offer some pretty spectacular deals and an invitation to relax and enjoy the area. This area is excellent for an ATV tour, horseback riding, fishing, or hiking. Check with the Cooke City Chamber for tour options.
Don't forget that a road trip like this requires a great playlist, an engaging book, some solid walking shoes, and an appetite for serenity. Enjoy!