Skijoring, Montana Style!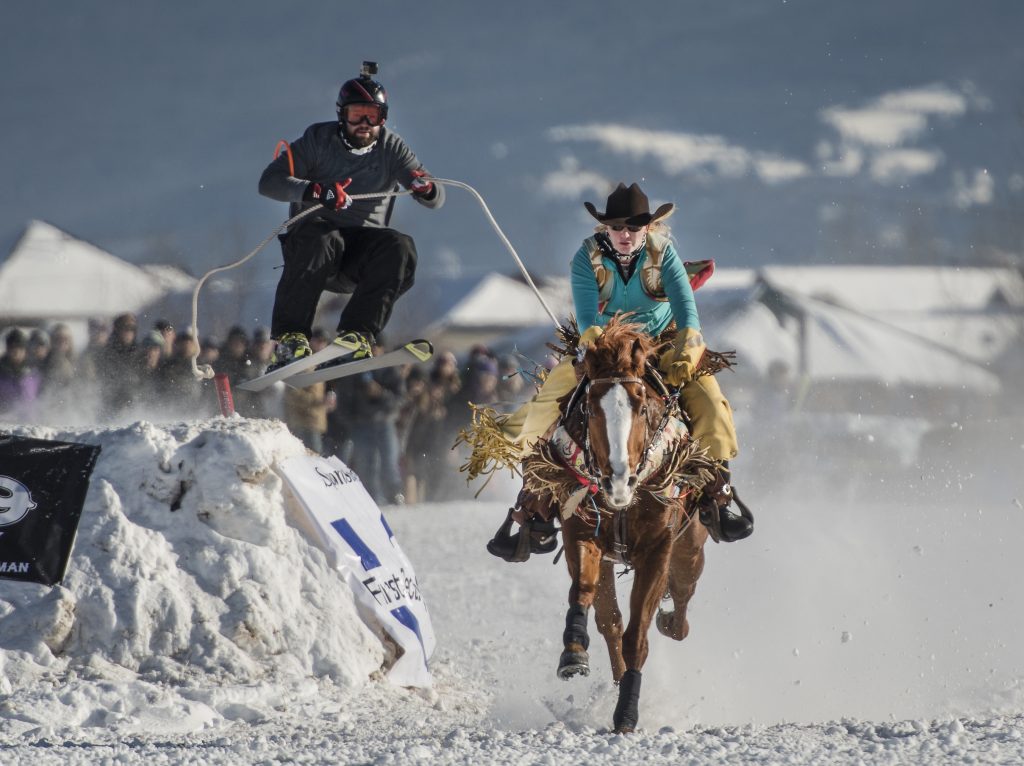 Photo, Erik Petersen
For hundreds of years, as a means of transportation, Scandinavian people harnessed reindeer, strapped on skis, and headed out across the snow.
In 1912, skijoring, derived from a Norwegian word meaning "ski driving," became a sport. At the end of WWII, men from the 10th Mountain Division, also called Soldiers on Skis, returned home. There were no resorts or lifts at that time, so cowboys would attach a long rope to the saddle horn and pull the soldiers at high speeds along a straightaway.
Fast forward to 1949. The story goes, Tom Schroeder and "Mugs" Ossman witnessed the sport of skijoring in Steamboat Springs, CO. Mugs raised Quarter Horses and Tom, a feisty Irishman who loved to ski, didn't believe there was a horse fast enough to lose him if he were being towed behind. The two went out to a local ranch, gave it a whirl, and the rest is history.
The sport has become a lot more competitive over the years. Today, skijoring consists of teams of horse, rider and skier negotiating a course of jumps, gates and rollers. Watching skiers being pulled at speeds ranging from 25-60 mph, with jumps that can reach 7' is thrilling!
Yellowstone Country has become a hub of skijoring, with three different events taking place across the region in West Yellowstone, Big Sky, and Red Lodge. It's the perfect excuse for a winter getaway, and these mountain towns are great places to visit! You'll find Nordic skiing, downhill skiing, snowmobiling, snowshoeing, dogsledding, and zip-lining. And the food? Amazing. Chefs from across the country move to Montana for the lifestyle, bringing their unique culinary visions. The craft cocktail, brewery, and distillery scene is on fire, with local entrepreneurs turning out delicious spirits.
There's still time to plan a trip and no time like the present. Get ready to get western!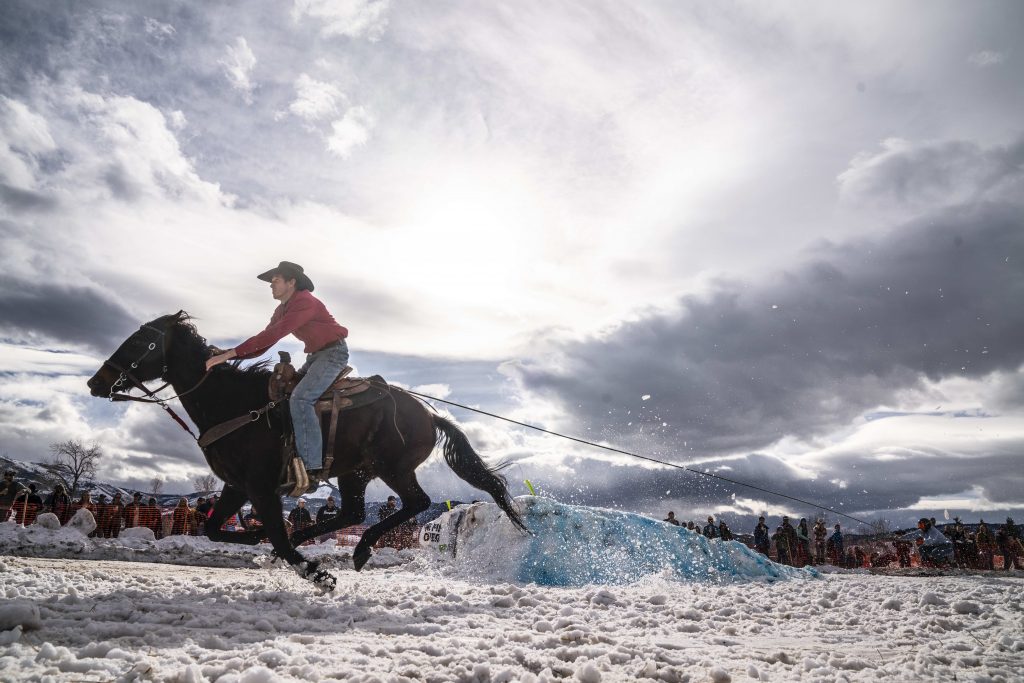 Photo, Erik Petersen
Skijor West
February 29-March 1, 2020, 8:00 a.m.
West Yellowstone, Montana
Over 70 teams compete for prize money, including an additional $10,000! While you are there, be sure to visit Yellowstone National Park. The park is closed to vehicular traffic during the winter, so the best way to see it is on a snowmobile or snowcoach tour. A list of authorized touring companies can be found here. You can also tour the park on Nordic skis, or explore Rendezvous Ski Trails, which are groomed for both classic and skate skiers.
Best in the West Showdown
March 7-8, 2020
Big Sky Town Center
Big Sky, Montana
A Skijoring America sanctioned event, Big Sky attracts both legendary locals, alongside some of the best teams in North America. On Saturday, join the Calcutta and bid on your favorite teams. Big Sky is home to Big Sky Resort, arguably some of the best skiing in the west, and Lone Mountain Ranch, a stellar Nordic ski area. The weekend is packed with outstanding food, drink and family fun!
Red Lodge National Finals
March 14-15, 2020, 11:00 a.m.
Red Lodge Fairgrounds
Red Lodge Montana
As you can imagine, the National Finals draws the best of the best. This event also includes a Long Jump Competition, where distances can exceed 60'. Part of Winter Carnival, the competition also has fun family events such as a climbing wall, wagon rides, a warming tent, and s'mores station. Saturday night gather your friends at the Bull 'n Bear Saloon to bet on your favorite teams in the Calcutta with proceeds going to charity. Dance away the night to live music then wrap up the carnival on Sunday with the annual chili-cookoff!
For a complete calendar of events, go to visityellowstonecountry.com/events.