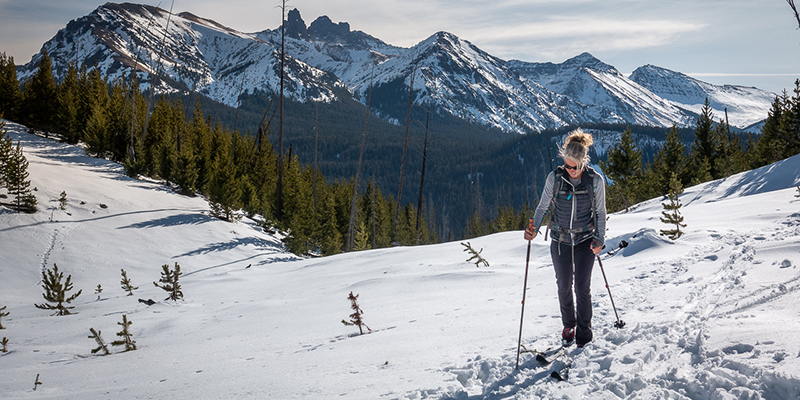 By Melynda Harrison
One of the quietest parts of Montana's Yellowstone Country is the small community of Silver Gate, just beyond Yellowstone's Northeast Entrance. It's a long way from anywhere, which is a good thing. This town of fewer than 150 people has year round access and it's a scenic drive to get there whether you enter through Yellowstone National Park (year round), over the Beartooth Highway, or via the Chief Joseph Highway.
Silver Gate was founded in 1932 as a place to serve people visiting Yellowstone. Construction requirements meant that the buildings had to be rustic and of log architecture, which gives Silver Gate so much of its charm.
No matter what time of year you visit, nature lovers will find something to do. It's an ideal setting for a friends' getaway when what you really want to do is focus on each other, hike or cross-country ski, watch movies, and connect over hot tea in the trees or a glass of wine under the stars.
My friend and I make an annual pilgrimage to Silver Gate. We rent a vacation home, cook yummy meals, and explore the area, finding something new every visit. Here are some of our favorite things to do.

Hiking and Cross-Country Ski Trails
Silver Gate is surrounded by mountains. National Forest hugs the town and Yellowstone National Park is just a mile away. There are several waterfalls (see below), lakes, and mountain tops that make excellent destinations.
The Bannock Trail is the most mellow walk in the steeply sided valley. It's actually a dirt road, but is perfect for strolling and cross-country skiing. The trail runs from the Yellowstone National Park Boundary to Cooke City. We generally walk from our vacation rental to the trail and follow it to Bridal Falls or beyond.
The Republic Creek Trail starts in nearby Cooke City and is a pretty walk south along Republic Creek. At 1.5 miles you'll reach a meadow, which makes a good turn around place. Or continue to the cirque below Republic Peak at 2.8 miles. From there you can climb to Republic Pass at 4.5 miles. The mellow lower section is nice for cross-country skiing.
Waterfalls
Sheep Creek, Bridal Falls, Woody Falls, and Silver Falls are all accessed by short trails in or near Silver Gate.
As mentioned above, walk, or ski out the Bannock Trail from our vacation rental and scramble over to Bridal Falls on nearly every visit. It's even more magnificent when it is partly frozen.
Woody Falls is the longest and steepest hike of the four, but worth the three miles round trip and 860 feet of elevation gain to see the 150-foot Woody Falls. Continue past the falls lookout around the rim to see the waterfall from the top.
https://www.visityellowstonecountry.com/four-waterfall-hikes-just-miles-cooke-city
Star Gazing
One of the best things about Silver Gate is that there is next to no light pollution. The stars shine brighter there. All you have to do is walk out the door for clear star viewing.
The biggest problem is that it is so dark you can see thousands of stars, making it difficult to pick out constellations. I use a star app on my phone to help identify some of the stars and constellations. If the moon is full or near full, binoculars will let you see the craters up close.
Bring your camera for lovely photos of stars rising behind 3,000+-foot high Amphitheater Peak.

Puzzles and Movies
One of the best things to do in Silver Gate on a friends' trip is nothing! We bring a jigsaw puzzle to assemble while drinking wine and watching a movie. It's easy to be distracted by the view out the window, but we persevere.
Don't plan to stream anything on your computer though, as Silver Gate only has satellite wifi (and no cell service!). Most places for rent will have T.V. with lots of channels and a DVD player.
Art Galleries, Shops, and Restaurants
Silver Gate is tiny. There are just a couple shops and one restaurant. And even those aren't all open year round. There are a few additional shops and restaurants three miles up the road in Cooke City and those are also seasonal, so plan ahead.
Wildlife Along the Rockies
is Dan and Cindy Hartman's photography gallery in Silver Gate. It's pretty informal, so stop by and knock on the door. The wolf and other wildlife photos show their love of the Greater Yellowstone Area and intimate knowledge of their backyard. You can often see pine martens and a variety of birds at the feeders on their deck.
Both the
Silver Gate General Store
and
Stop the Car Car Trading Post
have some local art, books, and souvenirs. The General Store had camping essentials, some food, and ice cream. At Stop the Car, you'll find coffee drinks and some take-away food along with gifts.
The Log Cabin Cafe
is one of my favorite places to eat. I recommend the trout dinner (any time of day) and their famous pumpkin bread. They are open in summer only.

Yellowstone National Park
Silver Gate is the closest town to Yellowstone's famous Lamar Valley. We try to get up early at least one morning during our stay to look for wolves and other wildlife. Of course, there are plenty of hiking and cross-country ski trails in the northeast corner of the park.