Rushmore to Yellowstone
Big-sky views and big-time exploration await on an epic 10-day road trip featuring some of America's best national treasures, and some hidden gems, too. From Rushmore to Yellowstone, the road is wide open.
You can view a larger map here, and download the Itinerary.
Travel Tips
Campgrounds fill up early! Book in advance.
Purcahse a National Park Pass.
Cell service can be spotty, so plan ahead.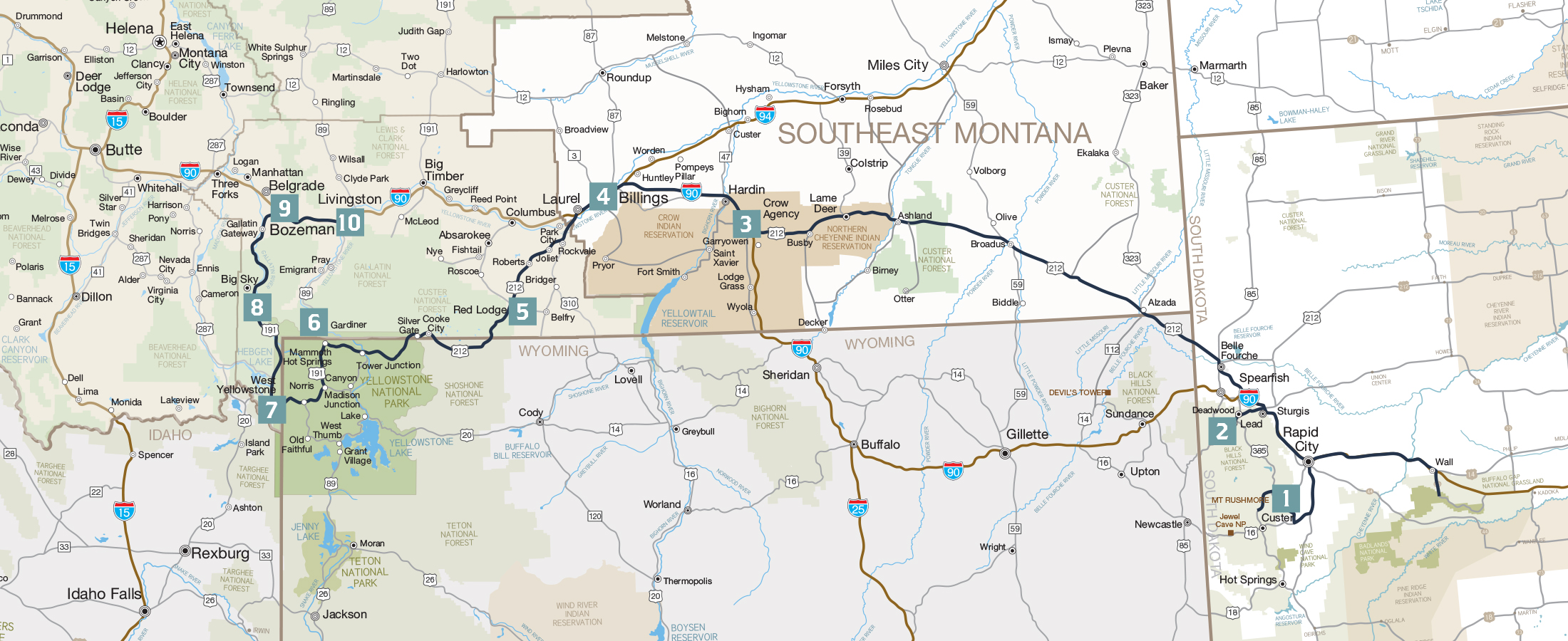 1. MOUNT RUSHMORE + CRAZY HORSE + CUSTER STATE PARK + WIND CAVE NATIONAL PARK
Start your trip in the Black Hills of South Dakota at Mount Rushmore. Next, travel south to Crazy Horse Memorial. Then, head toward Custer State Park's gorgeous prairielands, and Wind Cave National Park, with over 142 miles of mapped cave passages. Rent a cabin, stay at a lodge in Custer State Park, or camp in Wind Cave National Park.
2. BADLANDS NATIONAL PARK + DEADWOOD, SOUTH DAKOTA
Travel east towards the spectacular Badlands National Park, where stunning rock formations await. Then, relive the Old West in Deadwood, South Dakota, a National Historic Site with tours and reenactments of the Wild West. Lodge or camp in Deadwood, or camp in the Black Hills National Forest.
3. LITTLE BIGHORN BATTLEFIELD + BIGHORN CANYON NATIONAL RECREATION AREA
Get a lesson in the history of the Battle of the Little Bighorn (Custer's Last Stand) and spend the afternoon on the water at Bighorn Canyon National Recreation Area. Home to gorgeous views, Bighorn Canyon is also a spectacular place to view some of the darkest night skies in North America. Lodge in Billings or camp in Bighorn Canyon.
4. BILLINGS, MONTANA
Spend a day exploring downtown Billings, with multiple dining options, Old West charm and Montana's only walkable brew trail. Watch the sun set over the rimrocks and then explore the nightlife. Camp at Billings KOA Holiday or Yellowstone River Campground.
5. RED LODGE, MONTANA + BEARTOOTH HIGHWAY + COOKE CITY-SILVER GATE, MONTANA
Stop in charming Red Lodge, Montana for breakfast or lunch before hitting the most epic road ever. The Beartooth Highway is one of the top scenic routes in North America. Work your way to Cooke City-Silver Gate, Montana and explore the rich history of this tiny outpost. Camp at Soda Butte Campground or Colter Campground.
6. YELLOWSTONE NATIONAL PARK + GARDINER, MONTANA
Rise and shine! Dawn is the best time to see wildlife in the Lamar Valley. Spend the afternoon exploring Mammoth Hot Springs and grab dinner in Gardiner. Visit the shops and restaurants in town or head back into the park to watch the sun set over the geyser basins. Camp in Yellowstone National Park or near Gardiner.
7. YELLOWSTONE NATIONAL PARK + WEST YELLOWSTONE, MONTANA
Explore the western portion of the park including Old Faithful geyser and Yellowstone Falls. Be prepared for wildlife traffic jams and unbelievable views. Spend the night in West Yellowstone, Montana where visitors enjoy ranger-led programs and activities throughout the summer. Camp in Yellowstone National Park or near West Yellowstone.
8. BIG SKY, MONTANA
In the warmer months, this world-class ski town is the perfect spot to live the mountain life. Hike to Ousel Falls or ride the ski lifts for endless views. Visit breweries, restaurants, and the Music in the Mountains summer concert series. Camp in the Custer Gallatin National Forest.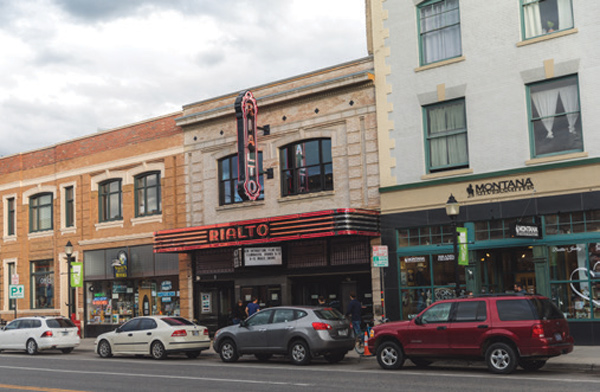 9. BOZEMAN, MONTANA
Take the Lone Mountain Scenic Trail from Big Sky to Bozeman, Montana, a hip college town. Visit the Museum of the Rockies with the largest collection of dinosaur fossils in North America, a planetarium and more, and also explore shops, restaurants, breweries and distilleries. Camp in the Bozeman Ranger District or close to town.
10. LIVINGSTON, MONTANA
Fly-fish the Gallatin River (with or without a guide) and take in the iconic sights and sounds of Big Sky Country. Relax in nearby natural hot springs, stroll the mountains and river valleys or explore Livingston's historic downtown. Camp in Custer Gallatin National Forest or close to town.