Stillwater County is one of Montana's Yellowstone Country's unique gems. Unlike our bustling, more well-known towns, it's a quiet place that allows your mind to slow. Of course, there are still opportunities for adventure - hiking, angling, time at the lake - but it's also a chance to take in the quieter moments in life. Scenic drives, leisurely meals, or following the Stillwater River by foot or boat. Visiting this area of Montana gives you the license to relax, do as much or as little as you wish, and bask in the beauty of nature. Here are some of our favorite activities, but don't be afraid to explore; there's a lot of country out here!
Top 5 Things to do in Stillwater County
1.    
Discover Native American History
Columbus, Montana, is the ancestral homeland of the Apsaalooke' (Crow) people, and today, the town sits on the north side of the Crow Reservation. However, the city was slow to be settled due to the constant raids by Sioux and Cheyenne war parties, who would also attack white invaders.
The Museum of the Beartooths has a beautiful history of Stillwater County, including a self-guided driving tour, "The Crow Tribe's Influence in Stillwater County." They also have an exhibit showcasing the Second Crow Agency and its critical role in the area's development after the Crow Reservation was formed in 1868.
The driving tour brochure takes you to twenty-four points of interest, with detailed descriptions. Seeing the physical locales gives you a new opportunity to envision and appreciate this rich history.
2.    
Go for a Scenic Drive
The Absarokee Loop Scenic Drive is perfect for an afternoon. The 44-mile route at the base of the Beartooth Mountains has a variety of scenery. The first ten miles on Highway 420 combine grasslands and agriculture. The next ten, just past the Cliff Swallow Fishing Access Site, the journey takes you through another ten miles of the canyon (on a gravel road) with the steep foothills of the Beartooth Mountains in the foreground and the towering peaks in the backdrop. This trip section ends after 19 miles in the town of Nye. Head east on Highway 419, which is once again paved.
This section follows Fishtail Creek, and you'll want to be sure to stop at the Fishtail General Store, the longest continually operating general store in Montana! They still carry a little bit of everything and have an excellent deli and even a catering service. The final stretch of the drive ends up at the Highway 78 junction and is a quick three miles back to Absarokee.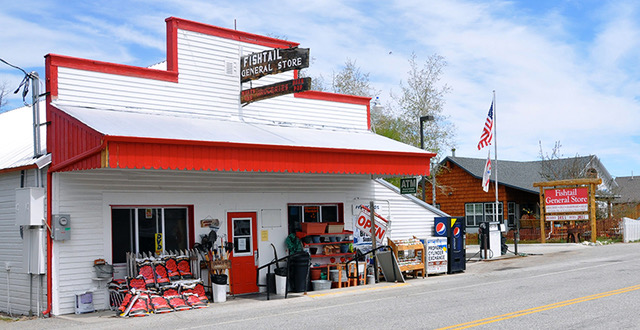 3.    
Explore the Stillwater River
A tributary of the Yellowstone River, the Stillwater begins high in the Beartooth mountains and flows seventy miles until it joins the Yellowstone in Columbus, Montana. Some of the best dry fly fishing in the state can be found here, given the cool waters, light fishing pressure, and plenty of rainbow and brown trout.
Despite the name, much of the Stillwater includes heavy rapids best navigated by an experienced guide. Stillwater Anglers in Columbus offers guided float or wading trips in half, full, or overnight increments. If you're planning to explore on your own, stop by Nye Fly for fishing gear, rentals, shuttles, and suggestions!
4.    
Take a Hike!
There's a hike for every ability in Stillwater County, and all of them feature fantastic scenery. Woodbine Falls is a 1.6-mile round trip for a shorter, mellow hike, gaining 280 feet of elevation. But don't let the ease of getting there deter you; it leads to one of Montana's tallest and most impressive waterfalls (outside Glacier National Park).
On the other end of adventure, East Rosebud Trail, also known as "The Beaten Path," is a 26-mile hike up to 10,000 feet of elevation. You can leave a shuttle in Cooke City and make the entire trip or do an out and back from the trailhead. Fifteen lakes along the way give you plenty of options for turnaround points!
Mystic Lake
, the second deepest lake in the Beartooth Mountains (over 300 ft deep!), has a large sandy beach and supports a rainbow trout fishery. Once you arrive, there is an additional three miles of beautiful trail around the lake.
West Fork Stillwater Trail
 is another long hike, with plenty of stopping points if you don't want to do the whole thing. Breakneck Meadows is an 8-mile hike, the next eight miles take you to Wounded Man Lake, and in another ten miles, you arrive at Stillwater Trail Junction. There are also four shorter side trails along the way!
*Please note, due to flood damage in June, 2022, some roads may be temporarily closed to prevent further damage. You can find current alerts at
www.fs.USDA.gov.
5.   
Enjoy Delicious Food
Although there are fewer of them, the restaurants here are something to write home about. Wild Flower Kitchen, between Absarokee and Fishtail, serves organic, local, and delicious comfort food. The ingredients are authentic, and the preparation impeccable. They also do food to go if you're looking for picnic fare!
The Dew Drop Drive-In, built in the 1960s, is excellent for burgers, fries, shakes, and other drive-in-style foods. (Plus, they have ten RV sites if you're looking for a place to stay for a few days.) The Grizzly Bar and Grill in Roscoe, Montana, is known for its burgers, steaks, and patio dining, but they also have a great lineup of sandwiches, salads, seafood, and poultry dishes for those who prefer a lighter fare. The quiet location and large deck make for an extra relaxing meal.
For more information about Stillwater County, check out 
A Day on the Stillwater River
 and 
Girl's Getaway on the Stillwater River
.