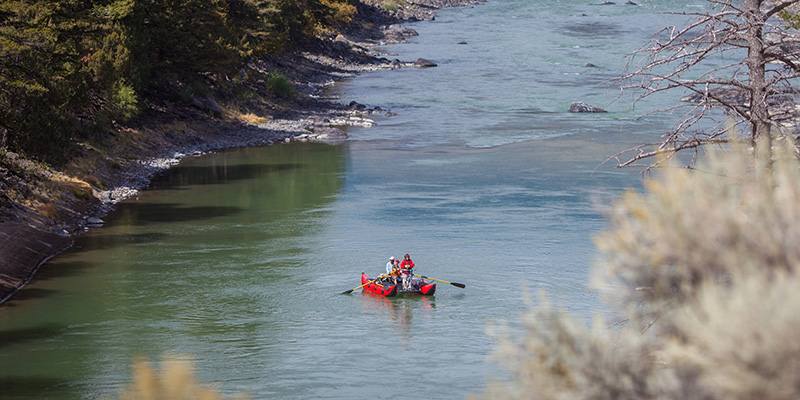 Like much of the west, June has been unseasonably hot in Yellowstone Country. Typically, temperatures range in the high 60's to low 70's with lots of rain. But this year, we've had 17 days over 80 degrees and seven days over 90 degrees with almost no precipitation. So as you can imagine, it's dry out here.
Naturally, the rivers and lakes serve as a reprieve from the heat, but many rivers are experiencing low flow and warm temperatures, creating a stressful environment for fish. Elsewhere in Montana, "hoot owl" closures are in effect, meaning fishing is closed from 2:00 p.m. until midnight. These closures are designed to protect fish susceptible to disease and death in drought and warm water. While these closures haven't yet taken effect in YC's rivers, Montana's Fish, Wildlife, and Parks ask anglers to fish during the coolest times of the day, land the fish quickly, keeping it in the water as much as possible. Then, remove the hook gently and let the fish recover before releasing. Artificial Lures with single and barbless hooks can make the hook removal faster and easier.
Ultimately, it's best to fish the cooler waters such as Hebgen Lake or high alpine lakes when the flows and temperature of the rivers get too low and warm. 
With an increase in residents and visitors, Fish and Game Wardens remind people of the fishing and boating regulations. Don't forget your fishing license. It's a good idea to print and carry a hard copy but save a backup copy as a pdf on your phone; many areas do not have cell service. 
Required Safety Equipment on boats: 


A wearable U.S. Coast Guard-approved personal floatation device must be readily accessible for every person on the vessel, regardless of age. This includes, but is not limited to, all boats, kayaks, paddleboards, jet skis, and canoes.


All vessels 16 feet in length and over must have one U.S. Coast Guard-approved throwable personal flotation device that is immediately available for use.


Children under 12 years of age must wear a life jacket on a boat less than 26 feet in length that is in motion. 



Towing/Skiing:




There must be at least two people on board a towing vessel, one operator/driver, and 

one observer. 

If the operator is 12 or younger, the observer must be at least 18.




The person(s) being towed 

must 

be wearing a U.S. Coast Guard-approved life jacket.




Fire extinguishers: All motorboats must carry a U.S. Coast Guard-approved type B fire extinguisher. 




Exception: motorboats less than 26 feet long that are propelled by an outboard motor and are entirely open construction (no closed spaces which may trap gasoline) are not required to have a fire extinguisher.



Validation Decals on Boats: 


All motorboats, sailboats, or personal watercraft that are registered in Montana must display two validation decals. Current validation decals are red in color and are in effect for three years expiring Feb. 28, 2023. You may obtain validation decals, free of charge, at any Fish, Wildlife & Parks regional office or the fwp.mt.gov website.


AIS Check Stations:



ALL WATERCRAFT

 are required to stop at all open AIS check stations. Folks doing "drive-bys," whether intentionally or unintentionally, are being cited.




By law, ALL NONRESIDENT WATERCRAFT

 must be inspected before launching in Montana. 




Proof of Inspection Paperwork

: Many nonresident boats that have been contacted do not have their proof of inspection paperwork in their boat while on the water. Please always carry these.



Inspections are essential to prevent invasive zebra or quagga mussels from entering Montana's waters. This season has seen a significant increase in the number of boats found carrying them, due partly to a rise in the number of boats and an increase in mussels. Always clean, drain and dry your watercraft after each boat outing.
Be sure to drink a significant amount of water and use sun protection, including lip sunscreen, a hat, and sunglasses.