Notes from the Road: Spring Hiking: The 'M' and 'Drinking Horse'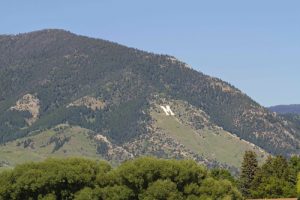 A while back, I noted that my goal this summer was to try to hike every single recommended trail in a hiking guidebook, entitled, "Bozeman Area Day Hikes," which includes hikes in the Paradise Valley, Big Sky and the Gallatin Canyon.
While I've convinced myself that it's summer, the trails in some of the steeper areas haven't quite dried out yet (read: are still knee deep with snow), so I've been forced to stick primarily to the trails in town.
That said, two of my favorites so far have emerged: The 'M' and Drinking Horse Mountain. With trailheads just across Bridger Canyon Road from each other, either trail can be hiked quickly, whether in the morning before a day trip out of town or in the early evening to prepare for a delicious meal (taking only an hour or so round trip, depending on your hiking speed).
While both trails are well maintained, depending on your foot stability, you may require reinforced ankle supports for the 'M' (there's a bit of loose rock and scree lining parts of the steeper portion of the trail). Drinking Horse, however, is more shaded than the 'M' and has more of a gradual ascent, making it a bit easier to hike in trail shoes or sneakers.
The trailheads are located off of Bridger Creek Road, about four miles outside of Bozeman; Drinking Horse on the right, at the Fish Technological Center, and the 'M' just 1/8 of a mile past Drinking Horse, on the left.
The hikes themselves are spectacular, with minor doses of tough terrain mixed with rolling pathways, but the most spectacular portion of each are their respective summits. The 'M' looks out over Bozeman and, on a clear day, offers views of the Gallatin Valley and the Tobacco Roots Mountains. Similarly, Drinking Horse allows you to see out over the Gallatin Valley, but also offers views to the south into Paradise Valley, toward Yellowstone National Park.