Notes from the Road: Spotlight on the Fishtail General Store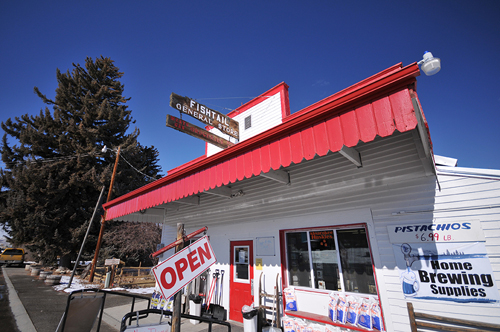 We're going to let you in on a little secret: highways around here are made for road trips. Full of two-lane roads and questionable speed limits, the way to really get to know the secrets of Montana's Yellowstone Country is to take a drive.
With iconic mountain views, winding roads and other vehicles few and far between, the drive itself could simply be the destination. Yet, in all the great literary journeys, from Homer's Odyssey to Zen and the Art of Motorcycle Maintenance, it's the towns that our heroes discovered along the way that made for the greatest legends.
Fishtail, Montana, is one of those towns.
Welcome to Fishtail

Driving southwest from Columbus on Highway 78, the iconic green and white sign for Fishtail is hard to miss. Once a destination for gold prospectors, it is now a gateway town to the Beartooth Mountains—a final stop for fuel, a freshly made sandwich or a cup of coffee at the beginning of a frosty day of backcountry skiing.
And while Fishtail boasts a coffee shop, post office, art center and a saloon, it's the General Store that puts this tiny town on the map.
Originally built in 1900, the Fishtail General Store is the oldest continuously operating general store in the state of Montana (Cooke City's is technically the oldest, but it closes for the off-seasons). The store has changed hands several times since its construction. Current owners, Katy and Bill Martin, have run the store since 2000.
On the surface, Fishtail General Store reminds you of your local grocer: coffee percolating at 4:30am, fresh deli meat sliced right at the counter and a plethora of snack options to fill up your pack.
But it's so much more than just a store.
In a town of 500 people, the general store is the water cooler, advertising firm and honorary town hall, all rolled into one.
"It's a lot more than just a grocery store; it's a chamber of commerce," Katy Martin says. "We've done first aid on people who have fallen off of their bikes, we post flyers for people who have lost their animals. We're really here to help our community. [The store] is the pulse of what's happening, and that's what excites us the most."
And the inventory reflects Katy's statement. Hunting and fishing gear, lawn care essentials, home brewing equipment and an entire section of gluten-free fare show just how many diverse palettes the general store serves. And if that wasn't enough, the Martins often play host to community celebrations (like their in-store Halloween Party or hosting a booth during the Fishtail Fun Day in the summer).
A Typical Day

Katy will tell you that no day is typical, but if there were ever one that came close, this is what it would look like:
4:30am – The lights at the store flicker on. Soon, the smell of coffee fills the space as breakfast burritos are prepared for the Stillwater Mining teams to grab on their way to the mine.
5:00am – Fishtail General Store officially opens for business. Sleepy miners grab a cup of coffee and look around the store's inventory. (Oh, yeah, they sell mining apparel, too.)
8:00am – The normal morning rush begins to slow. Time to get ready for the afternoon crowd. Back in the deli, sandwiches are assembled and packaged. Somewhere, another pot of brewing coffee fills the store with a delightful aroma.
Noon – Katy has already been at the store since, well, if not right when it opened, shortly thereafter. By now, she's already assisted a truckload of customers coming in for everything from souvenirs to staples, fishing rods to cinnamon rolls. As the lunch rush begins, Katy takes a break to chat to one of Fishtail's residents around the store's vintage pot-bellied stove.
2:30pm – True to its community-based mission, an employee dishes out ice cream to a group of students who wandered in after school. At only 50 cents a cone, this is a bargain that's hard to beat.
4:00pm – Katy gets off the phone with a wholesaler. The Martins have recently expanded into wholesaling some of their homemade products, like their cheesecakes, breakfast sandwiches and vegetarian wraps. City Brews across Montana will stock sandwiches from the Fishtail General Store.
8:00pm – Most businesses in the small town closed hours earlier, but the general store is just wrapping up, serving their last pot of coffee to mining crews on the night shift.
Next time you're taking a drive on highway 78 near Absarokee, follow Horace Greeley's advice and, "Head west," toward Fishtail. Stop for a bite to eat, a bit of news and the chance to see a different side of Montana's Yellowstone Country.
Have you ever been to the Fishtail General Store? Tell us about your experience below (and follow them on Facebook for all their updates).