Notes from the Road: How to Fish in the Winter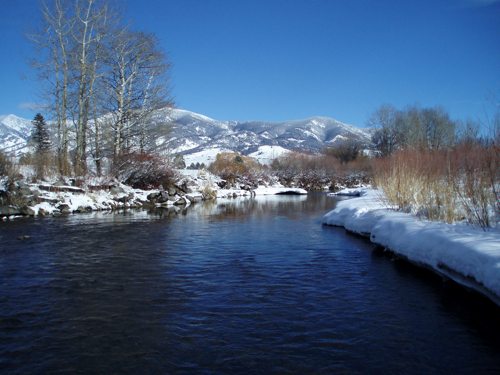 (Author's note: I had this conversation in the Griz, an après-ski bar at the base of Bridger Bowl. Or, as an acquaintance once told me, "That place where all the hippie ski bums hang out." Which offended me for a moment until I realized that it was the first time in my life that someone had called me either a hippie OR a ski bum. I've finally arrived.)
First, before you even ask, the answer is yes, you can fish in the winter.
Yes, you can wade into the water, when the water is below thirty degrees and the air isn't much warmer and catch some of our famous river trout.
This post is to inform you how to do it and how you might even have a little bit of fun doing it. But, since I don't know anything about fishing, let alone fishing in the winter, I sidled up to a fishing guide (unfortunately an anonymous one, since fishing guides are not legally allowed to solicit business in Montana without booking a client through an outfitter) after a ski day last week and plied him with a pitcher of beer in exchange for his secrets.
1. Nobody guides in the winter
, which means this is an undertaking you're going to have to commit to yourself. Don't worry; if you can fish in the summer, I believe in your ability to fish in the winter.
2. Check the weather.
Go for a day that is a little warmer than usual; maybe one when it's too warm to ski (it can climb into the 30s or 40s in Montana's Yellowstone Country in the winter; those days are good ones to try winter fishing).
3. You can only spend so many hours in the water.
12pm - 3pm is the ideal window to try winter fishing and nobody is going to fault you for only staying out for an hour or so. It's a perfect afternoon activity if you're taking a rest day from skiing or after a morning of snowmobiling. Or, simply wake up late, have coffee, play with the dog, read the paper, think about fishing, drink more coffee, then start gathering your gear.
4. Dress warmly.
While you don't need special flies or line—or even gear—for winter fishing, dig out your long johns, pop a hat on and maybe invest in some fingerless wool gloves which are quick drying and have the added benefit of allowing your fingers to still control the line. And don't be afraid of taking frequent breaks. Your feet will likely turn into ice cubes, so bring a thermos and take coffee breaks in your truck or make a little bankside fire to keep your circulation hearty.
5. Wade, don't drift.
Leave the boat at home. Drift boating is dicey with the ice that's present in the river and the flow is often so low that it's not worth hauling the boat in and out. Stick to wading.
6. Be prepared to change up your technique.
The water is cold, so the fish aren't as mobile. This is good because your movements are less likely to stir them, but because they don't eat as much in the winter, you have to float your lure right in front of their faces. Winter fishing can be hit or miss (but I guess, so can summer fishing, right?).
7. Winter is the time for whitefish.
Even non-fishermen have heard that Yellowstone Country is famous for trout fishing. However, in the winter, Mountain Whitefish are good eating fish because the skin is firmer due to the colder water temperatures.
Even better news is that:
a) Whitefish outnumber trout 7 to 1 in the Yellowstone River.
b) The bag limit is much higher for the number of whitefish you can keep (for the Yellowstone, it's 25 whitefish per day, compared to just 3 trout).
c) Whitefish are easy to eat. Smoke them in tin foil with herbs and white wine, or simply bread and pan fry for an easy, yet delicious meal.
And a few other points …
The smaller streams close from mid-December to mid-May, meaning the only places to fish in the winter are on major rivers like the Yellowstone or the Gallatin. Apparently, though, the Yellowstone freezes pretty early, so you might have better luck on the Gallatin (particularly on the Valley Stretch of the Gallatin River, from the mouth of the Gallatin Canyon all the way out to Three Forks).
If you're worried about crossing into private land, don't be. Montana access law says that as long as you stay within the high water mark and have entered at a legal public access point (put-ins, any public bridge), you can wade wherever you want to fish. Though we suspect you'll stay close to your car or truck in the winter.
So why go to all this trouble just to catch a few fish?
Because, as my fish-loving friend says, "It's so quiet, it feels like you're cheating or stealing. Like you're doing something that you shouldn't be doing." If you choose to fish in the winter, you likely won't see another soul (because even die-hard fisherman don't fish in the winter). The snow insulates the sound, so it's quiet and serene. It's a great time to get away and feel like you know a secret that no one else does.
Have you ever fished in the winter? Leave us your tips in the comments below.