Notes from the Road: December Event Roundup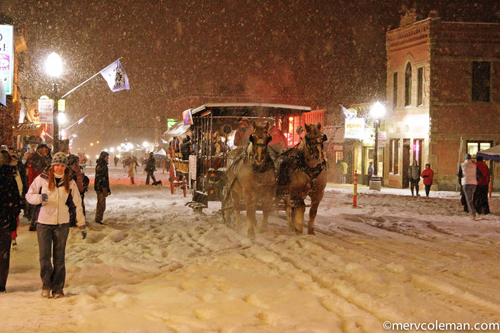 It's officially winter! Snow flying, ski resorts opening, and Yellowstone National Park kicking off its winter season means that winter has finally arrived. Here are the top things to do in Yellowstone Country this month:
OUTDOOR EVENTS
Bozeman Ice Fest

December 11-15

Emerson Center, Bozeman

Celebrating its 17th year, the Bozeman Ice Fest comes to the Emerson Center on December 11. Replete with ice climbing clinics, tutorials, presentations, gear demos and booths, ice climbing pros and newbies alike will definitely find something that will get them excited for the season ahead. All proceeds from the festival go to Friends of Hyalite, which helps support recreational activities in Hyalite Canyon just outside of Bozeman.
Rodeo Run Sled Dog Races

Friday & Saturday, December 13-14, at 6pm

West Yellowstone

Ever seen a sled dog race? Well now you can. On Friday and Saturday, December 13 and 14, line up with mushers, their dogs and the rest of the West Yellowstone community to watch as the dogs take off down the Old Airport trail. Love dogs? Head over to the meet and greet on Canyon Street, Thursday, December 12, during West Yellowstone's Christmas Stroll to shake hands (and paws) with these teams.
West Entrance to Yellowstone National Park Opens for Winter

Sunday, December 15

West Yellowstone

On December 15, the west entrance to Yellowstone Park opens for winter lovers or those looking for a unique Yellowstone Country experience. Not only can you enter the Park via snowshoes, cross-country skis or snowmobile, each day, but there are also commercially guided snowcoach or snowmobile tours over snow-covered roads. Tours start in West Yellowstone and extend to popular destinations inside the wintry heart of Yellowstone. Tours are conducted by interpretive guides, who are local experts, and whose knowledge of the Park's ecosystem, history and present day state is unparalleled. Find information on how to reserve snowcoach rides here.
CULTURAL EVENTS
Madrigal Dinner at Buck's T-4

Thursday, December 5, at 5pm

Buck's T-4, Big Sky

Choral music and Christmas tunes feel just right this time of year. Good thing the Big Sky Arts Council is putting on their 17th annual Madrigal Dinner. Join them for dinner and live vocal and instrumental performances from local student groups. Music provided by the MSU Choral, MSU Montanans and MSU Brass Quintet. Advance tickets are $55 per person, including a plated dinner.
Montana Ballet Company's "The Nutcracker"

Saturday, December 7, at 7:30pm Sunday, December 8, at 2pm

Willson Auditorium, Bozeman

It's not winter without the tale of Clara, her toy soldier crusaders and, of course, everyone's favorite Sugar Plum Fairy. Spend an evening with Montana Ballet Company and their production of The Nutcracker. Set to Tchaikovsky's famous score, get excited for the holidays as you revel in the lights, music, steps and performances of this perennial favorite.
Winter Art Walk

Friday, December 13, 6pm-8pm

Downtown Bozeman

Though it might seem a little chilly now, things warm up as the Downtown Bozeman Association, Downtown Bozeman art galleries and retailers and the Emerson Center for the Arts and Culture present the first Downtown Bozeman Winter Art Walk, on Friday, December 13. Much like the summertime art walks, you'll be able to view art openings and new pieces from local artists, as well as get the chance to purchase something unique for the art connoisseur in your life. And if that wasn't enough, most galleries will provide hors d'oeuvres and beverages. Not a bad way to spend a Friday, if you ask us.
Emigrant Winter Festival

Saturday, December 14, 9am-3pm

Emigrant Hall

Join the community of Emigrant for arts and crafts, a holiday bazaar, a kid's corner, carolers and lunch with Santa.
Kelly Ash Band Live at the Big Sky Chapel

Saturday, December 21, at 7pm

Big Sky Chapel

For the jazz lovers out there, you won't find a better concert than New York City-based Kelly Ash Band. This program—which is family oriented, so feel free to bring the kids—blends jazz, folk and pop sounds to create an entertaining sound. Starting at 7pm, this event is free and open to the public. A word to the wise: the Big Sky Chapel fills up fast, so make sure you get there early.
Christmas Eve Torchlight Parade

Tuesday, December 24, at 8pm

Big Sky Resort

If you can't wait for the winter Olympics in Sochi, this might be a fun activity for you. The Big Sky Snowsports Ski School will spend the evening skiing and riding down Andesite Mountain carrying lit torches, creating a veritable moving festival of lights. Music and fireworks post parade.
FAMILY EVENTS
'Tis the season for Christmas Strolls. Here are Yellowstone Country's 2013 Strolls, in each town.
Gardiner Christmas Stroll

Thursday, December 5, from 5pm-8pm

Gardiner

Come see Gardiner lit up for the holidays by participating in its annual Christmas Stroll. Stores will be open and people will line the streets as this event kicks off the month of strolling before the holidays.
Downtown Livingston Holiday Stroll

Friday, December 6

Livingston

Live music in the Murray Hotel Lobby and Park County Senior Center, photos with Santa at Florence Furniture on Main Street, plus food, hot chocolate and shopping all through downtown makes Livingston bustle this season. Plus, all those lights on Main Street, covered with snow, will add even more to the beauty of this event.
Three Forks Christmas Stroll

Friday, December 6

Three Forks

Experience "Home for the Holidays" in Three Forks, from 4pm-8pm. The evening will include fun activities for the kids, vendors and shopping on Main Street, music, carriage rides and, of course, a visit from Santa and Mrs. Claus.
Bozeman Christmas Stroll

Saturday, December 7, from 4:30pm-7:30pm

Bozeman

Be one of 5,000 people that line Main Street to experience Bozeman's annual Christmas Stroll. Let your eyes light up as Santa makes his way from the Emerson, down Main Street, singing Christmas carols, shaking little hands and helping to spread Christmas cheer. Snap a picture of your little one with Mr. C, take your own wagon ride, or simply stroll the streets, shopping for gifts and, of course, warming your hands with some hot chocolate.
West Yellowstone Christmas Stroll

Thursday, December 12

West Yellowstone

It's a time of rosy cheeks and laughter as you join friends, family and neighbors when the West Yellowstone community comes together to parade in lights, greet Santa, light the town tree and stroll the shops seeking just the right gifts.
Big Sky Christmas Stroll

Friday, December 13, 5:30pm

Big Sky

The whole town is set up for the stroll. With activities at both Meadow Village Center and Big Sky Town Center, there's plenty to see and do. Blue Ribbon Builders will help Santa light the town tree, Lone Mountain Ranch is offering sleigh rides, live music will play all night at Choppers Grub & Pub and the fireworks will go off just above Big Sky Town Center. Take in the night as you stroll through the many local shops and enjoy their food and refreshments, raffles and holiday specials.
S'Mores & Sledding

Saturday, December 14, 6pm-9pm

West Yellowstone

Taking place at the West Yellowstone Ice Rink (100 S. Faithful Street), this evening is replete with marshmallows, Hershey bars, graham crackers, a fire and hot chocolate. A rush of fun comes in the form of a sledding hill. Warm clothes, gloves and boots are wise picks for parents, as well as for the kids. (And, as a bonus, it's free.)
Kids'N'Snow Weekend

Friday & Saturday, December 14-15, all day

West Yellowstone

Through Kids'N'Snow, the town of West Yellowstone offers an opportunity for all kids to try new snow sports in a safe and fun, hands-on learning environment, with the hope that they'll also develop lifelong, healthy habits along the way. Schedule and registration are now available at www.kidsnsnow.org.
What plans do you have for this month? Leave them in the comments.