Notes From the Road: Day Trips to Yellowstone: How to Plan, Prepare and Pack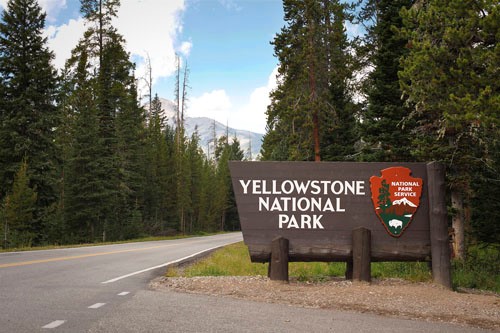 A lot of travelers come to Montana's Yellowstone Country for one reason and one reason only: to visit Yellowstone National Park. The sheer enormity of the landscape, the opportunity to see wildlife that you may never see elsewhere and the history of the world's oldest national park combine to make it one of the most memorable trips of your and your family's lives.
But what if you've got small children who won't stand for a whole day of driving? Or you're staying with relatives who live in Three Forks or Red Lodge and have a bit of a drive to get into the heart of the park?
Here are some tips and tricks to make a really memorable trip into Yellowstone, even if it's only for a day.
Planning
It's one thing to see Yellowstone on a map; it's another thing completely to stand at the Roosevelt Gate in Gardiner. Having a solid plan for your day is important so that you and your family don't get overwhelmed with the sheer size and number of people in the park.
Alternately, a sense of flexibility and going with the flow is also important because you'll never know when you have to make an unexpected stop to check out a herd of elk or slow to 15 mph because there's a herd of buffalo on the road (seriously).
My recommendation as a seasoned Yellowstone National Park day-tripper: plan on one big activity in the morning and one in the afternoon. And that's it.
If your family is full of hikers, go for a quick day hike at one of the trailheads in the morning (an out-and-back hike of 3-4 miles is the perfect morning activity), stop to see Old Faithful or walk the boardwalks around Mammoth.
Alternately, after lunch, plan for a relaxing soak in the Boiling River or a swim at the Firehole Swimming Area, which will give the kids time to play in the water and you time to relax in the crystal clear goodness of some of Yellowstone National Park's rivers and tributaries.
A note on Parks Passes:
If you're planning on coming back to Yellowstone at any other point in the year, it's worth it to buy a parks pass. Valid for one year, you get unlimited entrances to Yellowstone for $50 (a one-week pass to the park is $25, in comparison). Or, if you're a national park fanatic, buying an inter-parks pass for $80 means that you can get a pass for all of the country's national parks. If you visit 3 parks in a year, it's well worth it.
Preparing
Word to the wise: Unlike most of the rest of Yellowstone Country, Yellowstone Park can get very crowded in the summer. Parking can sometimes be a bit difficult at some of the more popular areas and the visitor's stations tend to attract a lot of other visitors.
Some ways to avoid the crowds? Get up and on the road early, before 8am. You'll also have the best chance of seeing wildlife in the early morning hours, in case you needed more incentive.
Additionally, pack a day's worth of water (at least 32 ounces per person). It gets hot in the Park during the summer and not all rest areas have potable, running water. While running water isn't usually more than 5-10 miles away from any point, having water bottles filled up can fend off the inevitable, "Mom, I'm thirsty," calls from the back seat.
Finally, gasing up your car before you head into the park is a good idea. You do a lot of driving in Yellowstone and gas gets quite expensive inside the Park. Better to be filled up before heading in than to spend your vacation time in a line of cars to get pricey gas.
Packing
My favorite way to experience Yellowstone is to eat all my meals surrounded by the gorgeous scenery and in the toasty sun. Which is why I'm a huge proponent of packing a picnic lunch and a thermos of iced tea and sit out on one of the many picnic tables scattered along the Park's roads. You can also stop at one of the Park's many grocery stores and grab some goodies to make a yummy lunch of cheese and crackers, sandwiches and salads.
It's also important to pack rain clothes (for those inevitable afternoon downpours), a sun hat, sunglasses, sunscreen and a pair of well-worn hiking boots or sneakers. You never know when you'll want to go for a quick walk off the road or if you'll be spending time outside, peering at some wildlife. And the sun is strong in Yellowstone during the summer; even just a few minutes can toast the tips of your ears or nose.
What are your secrets for having a successful, fun day trip to Yellowstone? Entertainment for the kids? Tons of snacks? Share in the comments below.