Notes from the Road: 9 Things for Non-Skiers to Do This Season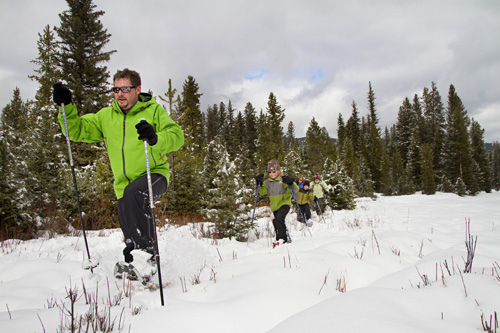 When the snow flies and the mountains are blankets of white, it's easy to see why Yellowstone Country has a reputation for being a skier and rider's paradise. And while we are certainly excited that
the resorts are open
, we're also happy to report that you don't necessarily have to step into a pair of bindings (or even like the outdoors) to have a truly unique and wildly fun experience.

For Outdoor Enthusiasts
Snowshoeing
Snowshoeing is the winter parallel to hiking and it's a great way to be outside in the winter without having to learn a whole new sport. Especially family friendly, anyone can snowshoe on the first try. Make sure you get the right gear, as the snow gets quite deep here and you'll often find yourself sinking to your waist without a set of snowshoes (poles are helpful, too, for first-timers). You can rent snowshoes at any local outfitter or gear shop (just call ahead to make sure they have enough in stock).
Snowmobiling
A bit of an adventurer, are you? If getting further into the backcountry in a shorter amount of time is more your thing, rent a snowmobile or
hire a guide
and see a side of Yellowstone Country that few get to experience. While snowmobiling is allowed throughout the area, check out
our favorite places
to drive a sled.
Soaking
With temperatures sometimes dropping into the single digits, what better way to combat a frigid day than a relaxing soak in a natural hot spring? For a leisurely day spent in the company of some loved ones, check out Bozeman Hot Springs or Chico Resort for hot springs pools with food, drink and … um … actual places to sit.
For the adventurous ones out there, head down to Yellowstone National Park, through the Gardiner entrance, for a soak in the Boiling River. Situated at the confluence of the Yellowstone River and a hydrothermal stream, this completely natural hot spring is highly favored by locals. We recommend wearing shoes or river sandals on the way in. And make your entrance quick. The first few steps are all river water, and quite chilly.
Ice Skating
For an activity that the whole family can enjoy, rent some skates and channel your inner Gretzky (or Lipinski). Check out local ice rinks like Red Lodge Ice in Red Lodge, the Big Sky Rink at Town Center in Big Sky or head to
B Bar Ranch
in Emigrant (they offer pond skating to guests). The unique part about outdoor rinks is you'll get a gorgeous view of the mountain vistas while you build up some heat racing the little ones around the rink—and even feeling like a kid again yourself.

Touring Yellowstone National Park in a Snowcoach
Whether you're an animal enthusiast or simply looking to spend a day touring Yellowstone while someone else does the driving, we highly recommend booking a snowcoach tour. Snowcoaches have huge windows for sightseeing and over-the-snow tires, which means roads that are normally closed to car traffic are wide open for snowcoach operators. It also means that you'll get a much more subdued experience of Yellowstone, with far fewer people and far better chances of catching sight of something wild. If you're lucky, you'll be bombarded by sightings of deer, elk, moose and maybe a wolf.

For Those Who Prefer the Indoors
Visit Art Galleries
Even if you don't have space in your suitcase (or in your house!) for a piece of art, getting a glimpse of local living and wildlife from an artist's point of view is a fun, unconventional way to spend an afternoon. The town of Livingston is a veritable treasure trove of art galleries, pottery and wood working shops and wildlife paintings. Bozeman has the
Emerson Center
, which is home to more than a dozen artists and galleries and Bozeman's Main Street is alive and well with antique dealers and rug shops.
Brewery Tours
With more breweries per capita here than any other state (except Vermont), it's safe to say that Yellowstone Country residents love
a good beer
. More options mean that there's always something for everyone, whether you prefer your brew deep and dark or light and airy. But even if you aren't a beer enthusiast, visiting a few micro pubs is a great way to check out some of the local flavors and maybe even see a little live music. Looking for some recommendations? Check out 406 Brewery, Bozeman Brewing or Bridger Brewing Co. in Bozeman, Neptune Brewery in Livingston, Red Lodge Ales in Red Lodge, Lone Peak Brewery in Big Sky, Madison River Brewery in Belgrade or, if you're a visual person, check out this awesome
Montana Beer Map.
Antiquing
Pottery Barn lovers beware: with antique stores seemingly on every corner, you can furnish an entire home with actual antiques for a fraction of the price that you could purchase "antique-looking" items from home décor stores (plus, there's no sales tax in Montana). Even if you're not looking to purchase anything, grab a cup of coffee and spend the day leisurely sifting through rustic treasures unique to Yellowstone Country. To start, we recommend perusing
Out of the Blue
in Livingston, the
Antique Barn
in Gallatin Gateway,
Montana Expressions
in Bozeman or Wildflower Antiques in Big Sky.

Take in a Show
If you're looking for a way to spend a date night or even get the girls together for a night out, why not catch a performance to break up the traditional "dinner and a movie" routine? For theater enthusiasts out there, The
Shane Lalani Center
in Livingston offers stage plays four times a year and the
Ellen Theater
in Bozeman offers a variety of performances, from ballet to symphonic orchestra. More of a movie fan? Check out the
Emerson Cultural Center
for everything from environmental documentaries to situational comedies. And of course, for live music lovers, there are hideaways for jamming out all over Yellowstone Country. Whiskey Jack's in Big Sky, The Filling Station in Bozeman or The Murray in Livingston are all excellent options of low-key locales to catch a neighborhood band.
What other non-skiing things do you do in Yellowstone Country? Leave us a comment and let us know.