Notes from the Road: 6 Tips for Choosing the Perfect Christmas Tree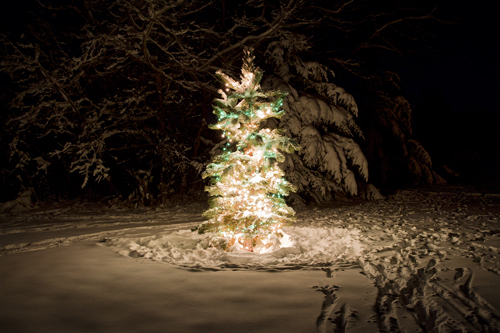 The Annual Hunt for the Christmas tree.
There are three Yellowstone Country ways that you can obtain a Christmas tree:



1. Buy a fake tree from a big box store.




2. Purchase a pre-cut tree from your local hardware/discount/big box store.




3. Go out into the forest and cut down your own dang tree.



While we understand that there is a time and a place for a store bought or pre-cut tree, here in Yellowstone Country, we firmly believe that every family should, at least once, experience cutting down an actual tree to haul home and trim.
However, being the kind (and informed!) folks that we are, we're not going to send you out into the woods without equipping you with some pertinent knowledge. Here are some tips from us Christmas tree cutting experts:
1. Get a permit
From Three Forks to Red Lodge, you need a permit to cut down any tree in either the Gallatin National Forest (western Yellowstone Country) or the Custer National Forest (eastern Yellowstone Country). Not to fear, these permits will cost you a mere $5 and can be obtained from any Forest Service Office in Bozeman, West Yellowstone, Livingston, Gardiner, Big Timber or Red Lodge.
Not close to a Forest Service Office? You can grab a permit at the following businesses throughout Yellowstone Country:
Belgrade: Lee & Dad's IGA, Belgrade True Value
Bozeman: Owenhouse Ace Hardware (downtown location), Murdoch's Ranch & Home Supply
West Yellowstone: Corner Conoco
Livingston: Livingston Ace Hardware
Gardiner: Gardiner Market
Red Lodge: Red Lodge True Value, Sylvan Peak Enterprises
2. Choose your location wisely
Technically, you can cut a tree anywhere in Gallatin or Custer National Forests, as long as you pick one at least 100 feet from any vehicle road or trail or 100 feet from a live stream. That means trees around campgrounds and trailheads are off limits.
Also consider that whatever tree you cut has to be carried out from wherever it is felled. So, while we know you'll be excited when you find the most full, well-proportioned Douglas Fir in all of Yellowstone Country after an hour of hunting, you're going to be pretty tired of hauling it two more miles down the trail to your car.
3. Dress for the occasion
We recommend dressing like you're going snowshoeing or cross-country skiing. Wear sweat-wicking layers, thick socks, a hat, gloves and waterproof boots. Be prepared to remove layers as you're hiking around trying to find a good tree, in case the Big Sky sun is shining.
Not only is your outerwear important, but what you use to maneuver over—or through—the deep snow is also something to think about. Consider snowshoes or skis to help you move easily off trail. The snow in our local forests is quite deep and nobody likes post-holing up to their knees. The fastest way to have a miserable time is to get your socks wet while tromping around in fresh snow.
4. Get outfitted
Here's a basic list of things to bring on your Christmas Tree Hunting adventure:



a. Hack saw




b. Headlamp




c. Water & snacks




d. Area map




e. Hand warmers




f. Rope or straps to secure tree to car top




g. Cross-country skis or snowshoes if the snow is deep




h. Sled, for easy transport of your tree



The sled is optional, but if you want to preserve the shape of the tree and ensure that the branches don't break in transit, you can simply lay the tree in the body of the sled. A sled is also a good option if you are skiing or snowshoeing; if you harness the sled to your body, your arms will be free to use your poles.
5. Choose a tree with character
Sometimes, the best trees aren't perfectly round and evenly spaced. We're not recommending that you go all Charlie Brown or anything like that with your tree, but sometimes the best ones have some bare spots near the top or they might have some branches that are growing a little wonky. It's these imperfections that, when standing in the corner of your home, will remind you of the cold that you trudged through and the sweat that you built up lugging that beauty out of the forest. Pick a tree with character.
Though you can pick any tree you like, the Forest Service states that trees should be less than 12 feet tall in the Gallatin National Forest and less than 15 feet tall in the Custer National Forest.
A word of advice: pine beetles sadly have killed some of the trees in both forests. Make sure to check that the tree you've selected is still alive and well, and has no pine beetle damage. To see what that damage looks like, click here.
6. Minimize your risk
The best time of day to go Christmas Tree hunting is in the morning or early afternoon. The snow will be easier to maneuver and less prone to small avalanches, and you'll have plenty of daylight to burn if the search takes longer than anticipated. Try not to head out in the late afternoon or at dusk, even if you think it will be a quick trip. Wildlife tend to roam at that time of the day, which could be hazardous both when choosing a tree and when driving back from your tree cutting location.
Even if you go early in the day, always bring plenty of water, a headlamp, some snacks and a few other emergency supplies. It may be a pain to haul in and out, but it's always better to have it and not need it than the other way around.
Have you ever cut down your own Christmas tree? Tell us about your experience in the comments.