Notes from the Road: 5 Yellowstone Country Gifts to Give to Your Valentine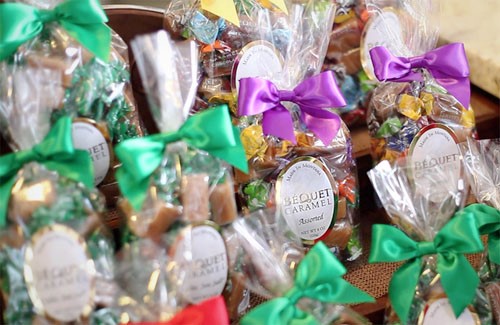 A nice dinner out and flowers are all wonderful things to gift your special someone on Valentine's Day. But what if you already give flowers frequently, you need a little treat for the kids or you're sick of being clichéd?
Below, we've rounded up eight of the best ways to show to the person (or people) that you love how much sweeter this holiday can be.
A Tasting Date at Roughstock Distillery
Because what says romance more than five tiny sips of fire-in-your-belly whiskey? Located in Gallatin Gateway, just between Bozeman and Big Sky, Roughstock Distillery was the first legal distillery in the entire state of Montana since the days of Prohibition. Their whiskey is all made fresh at the distillery. Not into traveling? They not only distribute at the distillery, but at retailers throughout Yellowstone Country.
Best for:
Whiskey lovers and those looking for a fun date idea.
These little beauties are quite possibly the worst thing to happen to your waistline since you discovered beer (and are way less conventional than the traditional box of chocolates). As a testament to how delicious they taste, I went to a wedding this summer and these were favors for each guest. After scarfing down my lot, I proceeded to steal bags from other people's tables and stuff them in my purse. I'm not proud of it, but it did happen. Go for the
Sea Salt or Salt-Chocolate.
Best for:
The one with the sweet tooth, every single kid that you know and all the kids at heart.
Bison Jerky
Because jerky is delicious, but jerky made from 100%, all local-to-Yellowstone-Country bison is damn near decadent. Let's say you and the one(s) you love aren't up for sappy cards and gifts; you prefer cold ski days and long backpacking trips. Showing your special someone how much they mean to you with a few packets of these (and also showing how much you know about them by knowing that they need to snack every few hours) is just what St. Valentine ordered. Found at 
Chalet Market
in Belgrade.
Best for:
The outdoor enthusiast who gets hungry during outings.
A Ride on a Dogsled
This is quite possibly the coolest thing on this list, mostly because I can't imagine being seated and strapped behind a train of guided dogs pulling my date and I swiftly through the forest. Plus, look at all the cute puppies. It makes me want to cry "Mush!" (Good thing I'm alone in my apartment.) Check out 
these guys
to get more info.
Best for:
The adventurer or the whole family that needs to get out of the house.
For Whom the Bell Tolls
What's Ernest Hemingway doing on this list? Other than being a complete literary badass (if my inner English major nerd can say so), Ernest Hemingway loved Montana as much as the rest of us. He frequently visited Red Lodge and Cooke City and he spent so much time here that his main character, Robert Jordan—from the book named in the title of this very paragraph—hails from Red Lodge. Plus, as the resident book nerd around these parts, there are very few occasions that I'm not appreciative of a piece of classic literature.
Best for:
The bookworm or history buff.
Happy Valentine's Day. What are your favorite non-traditional gifts to get the ones you love?