Notes from the Road: 36 Hours in Pray, Montana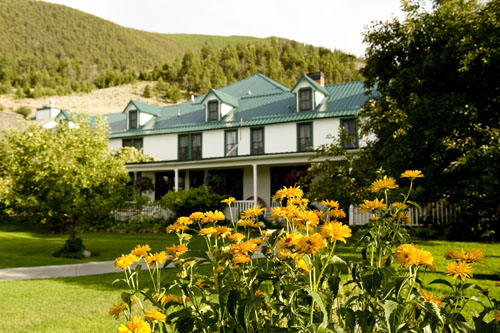 To get even more out of your weekends (or weeks) in Montana's Yellowstone Country, we've decided to highlight some of the small town gems that are often overlooked by guidebooks. First up: Pray, Montana. Located about 1 hour from the Bozeman Airport, Pray lies just south of Livingston, in the heart of Paradise Valley. Head there for a weekend—or just a day—and check out some of the hidden things it has to offer.
Friday, 5:30 pm
After leaving the airport in Bozeman, head straight for
Chico Hot Springs Resort and Day Spa
. Originally built in 1900, the natural hot spring waters of Chico Warm Springs (as it was known then) were touted to have healing powers. Today, there are 48 guest rooms built in the main lodge surrounding the hot spring pool, as well as small log cabins, huge guest houses and cute cottages strewn about the property. Book a room for a short getaway or a cabin for the whole family and use Chico's hot springs, delicious dining room and proximity to many hiking and cross-country ski trails as a jumping-off point.
7:00 pm
After you drop your bags in your room, quiet your stomach grumbles with a trip to the River's Edge Bar and Grill (406.333.4343). Located on the Yellowstone River, you can't go wrong with the pizza, nor will you be able to turn up your nose at one of the local Montana microbrews that they have on tap. Low-key and casual, the River's Edge is a great spot to hang out and see what small town Yellowstone Country is all about.
Saturday, 8:00 am
To make the most of your Saturday, wake up early, grab your snowshoes and get going. On the way to Montana Highway 89, swing by the 
Wildflour Bakery
in neighboring Emigrant, to grab a cup of joe and their famous coffee cake. For hearty breakfast lovers, grab a plate of biscuits and sausage gravy for an extra layer of goodness in your stomach. Not only is Wildflour a delicious place to start your morning, they also donate bread to the local middle school in Pray, making it an extra sweet place to start your morning.
8:45 am
After whetting your appetite, jump back in the car and head south on Montana Highway 89 for 14 miles. Take a right on Tom Miner Creek Road and drive for about 8 miles until you come to the Tom Miner Basin trailhead. This trail has a moderate grade and is perfect for snowshoeing in the fall/winter and hiking or trail running in the spring and summer.
(No snowshoes? No problem. Make sure you swing by 
Timber Trails
in Livingston to rent a pair for the weekend.)
The Tom Miner Basin is home to the Gallatin Petrified Forest. If you're just out for a few hours, stay low on the trail and enjoy the dozens of stratum—layers of preserved trees—that make the Basin so unique. For the adventurous types among us, head all the way up to Ramshorn Peak (10,289 ft.), an aggressive 16-mile round-trip hike, to see 360 degree views of Yellowstone National Park, the Beartooth Mountains and the Spanish Peaks.
Saturday, 3:00 pm
After your big descent, head out of the campground, then north on 89 to 
The Old Saloon
in Emigrant. It's perfect for a post-hike beer, the Old Saloon also boasts music on Friday and Saturday nights.
Saturday, 6:00 pm
So, after an exhilarating day outdoors, it's time for dinner, Yellowstone Country-style. If you feel like something more casual, head north on East River Road, and enjoy dinner and music at the
Pine Creek Cafe
. For a more elegant affair, check out the
dining room at Chico
, located in the main lodge. Locally raised beef, bison and vegetables dot the menu, and it's a favorite place for both tourists and locals looking for a delicious meal out. Save room for dessert; the Truffle Orange is unbelievable. And, of course, regardless of where you dine, when all is said and done, it's time to soothe your aching muscles. Back at Chico, slip into the healing waters that made the resort famous in the first place.
If you've got some energy left, change into your cowboy boots and head back to the bar at Chico for a bit of boot-stomping and hand-clapping. From folk, to country, to bluegrass, the lineup changes every night so you definitely won't be disappointed.
Sunday, 10:00 am
After a relaxing weekend, it's time to pack up your gear and head back to town. But, before you do, make sure you make time for a leisurely brunch at Chico (and perhaps one last soak). Locals from all over Yellowstone Country will tell you it's the best around.
Have you ever been to Emigrant, Montana? Tell us about your favorite place to go in the comments.