Notes from the Road: 10 Montana Icons You Can Totally Dress Up As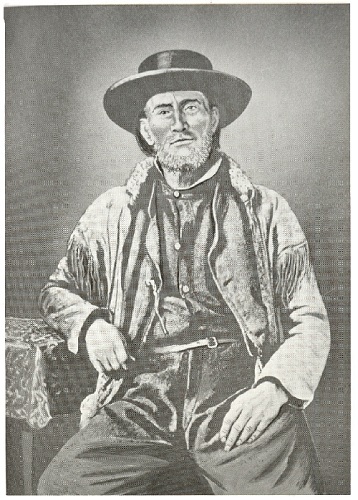 If you're anything like us, you've waited until today to pick out your Halloween costume. Maybe you've got a lineup of costume parties to attend tonight, or maybe you're just taking Junior around the neighborhood. Instead of falling back on the same old "I'm a zombie skier" costume, invite a little historical and cultural conversation with these 10 iconic Montanans:
1. Jim Bridger:
In 1822, 18-year-old Jim Bridger joined the Upper Missouri Expedition and became one of the first white men to see the geysers of Yellowstone National Park. He not only has an entire mountain range named after him, but in 1850 he mapped the Bozeman pass, shortening the Oregon Trail by 61 miles.
What you'll need:
A grizzly beard, ranch hat and the best suspenders you can get ahold of.
2. Nikki Kimball:
An American distance runner who was the first woman to win the Western States 100-Mile Endurance run three times, Nikki embodies the spirit of "work hard, play hard" that is alive in Montana. Last summer, she attempted to be the fastest person to run all 273 miles of Vermont's Long Trail and her quest was the subject of the documentary,
Finding Traction
.
What you'll need:
Some bright red curls, some worn-out running shoes and a lot of electrolytes.
3. Evel Knievel:
Though born in Butte, we thought there couldn't be a better costume choice than the world's most well-known motorcycle jumper. From the Snake River Canyon, to 13 Pepsi trucks, lined up, end-to-end, Mr. Knievel took the art of launching a motorcycle (and himself) over almost anything to a whole new level. What he lacked in teeth and unbroken limbs, he more than made up for in style and total badassery.
What you'll need:
Star-spangled body suit, a red, white and blue cape and enough attitude to convince people what a bad-ass you are. A motorcycle wouldn't hurt this get-up, either.
4. John Bozeman:
You can't mention old Jim Bridger without a nod to John Bozeman. His failure to get any traction mining gold in Colorado led him to settle in Montana (we would have made the same choice, John). Not only did he settle the town of Bozeman, he blazed the Bozeman Trail, a shortcut from Wyoming to Bannack, MT (guiding miners to Virginia City). The cause of Bozeman's death is debatable; some say his partner, Tom Cover, killed him, while Cover swore they were attacked by the Blackfeet Indians.
What you'll need:
An empty gold bag, a tidy mustache and a giant knife in your back (metaphor? We think so.)
5. Dana Carvey:
From Saturday Night Live to the Wayne's World franchise, Dana Carvey, who was born in Missoula, is one of America's most well-known comedians. His addition to the SNL cast in 1986 (along with Phil Hartman, Kevin Nealon, Victoria Jackson and Jan Hooks) made the show must-see TV once again.
What you'll need:
Your best church lady, Garth Algar and George H.W. Bush impressions.
6. Violet Beauregarde:
The little girl who loved to chew gum, Violet Beauregarde, of Charlie and the Chocolate Factory fame, is from Miles City, MT (at least according to the 1971 film version). She claims to have chewed the same piece of gum for three months, and gets her due when she steals a piece of gum that doubles as a three-course meal. Violet triples in size, forcing her relocation to a separate room in the factory for "juicing."
What you'll need:
A strong jaw, a blue Sumo-suit and a few Oompa Loompa friends to help roll you to the Juicing Room.
7. Gary Cooper:
Born in Helena and an attendee of the then Gallatin Valley High School in Bozeman, Gary Cooper was an Academy Award winning actor in the first-half of the 20th Century. Winning awards for westerns Sergeant York and High Noon, Cooper starred in over 100 films during his career.
What you'll need:
A dashing smile, tailored suit and a little gold statue or two.
8. Heather McPhie:
A native of Bozeman, MT, McPhie grew up skiing in the Bridger Range. In 2010, she competed for the US Olympic Team in Vancouver, specializing in mogul skiing. In 2012, McPhie became the first mogul skier to be sponsored by Red Bull (which is odd, because we're pretty sure she already has wings).
What you'll need:
Your very best pair of mogul skis, the US Olympic Team jumpsuit and a can of Red Bull or two.
9. Scot Schmidt:
Hailed as the first-ever professional extreme skier, Schmidt is another Helena-born Montanan. He moved down to Bozeman to ski regularly at Bridger Bowl and, in 1983, a Warren Miller cameraman asked him to appear in the film Ski Time. Since then, Schmidt has appeared in 39 other ski films and pioneered extreme skiing.
What you'll need:
A yellow and black outfit from The North Face and a distinct disregard for any fear of heights.
10. Zombie Ski Bum:
If the previous 9 fail, you can always fall back on this one.
What you'll need:
Your most stylish onesie, neon goggles, a totally rad attitude, dude, and some loose body parts.
Are you going as something Yellowstone Country-esque for Halloween? Upload your costume to our
Facebook page
and tell us about it.
Photo credit: Pioneer Museum, Bozeman