Montana State University Celebrates Opening of American Indian Hall
Photos by Bob Allen / MT-360
Native American students at Montana State University have a new place on campus to call home. President Waded Cruzado said in an opening ceremony for the
American Indian Hall
, "Today we make history at Montana State University." She went on to explain that precisely three years ago, MSU announced the charitable gifts that launched the $20 million project. "We said then that the building of MSU's American Indian Hall would be a promise kept and a dream fulfilled. Today, I am so proud to say, 'mission accomplished.'"
The LEED Certified (Leadership in Energy and Environmental Design) building reached a rating of Platinum Level 4, the first in Montana. But the innovation and planning that went into the building went much further than energy efficiency. Designed for Native American students to have a home away from home, a community, the team hired Major Robinson as a Cultural Design Liaison. Robinson met with tribes across Montana, Idaho, and Wyoming and native students from the MSU American Indian Council to interpret their ideas and values into design solutions.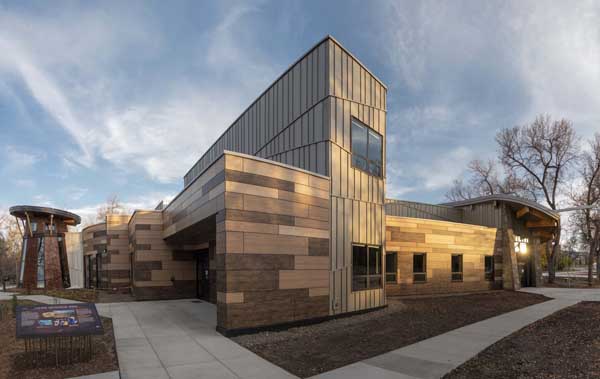 The result is a building with great intention. A communal kitchen gives students the ability to share meals, an essential cultural value. The drum room serves as both a practice room and a space where drums can be stored with the appropriate respect. The concrete floor of the drum room includes aggregate collected from each of the seven reservations in Montana and Little Shell Tribe of Chippewa. The round center of the floor is made from clay material unearthed during the construction of the building.
Wood benches, select furniture pieces, and trim details were repurposed from trees felled for the construction of the building, and the furniture was designed and created by students at the MSU School of Architecture.
The landscape is designed with plants that are drought-tolerant, medicinal, or for food. In addition, the gardens are meant to be instructional and include plants such as sweetgrass, a spiritually significant plant that symbolizes healing and peace.
Classrooms, office space, and dedicated spaces for gatherings, events, and lectures round out the building, along with a gallery to feature Native artwork. Three artists were selected to create art for the building, including a column of mosaic art glass by Stacia Goodman, a collection of video screens formed into the shape of a Northern Plains war shirt by Bently Spang, and a bright portrait of native students by Robert Martinez.
The hall was designed to support Native American students but is open to the public, and students are encouraged to share their space with friends and family. The state-of-the-art building is already bringing the community forward. After attending the event and touring the facility, Bozeman photographer Bob Allen said, "I felt proud to be a Montanan. In times of such negativity and bombardment, this building is a very positive and forward-looking accomplishment."