Kids 'N' Snow: Teaching Kids the Joy of Winter Activities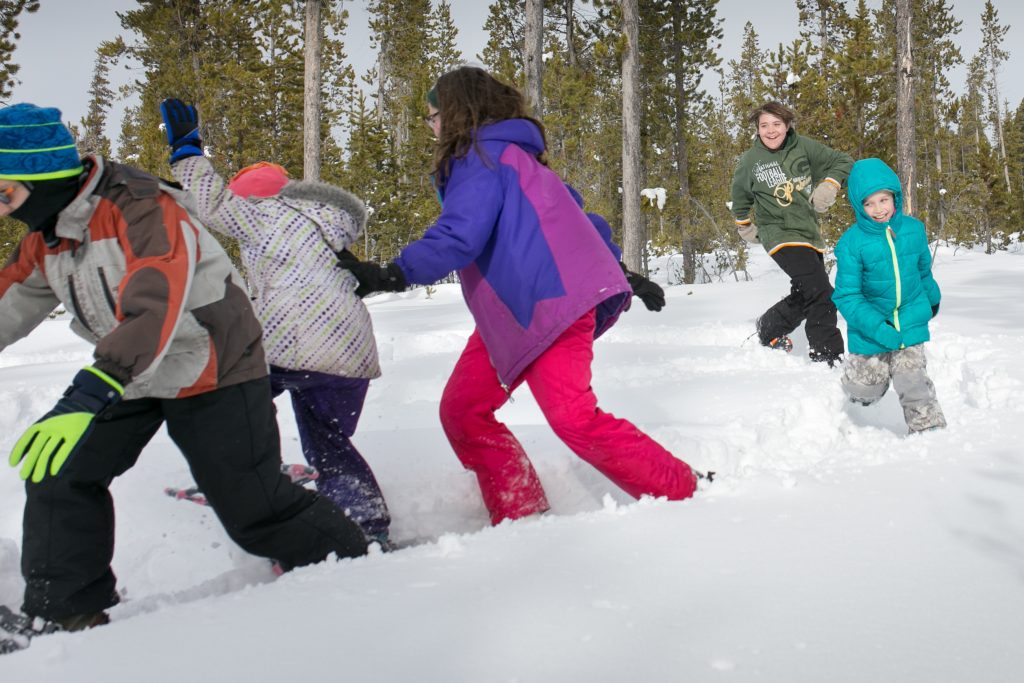 Photo, Lauren Anderson Lifestyle Photography
Winter in West Yellowstone is characterized by one thing: snow, and lots of it. Averaging over 153 inches each winter—which can last from late October through mid-April—finding low-cost activities where the little ones can get out and enjoy nature is essential. As a visitor, the opportunity to experience the vast recreation Montana is known for is simply why you come!
Kids 'N' Snow is a free community-wide program to get kids and families to try new winter activities like ice skating, Nordic skiing, snowshoeing and sledding in a safe and fun environment. Ultimately, the goal is to help kids learn lifelong, healthy habits they can enjoy throughout each winter.
The program began in 2010 as a one-month test to gauge interest. Today, it has grown to a monthly program from December through March, with over 1,000 participating families from more than 10 states and eight countries. In other words, it's a hit!
Visitor Charly Butt Muhlestein explained, "It was such a fun-filled weekend at Kids 'N' Snow! We had a blast on the 2-hour snowcoach tour and had so much fun on the sledding hill. Got to see bears and wolves at the Discovery Center, too. Can't wait to go back next year so our oldest can try the dog sled and the snowmobiles. Thanks so much for putting this on; we will definitely make this a family tradition!"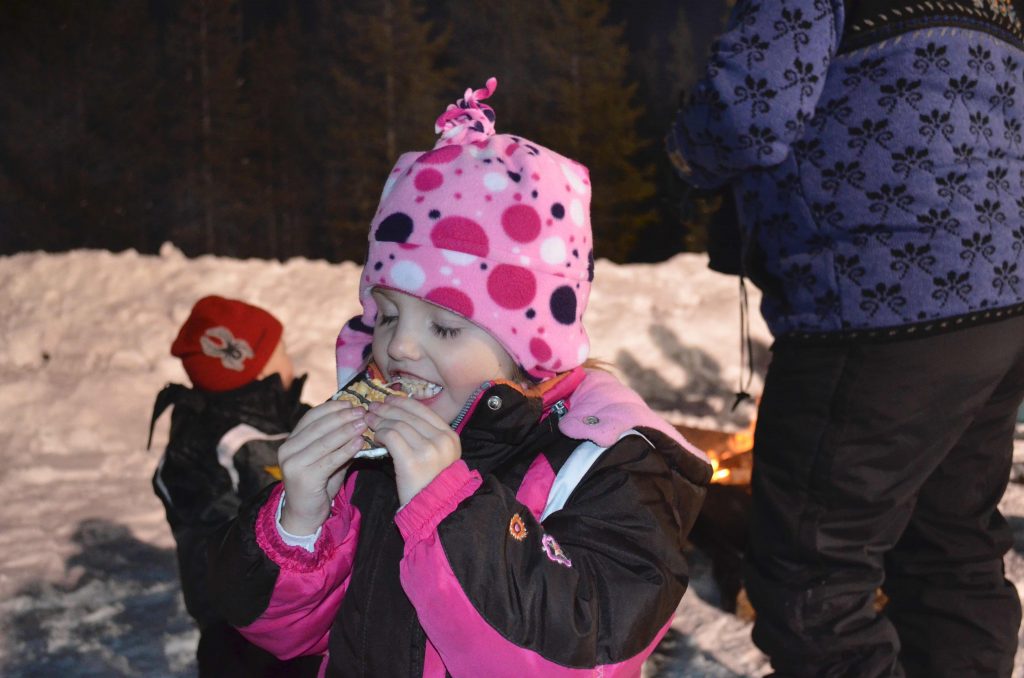 Photo, courtesy West Yellowstone, Montana
For two days, activities run from morning to night. Be sure to have the kiddos participate in the Kids 'N' Snow Scavenger Hunt. Pick up your clues at the West Yellowstone Visitor Center (30 Yellowstone Avenue) then venture around town to find hidden treasures. Take pictures of what you find and show them to the coordinator at KNS Headquarters by 2 p.m. Sunday to claim your prize! The ice-skating rink and ski hill are great places to play, and if you're looking to warm up, programming includes indoor venues like the West Yellowstone Library, the Grizzly and Wolf Discovery Center and the Yellowstone Giant Screen Theatre. We've pulled out some of the highlights, but check the
full schedule
to be sure you don't miss anything!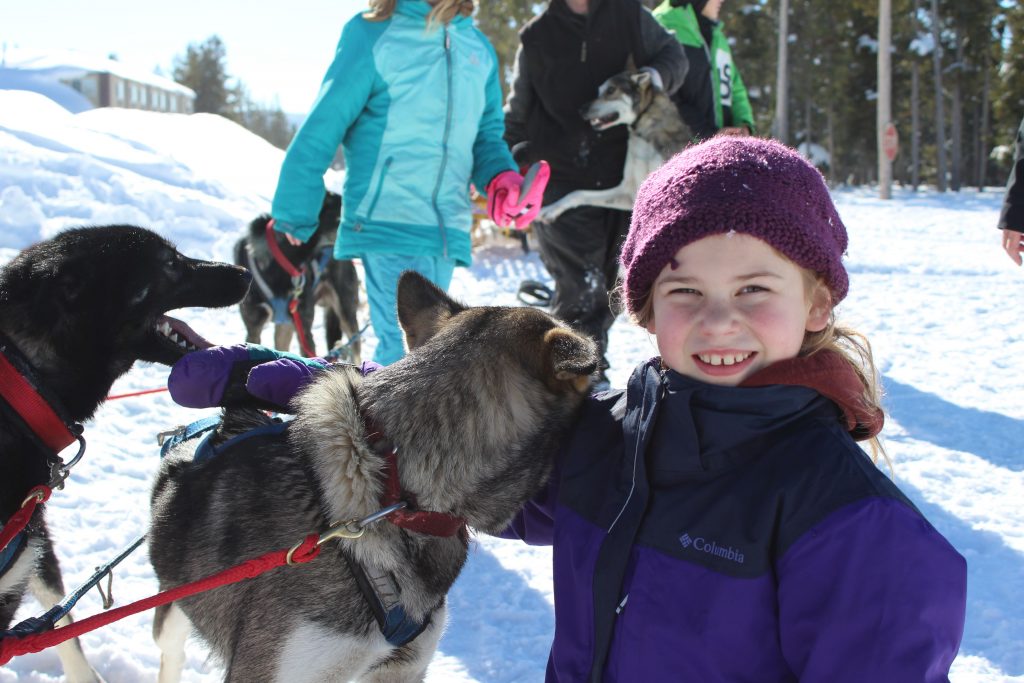 Photo, courtesy West Yellowstone, Montana
Saturday, December 14, 2019
West Yellowstone Rodeo Run Sled Dog Races
9 a.m. – noon, Old Airport Road
Be sure arrive early for this event; it's fun to watch as mushers and dogs get ready to run. Teams leave in 2-minute intervals, competing for the fastest time!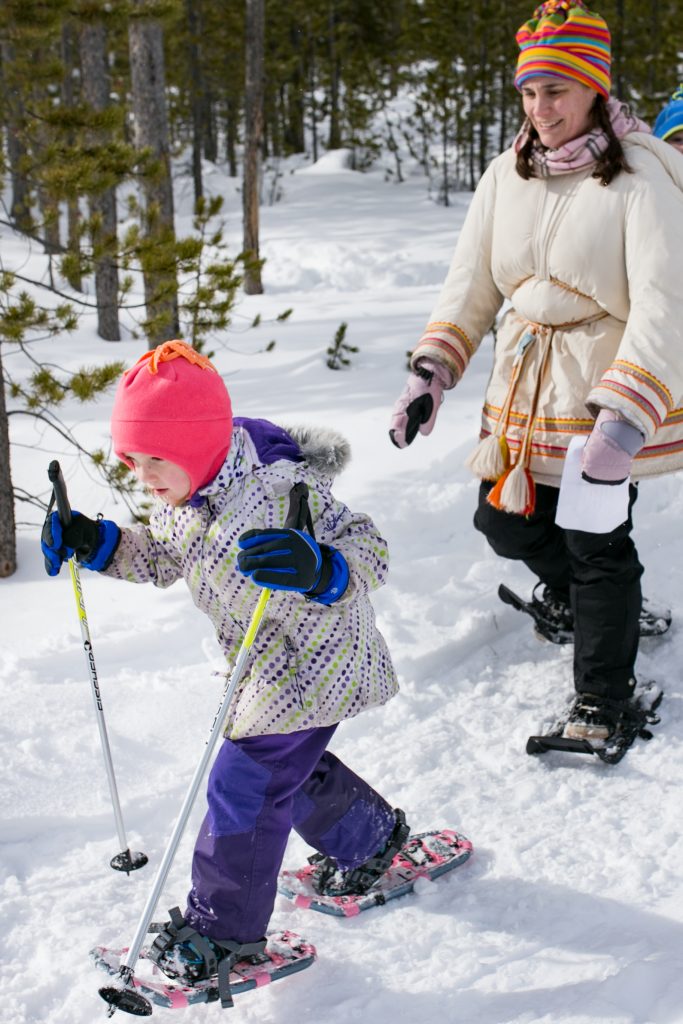 Photo, Lauren Anderson Lifestyle Photography
Snowshoe Walk/Hike With National Park Service Ranger
10 – 11:30 a.m., West Yellowstone Visitor Center
Enjoy a walk along the Riverside Trail in Yellowstone National Park and learn more about the park up-close and personal! A limited number of snowshoes are available free of charge at the visitor center, first-come, first-served. Otherwise, shoes can be rented at Freeheel and Wheel. (Note, this program is not best for small children.)
"Pack Chats" Program
10:15 a.m., Grizzly and Wolf Discovery Center
Learn about wolves in this guided, live presentation. Kids participating in Kids 'N' Snow receive free admission and discounted admission for their parents.
"Birds of Prey" Program
11 a.m., Grizzly and Wolf Discovery Center
Stick around for the next program on birds of prey. Admission is the same as the "Pack Chats" Program.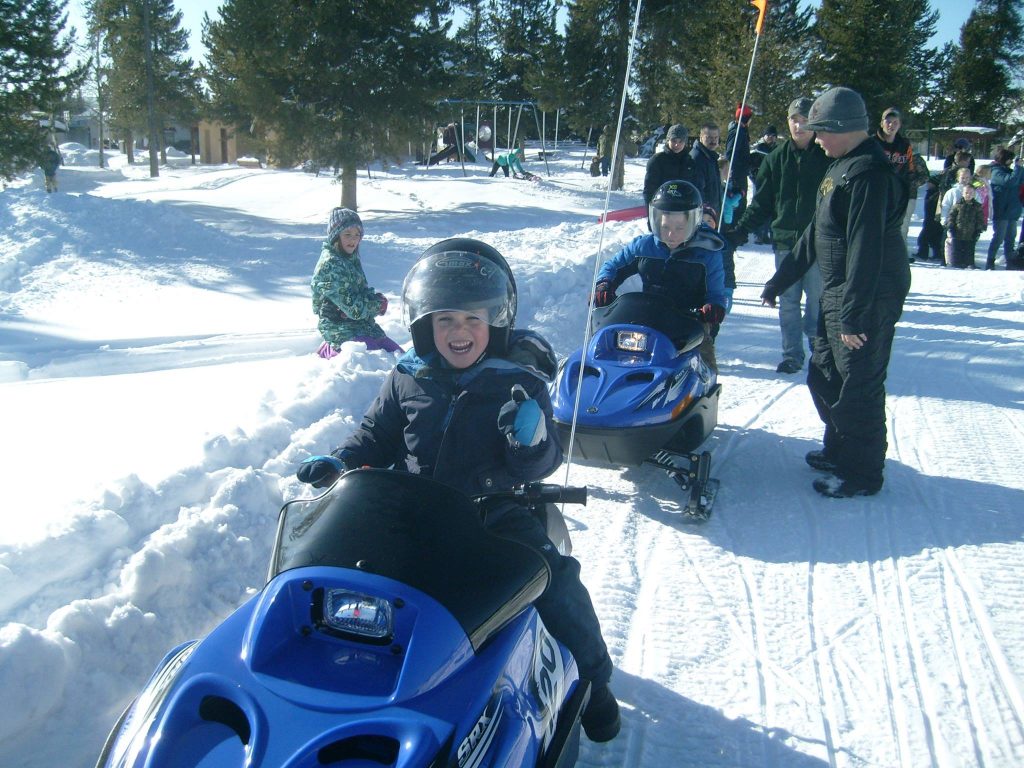 Photo, courtesy West Yellowstone, Montana
M120 Kids Snowmobile Rides
12:30 – 1:30 p.m., Pioneer Park at the corner of Gibbon Avenue and Dunraven Street
Kids LOVE the chance to ride a child-sized Arctic Cat/Yamaha M120 snowmobile! Must be accompanied by an adult. Helmets provided and liability waiver required.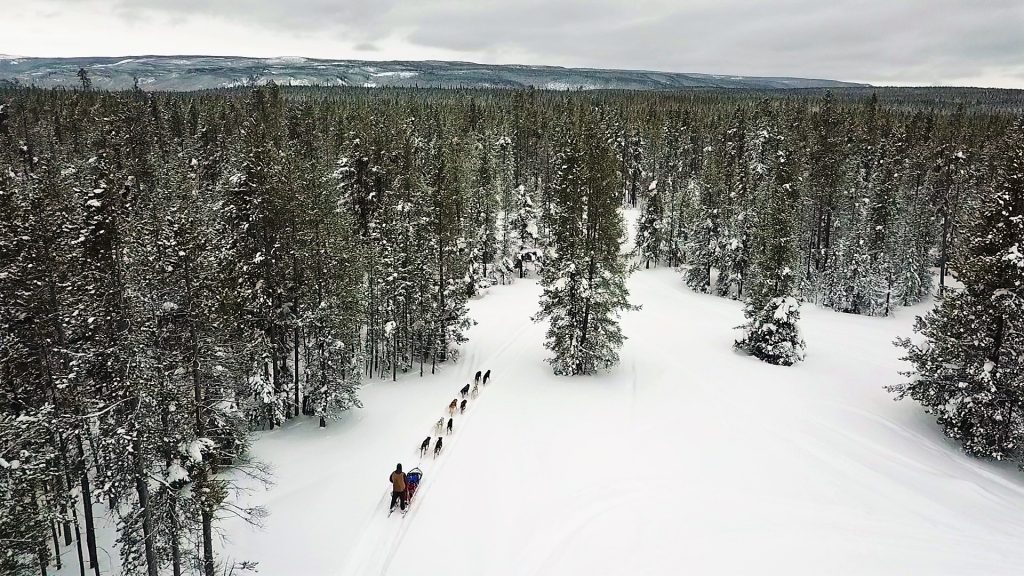 Photo, courtesy West Yellowstone, Montana
Sled Dog Rides
1 – 4 p.m., Old Airport, located off of Iris Street on the east end of town.
As much as they love snowmobiles, they'll probably love the dogs even more! Kids 12 and under can meet the teams of dogs and then enjoy a short ride through the forest.
"Yellowstone" Movie
3 p.m., Yellowstone Giant Screen Theatre
Take a break from the outdoors and relax in the giant IMAX theater while learning all about Yellowstone National Park.
Photo, Dobson Enterprises, Inc.
S'mores, Skatin' and Sledding
Kids genuinely enjoy getting off their screens and out socializing on the ice-skating pond and sledding hill. It's hard not to smile when you're flying downhill or zipping around the ice! And really, who doesn't love a good s'more?  (Fixings provided!)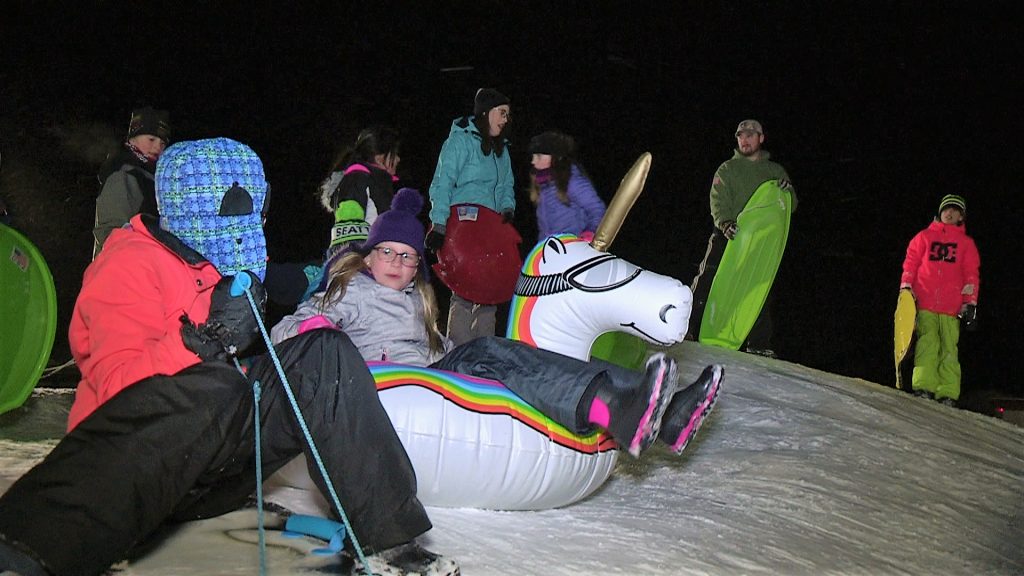 Photo, Dobson Enterprises, Inc.
Sunday, December 15, 2019
Sunday has many of the same events as Saturday, along with some new ones, so don't assume you've done it all—there's plenty more fun where that came from!
Snowcoach Sampler
9 a.m., Meet at 30 Yellowstone Avenue; Registration Required
Explore the beauty of Yellowstone National Park via snowcoach. Watch herds of ice-covered bison and other wildlife from the warmth of a snowcoach, and stop and explore the steamy hot pots and geysers. This is a great way to get a lot in!
There is NO charge for the snowcoach ride, but a Yellowstone Park Pass is REQUIRED. Gratuity for the snowcoach guide is appreciated. Everyone over the age of 15 needs a park pass. Individual day passes are $15 per person and can be purchased at the YNP desk at the Visitor Center (30 Yellowstone Avenue) or a snowcoach provider ahead of time.
Snow Art/Graffiti
1 – 3 p.m., Pioneer Park at the corner of Gibbon Avenue and Dunraven Street
Painting on snow walls? You bet! This is a chance for the kiddos to express their creativity. Each child will get a water bottle filled with colored water to paint away!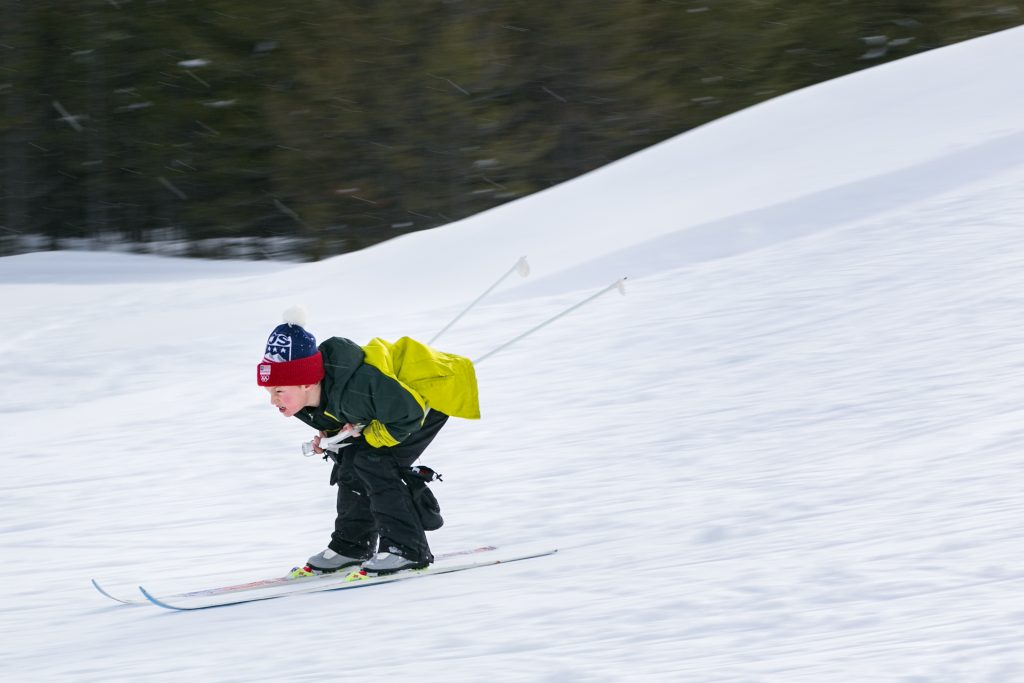 Photo, Lauren Anderson Lifestyle Photography
Learn to Ski Basics
1:30 – 2:30 p.m.
This is the perfect chance for your kids to learn how to Nordic and even downhill ski from a local instructor. If they are already familiar with these sports, it's a great way to refresh their skills.
Can't make it in December? Not a problem, check out these additional dates:


January 11 – 12, 2020


February 1 – 2, 2020


March 7 – 8, 2020


Kids 'N' Snow is made possible by the generous support of local businesses, the West Yellowstone Chamber, TBID, West Yellowstone Foundation, Town of West Yellowstone, United States Forest Service and Yellowstone National Park. For more information, call the Visitor Information Center at 406-646-7701 or visit DestinationYellowstone.com or kidsnsnow.org.