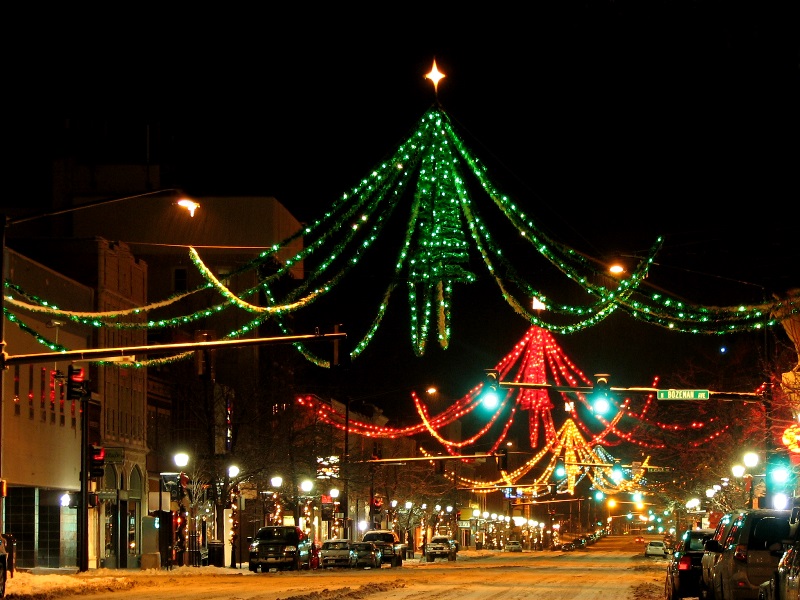 Photo courtesy Downtown Bozeman

Holiday strolls have become a tradition across Yellowstone Country. Each year, communities come out to celebrate the season, shop, dine, and be together. This season is different, but people have been carefully planning safely distanced ways to celebrate across the region. The result is fabulous. There are new traditions, like strolling Main Street in Bozeman and voting for your favorite window decorations. Or joining one of the local celebrity chefs in Big Sky for an online holiday cooking class or watching the lighting of the Christmas Tree in West Yellowstone from the comfort of your car.
The most notable change is that instead of everything happening one night, events are being spread throughout the month, encouraging local shopping leisurely and safely. We're thrilled to have so much to look forward to!
Belgrade
December 12, 2020
Festival of Lights
This year, the gorgeous display of lights will come to you! This Christmas convoy of dump trucks, semi's, and pickup trucks will be decked out in lights and adorning the neighborhoods. Earlier in the day, enjoy the Jingle Jog 5K or do some virtual shopping at the Belgrade Community Coalition Facebook page.
Big Sky
December 7-13, 2020
23rd Annual Christmas Stroll
It wouldn't be Christmas without an ugly sweater contest, and this year it takes place virtually! Participate at your leisure in the scavenger hunt throughout area businesses or the virtual holiday popup card workshop. Soak up the full moon on a self-guided Nordic ski, snowshoe, or fat bike ride on the trail system.
Big Timber
November 27-December 24, 2020
Crazy Mountain Christmas
Spend the day shopping for local deals throughout the town, then watch the Hometown Holiday Lighted Parade followed by fireworks!
Bozeman
December 2-5, 2020
40th Annual Christmas Stroll, Reimagined 2020
We mentioned the window decorating contest; you can also check out the Gingerbread House Contest, run in the Santa Run for Education, enjoy virtual concerts and playlists, and a virtual lighting of the Downtown Bozeman Holiday Spiders. 
Gardiner
December 3-25, 2020
Christmas Festival
A well-loved event, the crafts bazaar takes on a look; local artists will be paired with participating venues throughout the month! Check out the FFA Xmas Wreath Sale and the Gardiner Artists Christmas Marketplace.    
Livingston
November 27-December 24, 2020
Shop Safe and Local
This is the gift that keeps on giving. Do your holiday shopping in Livingston, take a selfie with your purchase and tag it #ILoveLivingstonMT for a chance to win weekly gift cards!
Red Lodge
December 24, 2020
Shop, Play and Stay
Red Lodge is charming in the winter. Take a couple of days and relax; skiing, shopping in the quaint stores, and enjoying dining (or takeout) from one of the exceptional restaurants. It's the perfect pre-holiday getaway!
Three Forks
December 4, 2020
Christmas Stroll
The annual tree lighting kicks off the festivities, including merchant bingo, a gingerbread house contest, food, and auctions!
West Yellowstone
Saturday, December 19, 2020
Gnome-tastic Christmas Stroll
Watch from your car or the comfort of your home as the annual tree lighting takes place. Earn raffle tickets for great prizes when you shop locally, take Santa selfies with your choice of backdrop, and catch a family holiday movie at Yellowstone Giant Screen Theater (reservations required.)