Ice Skating and Sledding in Montana's Yellowstone Country
In Montana's Yellowstone Country, the best way to enjoy winter is to get out and embrace it! Two of our favorite ways to enjoy the outdoors are good old-fashioned ice skating and sledding. You'll find community rinks and designated ski hills across the region, most free or with a small entrance fee, making it an excellent activity for families to enjoy! So, pack a thermos of cocoa, bundle up, and make the most of the season!
West Yellowstone
Pioneer Park
 in West Yellowstone has an ice rink and a sledding hill. You'll need your own skates and sleds unless it's a 
Kids N' Snow
 weekend, where there will be sleds to borrow, plus s'mores and hot cocoa to round out the day! Old Faithful Snow Lodge has an outdoor rink with ice skates you can borrow if you venture into Yellowstone. End the day with coffee or cocoa around the roaring fireplace.
Big Sky
Big Sky Town Center is the place to be for skating in the winter. The Marty Pavelich Ice Rink is located adjacent to the new BASE community center and offers public skating, youth hockey, and learn-to-skate programs. Skate rentals at Grizzly Outfitters and East Slope Anglers. For sledding, hit the South Fork Sledding Hill Trail.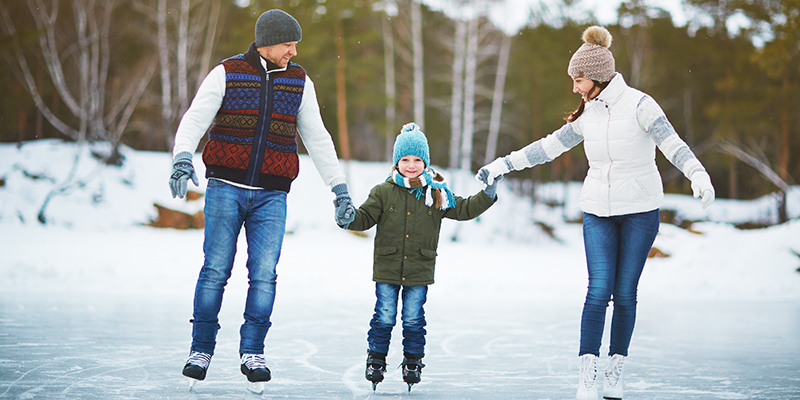 Bozeman
Gallatin Ice
 has two indoor recreational ice rinks with public skating, youth, and adult hockey, learn-to-skate programs, and curling! Ice skates are available to rent for $5. If you're a hockey fan, watch the schedule for the 
Bozeman Icedogs
 games! The City of Bozeman maintains 
three outdoor rinks
 (weather permitting) Beall Park, Southside Park, and Bogert Park. Southside Park has an informal drop-in hockey rink and a warming hut. Sledding options include the longtime favorite, Peet's Hill, plus Gallatin County Regional Park (aka Dinosaur Park) right in town, or Snowfill Recreation Area, a few minutes outside of town, which is also a dog park! If you're up for a bit of a hike, Bear Canyon, formerly a ski hill, has the longest sledding run in town!
Belgrade
There are two small but friendly ice rinks in Belgrade. Kiwanis Park on Homerun Drive has a rink, warming shelter, and benches. And Winter Park on the corner of N. Broadway and Park Street has another. Warm up with a hot treat from Café Havana afterward!
Livingston
With both open skating and stick and puck sessions, Park County Ice brings recreational ice skating and hockey to Livingston. The indoor rink is available if the temperatures stay cold, and they have a nice area with benches for lacing your skates or taking a break. For sledding, Ninth Street Park has a sledding hill in town. Or take a short drive to Mill Creek to the Snowbank Sledding Hill, across from the Snowbank Campground. This hill is fast and bumpy (a real adrenaline boost), with plenty of runouts to slow you down. There's a campfire ring for s'mores and warming up, or stop into Yellowstone Hot Springs or Chico Hot Springs for a nice warm soak!
Red Lodge
Lion's Park is the home of Red Lodge Ice, offering public skating most days except for a few events throughout the season. Hockey and figure skate rentals are available at The Ski Station, just a few blocks from the park. For sledding, Coal Miners Park is the place to go. Dedicated to the 74 local coal miners lost in the 1943 Smith Mine Disaster, you can find the memorial at the park's north end.)
For more ideas to explore Montana's Yellowstone Country, check out 
Winter in Montana's Yellowstone Country
.