Ice, Ice, Baby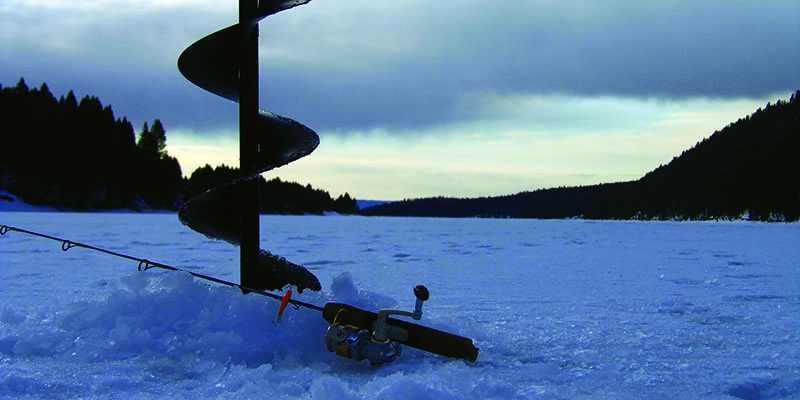 Photo courtesy West Yellowstone Chamber of Commerce
In Montana, ice fishing is growing in popularity. Particularly with the advent of COVID-19, it's an excellent way to get outside during the winter months. Yellowstone Country is home to three great lakes for ice fishing: Hebgen Lake, Hyalite Lake, and Cooney Reservoir State Park. Spread throughout the region, they are all easy to access, generally have reliable ice, and offer stunning backdrops.
Hebgen Lake
Just a half-hour from Yellowstone National Park, Hebgen Lake is the biggest of the three lakes. Ice fishing is best near the dam, accessed through Kirkwood Marina, or at the Narrows, which you reach via Yellowstone Holiday RV Campground. Hebgen is home to fat brown and rainbow trout. It is the West Yellowstone / Hebgen Lake Ice Fishing Tournament location, which is an official North American Ice Fishing Circuit event. People come from the Midwest, Florida, and Canada to compete each year. The town of West Yellowstone, MT, is a great winter destination. It's a snowmobiler's paradise with 150 inches of snowfall and over 400 miles of trails in addition to ice fishing. Exploring Yellowstone National Park in the winter is unlike anything you will experience in the lower 48 states. Whether you take a guided snowmobile or snowcoach trip, the steamy geysers, endless snowfields, and wildlife are magical in the winter.
Hyalite Reservoir
Sixteen miles outside of Bozeman, MT, Hyalite Reservoir is another winter favorite. The lake is full of trout (limit 5 per day) and grayling (catch and release). Since the majority of the drinking water for the Gallatin Valley comes from Hyalite, motorized vehicles are prohibited, including snowmobiles and ATV's. Hyalite is also a popular place for Nordic skiing, snowshoeing, backcountry skiing, and ice climbing. For a unique winter experience, plan a stay at Maxey Cabin or Window Rock Cabin. If you prefer more traditional accommodations, Bozeman is an excellent place to vacation. Full of amazing restaurants, craft breweries, distilleries, and shopping (for those who may not be interested in fishing), you'll find plenty of great ways to end the day.
Cooney Reservoir State Park
If you're visiting the Red Lodge area, Cooney Reservoir State Park is a quick 20-mile drive. Cooney is one of Montana's top walleye lakes but is also home to some fat rainbow trout. You'll find the best fishing where the water comes into the reservoir. There are over 80 campsites available during the summer, and a few of them remain open during the winter. Electricity is available year-round, but there is no running water during the winter. (Be sure to call ahead to request a site to be plowed.) If you opt to stay in the Red Lodge area, you'll enjoy one of the quaintest mountain towns in the state.
Ice Fishing Safety
As with any outdoor recreation, ice fishing comes with some inherent risk.



Keep in mind, blue or clear ice is usually hard, but opaque, gray, dark, or porous spots could be weak. Ice also tends to thin more quickly at the shorelines, so pay attention to any areas that look different.




As a rule of thumb, if the ice is under 4" thick, you should stay off. At 4", it is safe for walking and ice fishing, 7" is safe for snowmobiles or ATV's. Cars, trucks, and SUV's are not recommended on the ice.




Lakes and ponds do not freeze at the same thickness all over. Moving water weakens ice, so watch for areas where streams or water flows enter.




Keep dogs on a leash. Many ice accidents come from trying to keep control of pets.




Carry a pair of ice picks around your neck; if you fall through the ice, you can use them to grip the ice and pull yourself out of the water.



For more information on fishing in Montana, go to Montana Fish, Wildlife, and Parks.