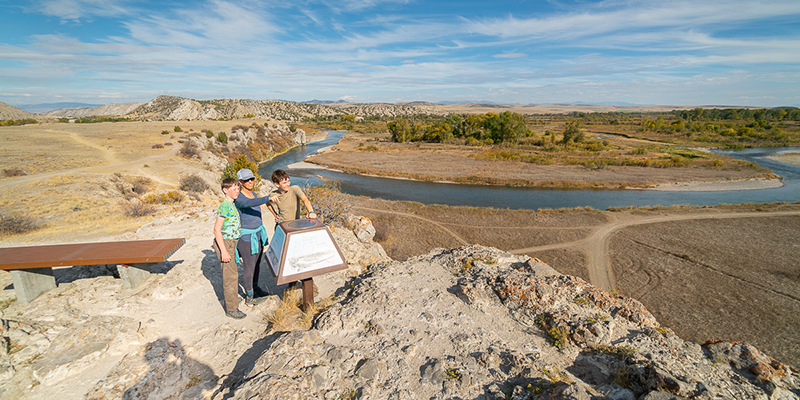 By Melynda Harrison, Traveling Mel
We all know and love that big National Park at the bottom of the state, but Montana is also rich with State Parks. Whether you are looking for beautiful vistas, rich culture and history, or recreational opportunities, three Montana State Parks in Montana's Yellowstone Country fit the bill.
From Bozeman, you can explore three of Montana's historical and beautiful state parks with just an hour's worth of driving each way. Spend your weekend playing outside and exploring the state instead of sitting in a car.
To follow this weekend itinerary, visit Missouri Headwaters State Park on Saturday after having a leisurely morning. Then drive on to Lewis and Clark Caverns and spend the night in the campground, a tipi, or one of their cabins. After a morning exploring the park, head to Madison Buffalo Jump for a quick stop on the way back to Bozeman.
Entrance to all Montana State Parks is free for residents (anyone driving a car with Montana license plates). Nonresidents pay $8 per park entrance or can purchase an annual pass.
Pets must be on a leash in the parks.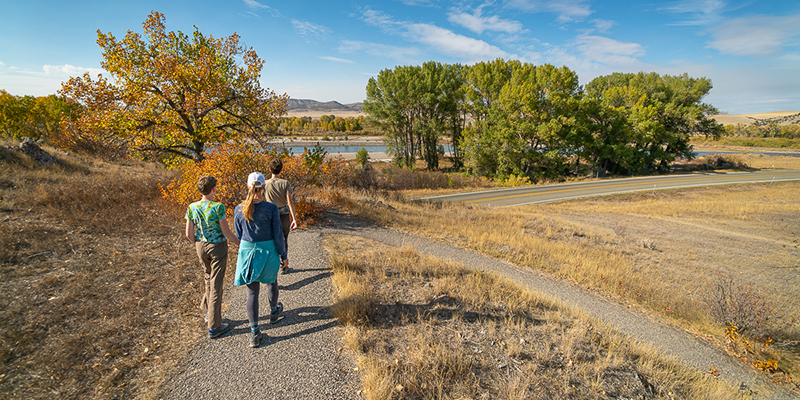 Missouri Headwaters State Park
When the Lewis and Clark Expedition reached the headwaters of the Missouri River, near present day Three Forks, they had some naming to do. They named one river for the President (Thomas Jefferson), one for the Secretary of the Treasury (Albert Gallatin), and the other for the Secretary of the State (James Madison).
In 1805, the Corps of Discovery camped here while preparing to start their journey up the Jefferson River and then into the mountains. The Missouri Headwaters area was also a geographical focal point important to the Flathead, Bannock, and Shoshone tribes, and early trappers, traders and settlers.
This confluence of the Jefferson, Madison and Gallatin Rivers offers a history lesson, outdoor interpretive signs, picnic spots, short hiking trails, a small campground, and a rental tipi.
Your crew can lunch at the same place Lewis and Clark stayed in 1805. Take a hike along the bluffs, camp, float one of the three rivers, join a ranger program, or cast a line into the legendary rivers.
Reserve a campsite or tipi at
ReserveAmerica.com
.
Getting There: Drive, bike, or walk four miles northeast of Three Forks, off of Hwy 205, then onto Hwy 286.
Lewis and Clark Caverns State Park
Despite the name, Lewis and Clark probably never saw the caverns that bear their monikers, however they did pass by along the Jefferson River below the cave system.
Montana's first state park, and one of the largest limestone caves in the northwest, is spectacular. Stalactites, stalagmites, columns, and cave bacon decorate this large limestone cave.
A two-hour guided tour takes visitors through two miles of walkable cave trail. It does require navigating stairways, as well as bending and stooping. Wear rubber soled walking shoes and a sweater for the 50°F cave temperature.
For more of a challenge, those 12 and older can strap on a helmet and headlamp, get off the trail, and crawl through the cave on a Wild Cave Tour.
Cave tours are available Memorial Day through the end of September, with a few special candlelight tours in December.
While the cave is the main event, there is more to Lewis and Clark Caverns State Park. There are trails to wander on foot or bike and a state of the art visitor center with interpretive displays to help the whole family learn about the park—both above and below ground. There is a gift shop and food and beverage concessions, so you don't even need to pack a lunch. If it's a warm day, head down to the Jefferson River to wade and cool down.
Reserve one of 40 campsites, three cabins, or a tipi online for a night under the stars at
ReserveAmerica.com
.
On Friday nights during the summer season, rangers present interpretive programs about plants, animals, ghosts, sapphires, and other Montana topics.
Cave tours close for the season at the end of September and water is turned off from October 1-April 30, so flush toilets, showers, drinking water, and the RV dump facilities are available only during the summer. The park is open year round for hiking and biking.
Getting There: Travel 19 miles west of Three Forks on Montana 2 or 15 miles east of Whitehall on Montana 2.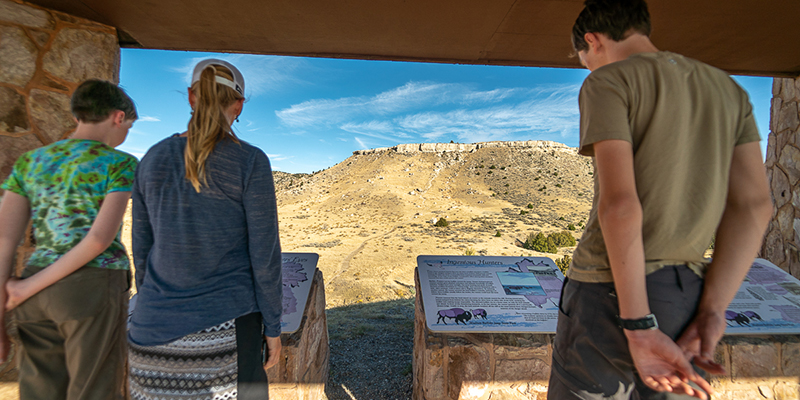 Madison Buffalo Jump State Park
For nearly 2,000 years, Native Americans stampeded buffalo (or bison) off the limestone cliff that is the centerpiece of this Montana State Park. They then used the bison for food, shelter, clothing, and tools.
The buffalo jump was used as recently as 200 years ago and there are still bison bones and tipi rings that help bring the scene to life. Interpretive displays add to the story and help visitors understand the dramatic events that took place there.
Take the one-mile hike to the top of the jump to take in the sweeping view of the Madison Valley. It's a lovely spot for a picnic if it isn't windy.
Getting There: Drive seven miles off Highway 90 at the Logan exit on a gravel road.