Gardiner is Open, and Visitor Access to Yellowstone National Park is Restored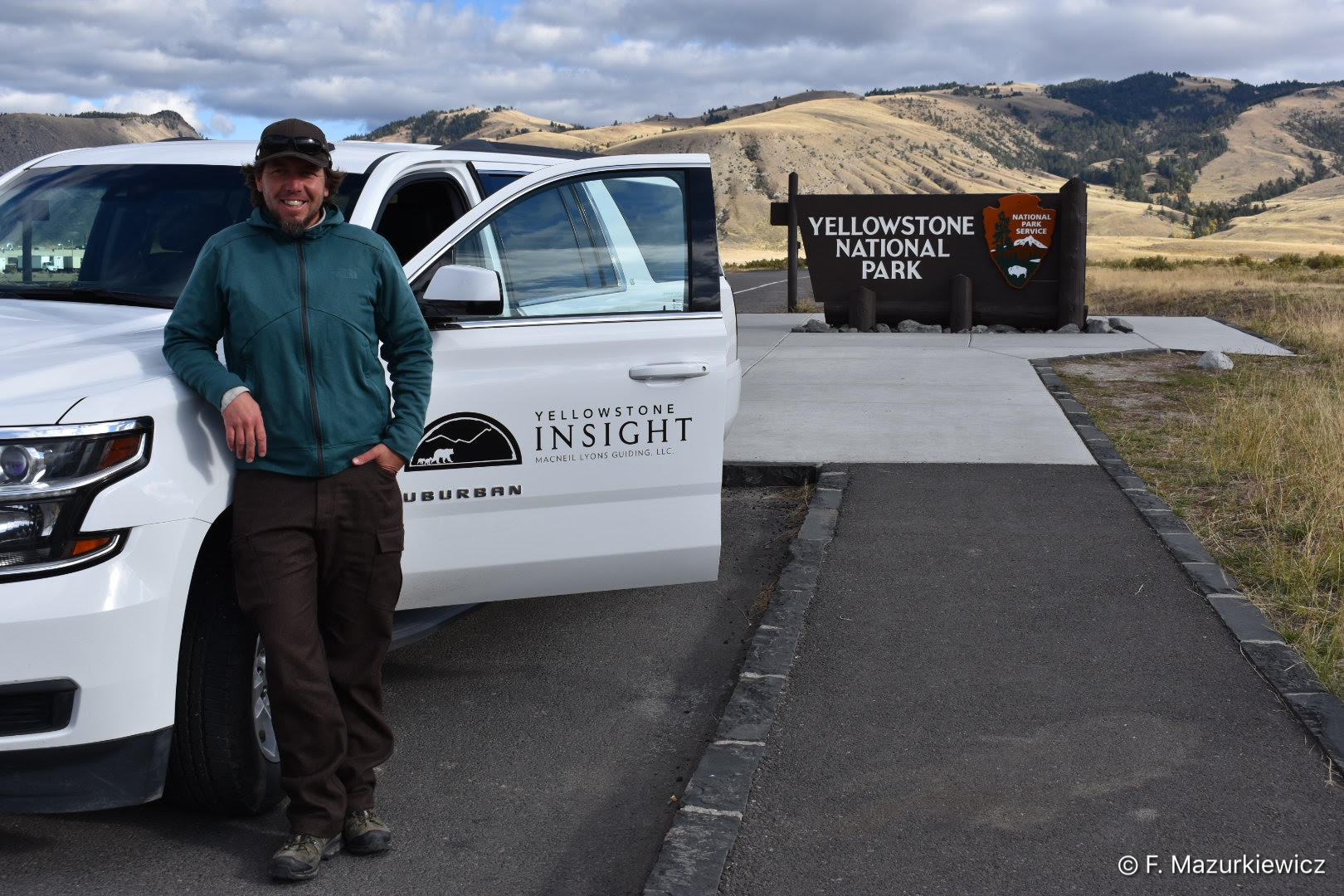 TALKING WITH: MacNeil Lyons, Tour Guide at Yellowstone Insight
By Pamela Dittmer McKuen, travel journalist
MacNeil Lyons is a private tour guide and founder at Yellowstone Insight in Gardiner, Montana. Year-round, he escorts small groups through the spectacular sights and terrain of Yellowstone National Park. He also is a published writer, photographer and naturalist. He provides a lavish picnic brunch, but you'll have to bring your own eco-friendly water container. His pet peeve is single-use plastic bottles.
I had the opportunity a couple of years ago to spend a day with MacNeil during a media trip hosted by Yellowstone Country Montana, and we sat down for a chat. That was before the June 2022 unprecedented rainfall and devastating flooding of the Gardiner area, which washed out roads and shut down the vital North Entrance to Yellowstone National Park. Recently, I met up with MacNeil again to update our Q&A.
The main thing he wants you to know today is: Gardiner is open, and its access to Yellowstone National Park has been restored. Go ahead, and plan your next visit!
Q: How did the flooding impact the town of Gardiner?
MacNeil Lyons: The catastrophic flood event of June 13, 2022, was unbelievably detrimental to the livelihood of the small town. Many jobs and a few homes were lost. The economic impact was severe. Gardiner had already been hit hard with Covid-19, which caused closures of the national park, and a major fire on July 14, 2020, that burned a few downtown businesses and employee housing to the ground.
This summer, Gardiner was literally a ghost town. It was eerie to see the streets nearly empty every afternoon and evening during what should be a bustling town full of tourism.
Q: How have the recovery efforts been going?
ML: Yellowstone National Park Superintendent Cam Sholly immediately began establishing a connection--a lifeline, if you will--between Gardiner and Mammoth Hot Springs. That connection was Old Gardiner Road, a former stagecoach route and one-lane gravel road with a 1,000-foot elevation gain. The project was essential to allow park employees who live in Mammoth Hot Springs an avenue to get out as well as to give park employees who live outside of Yellowstone a chance to get in for work.
Beginning in late June, Old Gardiner Road was opened to allow employees and certified commercial guide operations access in and out of Yellowstone. It was a massive effort to complete in less than five months, but the four-mile stretch has been paved and widened, and is now open to the public.
As a small business, Yellowstone Insight slowly was able to continue our amazing private tours throughout the summer months and now into autumn and winter.
Q: What is a typical tour day like for you?
ML: I provide small guided tours for up to six people through the park, mostly on the northern and central parts. The tours usually last six to eight hours, year-round. To have the best chance of seeing wildlife, we start very early in the morning. We travel in a fully-loaded 2015 Chevy Suburban with heated leather seats.
Most people ask about the wildlife tours, but we also have geology tours, where we focus on the park's amazing hot spots. There are more than 10,000 thermal features: hot springs, mud pots, geysers and fumaroles. We also do history tours and photography tours.
Q: What types of wildlife do you usually see?
ML: The easiest thing to see is bison and then elk. Most of the prey species are larger in number, so they are easier to find. The predator animals--wolves and bears and mountain lions--are more rare. But every day is different, so you never know what you'll find.
Q: What is significant about the history of Yellowstone?
ML: Yellowstone became a national park in 1872 when President Ulysses S. Grant signed the Yellowstone National Park Protection Act into law. But the history I like to work into my tours is well before that. Twenty-seven tribes of Native Americans were associated with the park for about 10,000 years before Yellowstone was even considered as a national park. Then you had the mountain men and early government-funded expeditions and the U.S. Cavalry, who first guarded the park. Some of those early Fort Yellowstone buildings are in existence today. There's a lot of cultural history mixed into this one location.
Q: How did you get into the business of guiding at Yellowstone?
ML: I grew up in my younger years in Boulder, Colorado, and have childhood memories of being here as a 6-year-old and fishing and hiking and car-camping with Mom and Dad and Grandma. My father gave me a love of nature and open country. When we moved to the eastern shore of Maryland for my high school years, I had a strong urge to come back west.
I graduated in 1997 from West Virginia University with a bachelor's degree in recreation and parks management with an emphasis in natural resources. My first internship was with the National Park Service in California, and I started building my resume at different park sites. Over the course of different jobs, I kept applying to Yellowstone. Then a supervisor offered me temporary work as an interpretive ranger. Because of funding, it's very difficult to get a permanent position. I didn't want to leave Yellowstone, so I went into the nonprofit world here in Gardiner. I joined Yellowstone Forever, then called the Yellowstone Association, the nonprofit education partner of the National Park Service. That experience showed me that educating others worked for me, and I was able to dovetail that experience into the private sector.
I went on my own and founded Yellowstone Insight as a private guide service in 2015.
Q: What's so interesting about Gardiner that people should visit?
ML: Gardiner is quirky in the sense that it is a small unincorporated Montana town that has always been a transient community. That's mostly based on tourism because Gardiner is a gateway to a national park, so you have seasonal workers. There's no real oversight in zoning, so you have a hodge-podge mix of residents and businesses.
But Gardiner is important because, of the five Yellowstone entrances, the Gardiner entrance gives you the most access. The greatest concentration of wildlife is in the northern regions of the park, and Gardiner is the only access open to wheeled vehicles throughout the winter.
Q: What can visitors expect to encounter in both Gardiner and Yellowstone this fall and coming winter?
ML: From Gardiner, you can get access to Mammoth Hot Springs for your geology, Fort Yellowstone for some of your history, and the entire Northern Range for your abundant wildlife.
There are so many opportunities just waiting for you in this little town. Take advantage of the quiet winter season, and snowshoe or ski a trail either outside the park or inside the park along the open road connecting Gardiner to Cooke City. Stay in a room that overlooks the hillsides teeming with wildlife. Consider a horseback ride into the mountains overlooking the park, or take a rafting trip down the Yellowstone River and witness the debris piles and how high the water line was in June 2022.
Or just come and relax. Book a room, eat in a local restaurant, unwind with a good book and a cup of tea and just be yourself. There are so many amazing people here.
Q: What philosophy guides you in your business?
ML: My father always told me to find a job I can go to with a smile on my face, or it's not worth it. I found an avenue I really appreciate. It's always different. Different guests I have every day ask different questions, and the level of enthusiasm they have is usually pretty high. Everyone is in a happy mood, which keeps me in a happy mood.
I once heard a quote, "Yesterday is history, tomorrow is a mystery, but today is a gift. That's why it is called the present." This applies to each and every one of our tour days. We are excited for every tour, as we never know what will be around the next corner of the road that lies ahead. I go to work with a pocket full of optimism and a smile on my face.
Q: What's the one thing visitors should pack for a Yellowstone visit?
ML: Extra clothes. The weather can change in a couple of minutes, so dress in layers. Even in the summertime, it can be 27 degrees Fahrenheit in Hayden Valley or Lamar Valley in the morning and 90 degrees in Gardiner in the afternoon.
Q: Any final words?
ML: Gardiner needs your business as soon as possible, so make reservations now for this winter and into 2023. Set your sights on a unique Montana experience that you will never forget!
Book your next tour with MacNeil Lyons at Yellowstone Insight,
www.yellowstoneinsight.com
.
Author Note: Pamela Dittmer McKuen is a Chicago-based travel journalist with dual passions for the natural environment and dark chocolate. Keep up with her adventures at All The Write Places,
www.allthewriteplaces.com
.