Photo, Bob Allen
The Flying Buffalo Project, a fundraiser for Madison Buffalo Jump State Park, is more than a fun-filled day of kite flying, it's a chance to learn about the historic locale and contribute to its preservation.
The Madison River, near Three Forks, MT, was the perfect grazing area for buffalo with a lush valley and easy access to water. Nearby, the confluence of the Madison, Jefferson and Gallatin rivers join to form the Missouri River where you'll find another Montana gem, Missouri Headwaters State Park.
It was also an ideal location to harvest the animals for food shelter and clothing.
For 2000 years, Native Americans ran buffalo off of cliffs, called buffalo jumps, or "pishkuns." The river carved out rimrock cliffs in the valley, which the buffalo couldn't see until they were directly on top of them. Runners, often young boys, would wrap themselves in skins of baby bison, antelope or wolves to lure the buffalo to the edge of a cliff where they would fall to their death. Their strong herding instinct ensured that once the buffalo started falling, they all kept going. Once they fell, women worked quickly to gather the hides, meat and other parts of the buffalo; if the meat wasn't smoked or put to dry immediately, it would be ruined by the morning.
As a means to protect this historical landscape, The Flying Buffalo Project brings together families, historians and artists to build and fly kites adorned with Native American artwork and raise money to protect the park.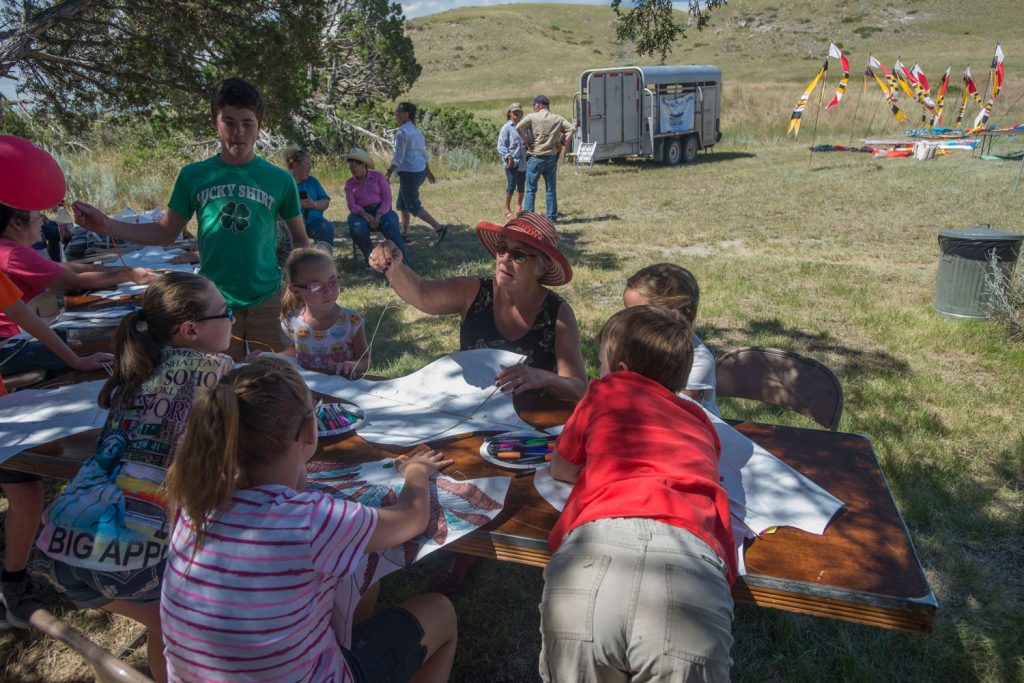 Photo, Bob Allen
The day begins with a kite building workshop; (come early, the first 50 kites are free)! Watch experts fly the iconic 5x7 foot kites adorned with beautiful artwork, then test your own kite flying skills. Round out the day with Native American games, sports and art.
For the curious, hike along one of the many trails and you'll find tipi rings from an extensive village in the area. If you know what you are looking for you can see the rock cairns men would hide behind, and which would direct the buffalo to the edge of the cliff. Interpretive panels provide more information about the history of the area.
Join us for this unique day of historical fun, Saturday, June 17, 10:00 am to 3:00 pm, Madison Buffalo Jump State Park. Donations are appreciated.