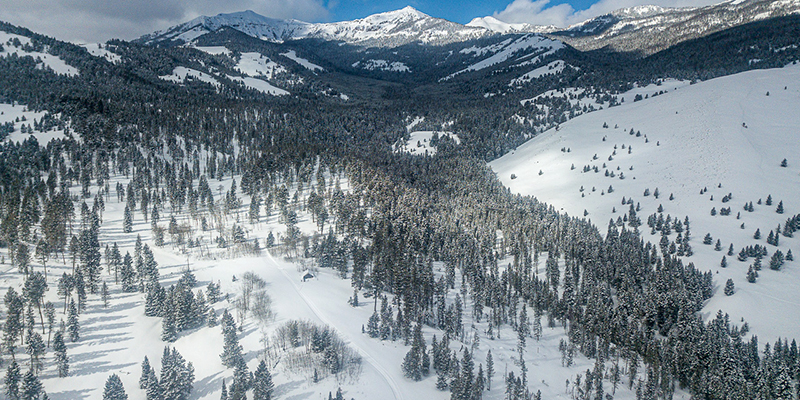 By Melynda Harrison
Nothing makes winter better than plowing through fresh snow on Nordic skis. Or kicking and gliding along well-groomed trails. Wherever your skis take you in Montana's Yellowstone Country, you are guaranteed wild scenery, big views, and a warm place to warm up afterwards.
Cross-country ski trails seem nearly endless here, but I've picked five of my favorites to get you full immersed in Montana winter.
Boundary Trail, West Yellowstone
As the name suggests, the Boundary Trail follows the boundary between Yellowstone National Park and National Forest land.
After about 1.5 miles of perfectly flat, perfectly straight skiing, a steep cliff drops off in front of you. Head to the left (west) and follow the ridge for approximately another 0.5 miles enjoying views into Yellowstone National Park and of the Madison River below. You'll see Sled Hill on your right.
Head down a wide hill and into a little shoot between trees and you're in the Baker's Hole campground. When you ski around Baker's Hole on a sunny day, it's hard to believe there is anywhere in the world more beautiful. The bluebird sky, pure, white snow, vibrant-red willows, and sparkling Madison River front the snow-covered peaks of Yellowstone National Park. You're immersed in a world of saturated color.
There are nice picnic spots in the campground for a snack or lunch break (You may want to dig out a picnic table). Either pick up a second car here or turn around and ski back the way you came.
This tour can be done as a car shuttle or out-and-back trip. I recommend parking at the north end of Boundary Street to start.
Rent Skis.
Get your gear at Free Heel and Wheel. They offer skate skis, classic, and backcountry touring set ups.
Fuel Up.
Slide into the Slippery Otter for upscale bar food and a huge collection of craft beers.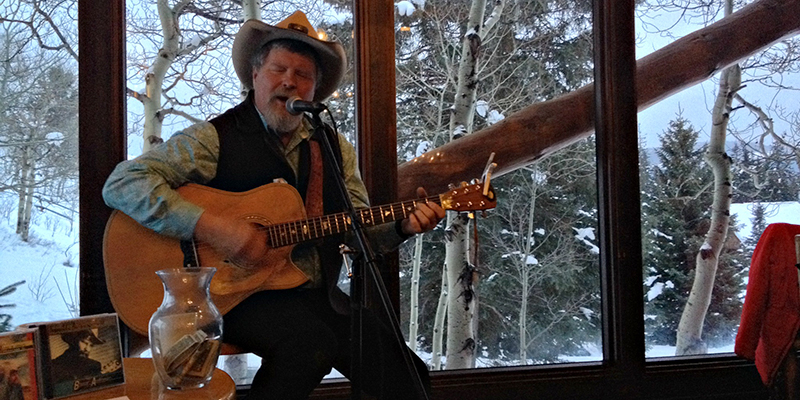 Lone Mountain Ranch  - Big Sky, Montana
For a quintessential Western getaway mixed with Nordic fun, Lone Mountain Ranch fits the bill.
With 85 kilometers of meticulously groomed woodland and meadow trails, Lone Mountain Ranch has been voted Cross Country Skier magazine's #1 Nordic ski destination in North America. Trails are groomed for both classic and skate skiing and range from steep hills to mellow golf course tours.
You can grab a day pass to ski Lone Mountain Ranch's trails or spend a night or two or three. There are 27 historic log cabins on the property, ranging from 1 to 6 bedrooms. Some of the cabins are duplexes to accommodate larger families or groups. Most packages include farm-to-table dining.
Rent Skis.
Rent classic or skate skis at the Outdoor Shop on the property.
Fuel Up.
Sitting in The Saloon, listening to live guitar music, with a hot drink in hand, is one of the best parts of a Lone Mountain visit. For an iconic winter experience, make a reservation for Lone Mountain Ranch's sleigh ride dinner.
Hyalite Canyon Trails, Bozeman
Thanks to the Bridger Ski Foundation and the U.S. Forest Service there are variety of groomed trails through gorgeous scenery in Hyalite Canyon. Most of the trails run through trees with glimpses of the mountains beyond.
There are around 30 kilometers of beginner and intermediate groomed ski trails in the Hyalite drainage, and many more kilometers of ungroomed trails.
From the parking lot at the north end of the reservoir, you can ski up the west side of the reservoir on the Crescent Lake/Sleeping Giant Loop to Window Rock, on past the Maxy Cabin and back around to the north end of the reservoir (17.1 km). Or kick and glide north toward History Rock on the Blackmore Loops (5.6 km). Ski the outside loop the whole way or cut back and forth on the six inner loops.
Trail passes aren't required for Hyalite, but when you buy a Nordic pass from the Bridger Ski Foundation, you support the season's grooming efforts. Check out grooming reports and trail maps at
https://www.bridgerskifoundation.org/trails/main
.
Rent Skis
. Nordic ski rentals are available at the many outdoor shops in Bozeman.
Fuel Up.
Toast to a successful day on sticks at Bridger Brewing on the MSU campus. Locally made craft beer and pizza are a well deserved reward.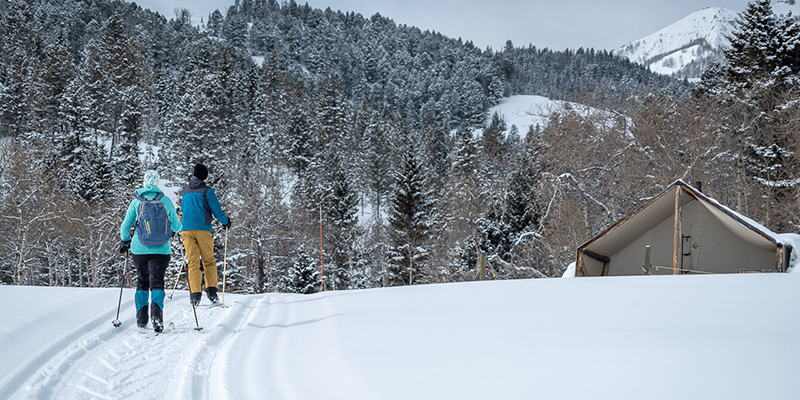 B-Bar Ranch, Paradise Valley
The B Bar Ranch is nestled in the Tom Miner Basin on the east side of the Gallatin range and the west side of the Paradise Valley. The area doesn't see much traffic and offers gorgeous views, petrified trees, easy access to the Gallatin ridge and, in the winter, world-class cross-country skiing. Four-wheel drive is the best bet for getting up the snowy road.
The ranch grooms around 20 kilometers of killer corduroy each winter for both skate and classic skiing. There is an additional seven kilometers of backcountry trails. Mellow trails wind through willows and aspens in the (mostly) flat area along the creek bed. Steeper trails head uphill to overlooks where views of the rugged Gallatin and Absaroka peaks reward skiers for their effort.
Rent Skis.
There aren't any rentals available at the ranch, so pick up Nordic gear at Dan Bailey's Outdoor Company in Livingston or Park's Fly Shop in Gardiner.
Fuel Up
. If you are headed to Gardiner after your ski tour, sit by the fire in Wonderland Cafe and enjoy farm-to-table food and plenty of beverage choices. If you are going the other way, try the (family-friendly) Murray Bar for burgers, pizza, and other upscale bar food, along with a full bar.
Silver Run Ski Trails, Red Lodge
Silver Run Ski Trails wind along Rock Creek and through meadows just outside of Red Lodge.
There's an easy 4-kilometer loop, a 7-kilometer intermediate loop, and an 11-kilometer advanced loop. I think the difficulty rating is based on distance, not technical difficulty or elevation change.
The mellow trails run through trees and boulders. It's really pretty, but not especially scenic and gets a lot of its use from locals skiing before or after work. The lower portions of the loops follow gurgling Rock Creek. Ski one loop or combine all three to get the most out of a visit.
Drive about five miles up the West Fork of Rock Creek to the Silver Creek Ski Trails on the left.
Rent Skis.
Find all the outdoor gear you need at Sylvan Sports in Red Lodge.
Fuel Up.
Relax and fill up at the Pollard Hotel Pub. In addition to scrumptious cocktails, local beers, and a great wine list, you can order from a menu of appetizers or meals.
Don't Forget Your Gear!
Any winter adventure requires being prepared for inclement or changing weather. Nordic skiers are likely to warm up while skiing and then cool down quickly when stopping to admire the scenery or have a snack. The following essentials easily fit into a daypack.


Water and high energy snack foods (I like an insulated thermos of soup or hot drinks)


Map, compass, or other navigational aid


First aid kit with emergency blanket


Ski wax (a gliding wax for waxless skis, grip wax for others)


Extra warm layer, hat, gloves, and socks


Sunscreen and sunglasses


Ski repair kit


Layered clothing (on your body)


Insulated mat (not required, but it's nice to have something to sit on in the snow)