By Melynda Harrison, Traveling Mel
From historic stagecoach routes to riverside trails, Montana's Yellowstone Country has great mountain biking opportunities. While there are plenty of challenging rides on National Forest trails and at local ski resorts, there is also an abundance of trails for families and beginner mountain bikers. The beauty in these trails, in addition to gorgeous scenery, is that they cater to all levels of riders.
Take advantage of summer and fall days to get off of the beaten path and onto two wheels. Here are a few of my favorite beginner to advanced mountain bike trails.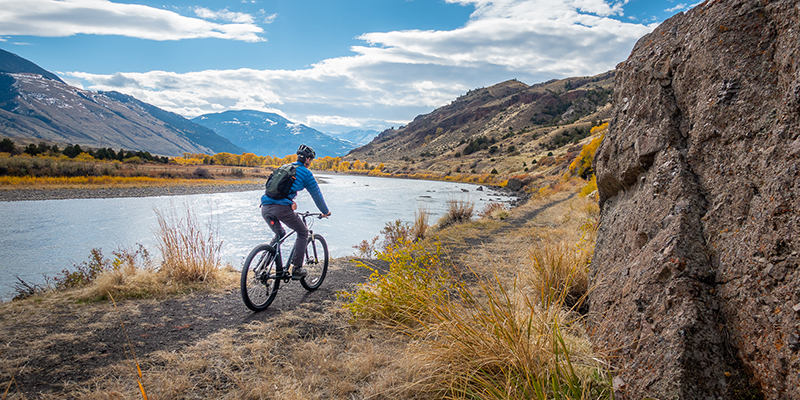 Old Yellowstone Road, Livingston to Gardiner
The Old Yellowstone Road was built to get stagecoaches from Livingston to Yellowstone National Park. Bikers can pedal the dirt and gravel road leaving the bike path just south of Livingston more than 50 miles to Gardiner and Yellowstone National Park.
For a shorter ride, and the most scenic section, hop on the road at near the Carbella Bridge.
Cars still use it occasionally, but you'll mostly have the road to yourself. Gaze down at the Yellowstone River in Yankee Jim Canyon, spot pronghorn and deer on ranches, and learn from a few interpretive signs. Ride out as far as you like and return the way you came or set up a shuttle in Gardiner.
Getting there: Drive south from Livingston 36 miles on Hwy 89 to Tom Miner Creek Road. Cross the bridge and turn left. Stay on the lower road about a mile and a half to another fork. Park here and ride on the left (northeast) road.
Fuel Up: Enjoy a post-ride soak at Yellowstone Hot Springs or farm-to-table fare at Wonderland Cafe in Gardiner.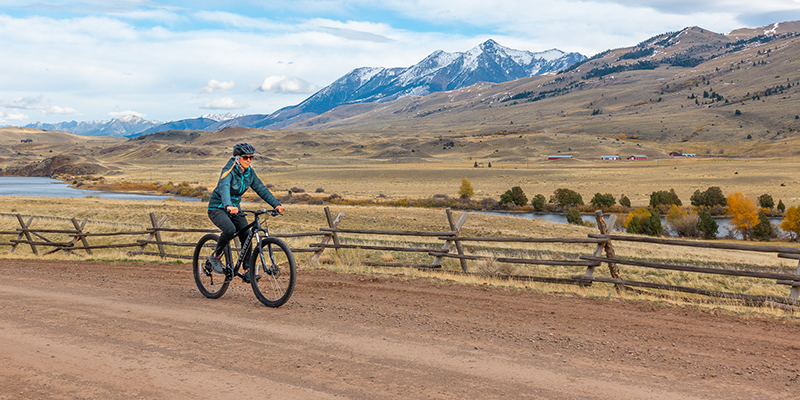 Bangtail Divide Trail (Grassy Mountain Trail), Bridger Canyon
With ten switchbacks at the start of the trail, you quickly ascend 400 feet, lending a sense of accomplishment. Fortunately, the trail is a smooth, easy ride despite the climb. Along the trail there are great views into the Bridger Range and the Crazy Mountains as you pedal in and out of lodgepole pines and meadows, and along the Bangtail Divide. Descend from Grassy Mountain to a meadow overlooking a logged area at 3.7 miles. This is a good turn around point or ride through to Stone Creek (24 miles total), if you set up a shuttle.
Getting there: Drive 18.8 miles up Bridger Canyon to Brackett Creek Road. Turn right and the trailhead is about 100 yards up on the right. The trail starts across a small footbridge at the south end of the parking area.
Fuel Up: Ghost Town Coffee Roasters is the perfect place to stop for a cup of Joe and a pastry before or after your ride. Valhalla Meadery offers craft mead and Nordic-inspired food.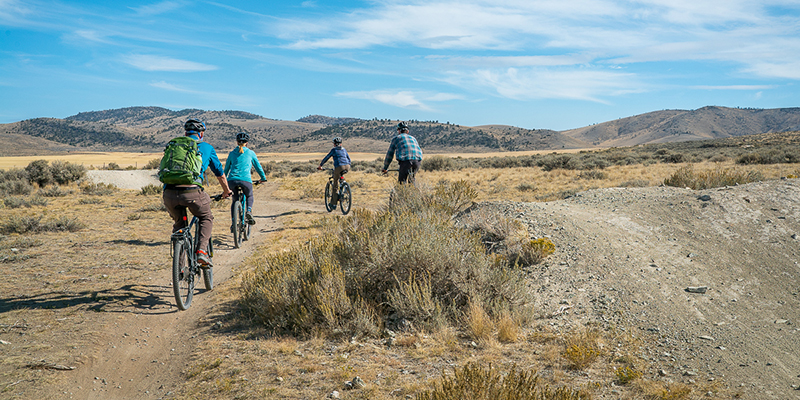 Copper City Trails, Three Forks
One of the newer venues in the Montana biking world is Copper City Trails. Not far from Three Forks, this trail system encompass about 18 miles of bike-optimized trails, which can also be used by hikers and trail runners.
The trails wind, climb, and roll through sagebrush flats and rocky ridges in what was once a mining camp
The multiple loops are rated at varying levels of difficulties from family-friendly and beginner trails to technical and downhill mountain bike trails.
Adjacent to the large parking area, is a skills park with dirt jumps and a pump track catering to all ages and abilities.
Getting there: From Three Forks, drive west on I-90 3.3 miles and take exit 274 toward US-287 N. Turn right and drive north 5 miles to Copper City Road. Turn right and follow the gravel road to the parking lot. There are vault toilets in the parking area.
Fuel Up: Grab sandwiches to-go at Wheat Montana for sustenance on the trail.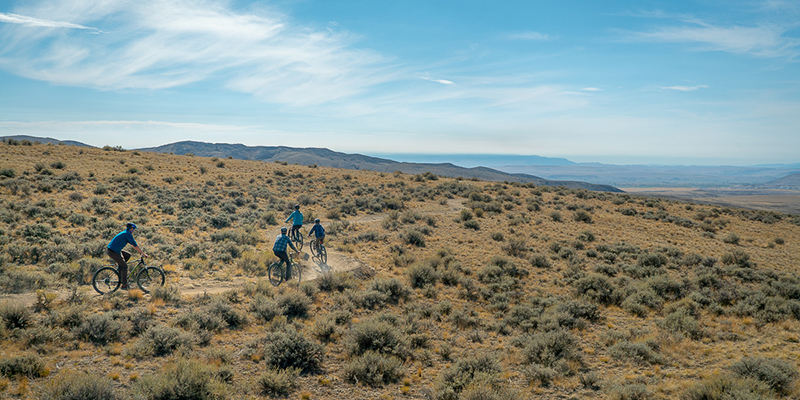 Silver Run Trails, Red Lodge
The Silver Run Trails are composed of a long, narrow loop with connector trails throughout, dividing it into four mini-loops. They flow along the West Fork of Rock Creek and wind in and out of the trees.
The West Fork is quite lovely as it bounces and perls around the boulders strewn throughout its length. There isn't a lot of elevation gain and you can choose your distance, using the cutoffs, making for a ride of 2.5-5 miles (or more if you loop around).
Getting There: From Red Lodge drive south and turn right on West Fork Road. Stay straight at 2.8 miles (the right road goes to Red Lodge Ski Area). Drive another 1.6 miles to Silver Run Road and turn left. Drive across the bridge and park. There are vault toilets in the parking area.
Fuel Up: Red Lodge is full of good places to eat and drink. Red Lodge Pizza Company has tasty pizza and giant cookies served with ice cream. Red Lodge Ales serves craft beer and cider, and elevated bar food.
Rendezvous Trails, West Yellowstone
The Rendezvous Trails on the south edge of West Yellowstone is primarily thought of as a Nordic skiing venue, but when the snow melts and the dirt dries, it makes for fun mountain biking.
The trail network consists of over 35 kilometers of gently rolling trails that wind through tall stands of lodgepole pine and open meadows.
Difficulty varies and the trails start at 6800 feet, so elevation can play a roll in how challenging any trail is. There are trail maps at almost every junction, making it easy to find your way around and choose the right trail for your ability.
Getting There: Drive to the south end of Geyser Street in West Yellowstone. There is a parking area, trailhead archway, and a communal building with restrooms.
Fuel Up: For a cold beer and a burger, pizza, or pub grub after your ride, slide into the Slippery Otter Pub.