Five Areas of Montana's Yellowstone Country You Should See Right Now
Autumn is always an excellent time to visit Yellowstone and the incredible communities surrounding the Park. Cool temperatures, fewer crowds, and beautiful colors are peaceful any year. However, many people canceled their trips after the historic flooding this past spring. Park officials and local communities banded together and literally moved mountains to repair roads and bridges, and both the Park and local businesses were quickly open again.
While fall is already a sweet time to visit, this particular year is even quieter than usual. Lodging often sold out well in advance and now has openings on short notice. Park visitation cooled down after a record-breaking year, with fewer crowds. On the other hand, it's been a banner year for whitewater rafting, and it's the perfect time to take some of those longer hikes that are best done in cooler weather.
It's the time of year for scenic drives on quiet backroads, stopping for a bite to eat in restaurants located off the beaten path, and exploring area shops, museums, and local events in the little towns tucked up in the mountains.
We've gathered some of our favorite trip planning ideas to help you get started, but half the fun is finding a place to stay and spontaneously exploring!
Paradise Valley
While many people travel through Paradise Valley to get to Yellowstone, not everyone realizes the vast opportunities within the valley. While the North entrance is temporarily closed to vehicles, you can still tour Yellowstone from the Gardiner area if you have a scheduled tour with an approved guide.
In addition, there are spectacular hikes, two hot springs, four music venues, excellent restaurants, art galleries, bookstores, and a plethora of specialty shops. To make it easier to plan your time, the towns of Livingston and Gardiner have put together a resource to help you
Pick Your Path to Paradise!
Here you'll find 3-day itineraries along the Highway 89 corridor based on your interests - arts and culture, river and water adventures, and history. Of course, there's no stopping you from mixing and matching the ideas, and the 
interactive map
 will help you plan the correct route.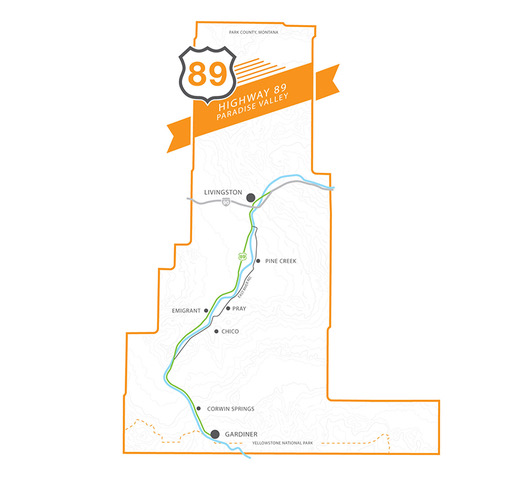 Big Sky is centrally located for hiking, fishing, whitewater rafting, and visiting Yellowstone National Park. The resort is open until September 18 with lift-served downhill biking, zip-lining, and hiking, and the golf course is available until October 2. But even past that, Big Sky is breathtaking, and experiencing it during the quiet months is excellent for adventuring without crowds and enjoying all the fine dining and shopping this resort town offers.
After a short delay and an impressive show of leadership and manpower, Red Lodge and the Beartooth Highway were open shortly after the floods. So there's still time to drive what Charles Kuralt dubbed "the most beautiful roadway in America." The road climbs to an astounding 10,947 feet above sea level and takes you to some of the most breathtaking scenery in the lower 48.
Bookending the highway at either end are Red Lodge and Cooke City, two of the most quintessential mountain towns you can imagine. We suggest you plan your trip to stay in each town and leave plenty of time for exploring along the highway in between. Red Lodge is full of eateries, shopping, fishing, hiking, biking, and many local characters. Cooke City and Silver Gate, on the Northeast entrance to Yellowstone, have endless trails for UTV/ATV riding, hiking, fishing, and climbing. And you can hike or bike into the Park and experience it with a few other people. Those who are in-the-know, have been making plans to go. 
The Boulder River Valley is one of our favorite places to visit during the fall. Take a scenic drive to Natural Bridge Falls, and you'll see hundreds of deer grazing in the ranch pastures along the river. The hills are full of grass, turned golden in the fall, giving everything a bright glow. Don't miss the Crazy Peaks Brewing Company, Meats of Montana, and for a real treat, stay at The Grand, a historic bed and breakfast that also holds a restaurant and bar. Their dinners are delicious, but if you time it right, the Sunday brunch is not one you'll soon forget.
Watch the website of Café 191 for live music, or plan to make a trip for dinner made from their grass-fed and finished beef raised right on their property. The views of the Crazy Mountains are unmatched.
The busiest entrance to Yellowstone, West Yellowstone has numerous tour companies, a bustling town full of fishing guides, bicycle rentals, gift shops, and the Grizzly and Wolf Discovery Center, which is a fabulous way to learn more about these beautiful animals who can no longer live on their own in the wild. In addition, you can access 93% of the paved roads from the West entrance and 94% of the backcountry, so there are no worries you'll be missing anything in the Park.
For more trip planning ideas, visit Alternative Places to Travel in Montana's Yellowstone Country.