Everything You Need to Know About Visiting Yellowstone National Park this Winter
It's been a busy summer for officials in Yellowstone and its gateway towns of
Gardiner
,
Cooke City
, and
West Yellowstone
. After historic flooding this past spring, tireless efforts to repair the damage are paying off as the Northeast entrance opens again on Oct. 15 and the North entrance prepares to open by Nov. 1, 2022.
It's an exciting time to visit. For the past few months, the only traffic allowed through these entrances were commercially guided tours, leaving the wildlife with more room to roam and fewer visitors crowding their space. Residents say it's made a difference, and the wildlife is incredibly active right now.
This is a once-in-a-lifetime opportunity to visit Yellowstone and its gateway towns when there are fewer visitors in the area. It's quiet, the first blushes of fall color are coming through, and the entire region is beautiful. It's never going to be like this again, so if you're considering a trip, now is the time!
Winter Activities in Yellowstone National Park
Winter in Yellowstone is magical – a spectacular canvas of snow with steamy features even more pronounced in the cold. Bison roam around, seemingly not noticing their frozen fur, and for the majority of the Park, the absence of vehicles makes the vastness seem even more remarkable. There are over 45 different animals you can see in the winter, more than sixty geysers, and over a hundred miles of ski trails. There are seventy miles of trails in the Old Faithful area alone, which is a great way to explore geysers and other geothermal activities.
Wildlife watching, snowmobile or snowcoach tours, Nordic skiing, snowshoeing, and even ice skating are all popular activities. Photography in the Park is stunning this time of year. There are several tour opportunities, including some unique ones like "Steam, Stars, and Winter Soundscapes." If you're new to winter activities, Nordic ski lessons, rentals, and shuttles are all available.
Where to Stay When Visiting Yellowstone
There are plenty of options when deciding where to stay when visiting Yellowstone, including staying within the Park itself. There are two full-service hotels, Mammoth Hot Springs Hotel and Old Faithful Snow Lodge, in the Upper Geyser Basin. Yellowstone National Park Lodges also offers a winter airport shuttle, which is excellent for those who haven't navigated inclement road conditions.
The other options are to stay in one of the gateway towns of Cooke City/Silver Gate, Gardiner, or West Yellowstone. Each area offers unique experiences besides Yellowstone, making your explorations more enjoyable.
Staying in Cooke City and Silver Gate, Montana
Tucked up at the end of the road, you'll find the quintessential mountain towns of Cooke City and Silver Gate. They may be small, but the adventure here packs a punch. Backcountry skiing and snowboarding, snowmobiling, Nordic skiing, ice climbing, snowshoeing, ice fishing, and tours (both skiing and the Lamar Valley) are all exceptional. Those who are hard-core know that Cooke City is the place to go. Plus, they get late-season storms, and the snow sticks around in higher elevations making for a long season for playing outside. Lodging options range from standard hotels to cozy cabins and luxury lodges.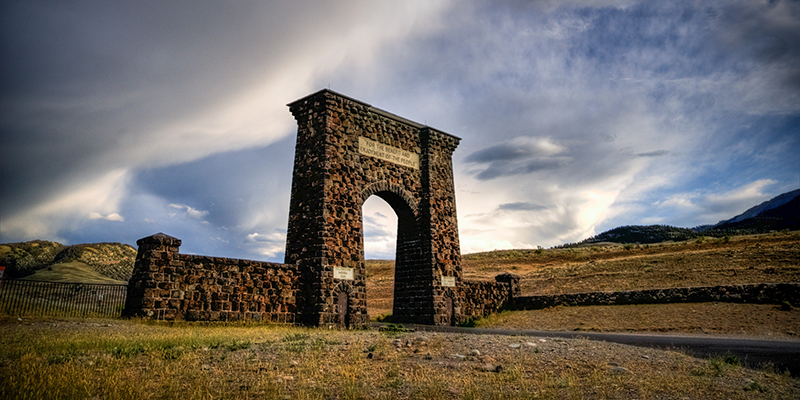 Staying in Gardiner, Montana
Like Cooke City, you'll have various lodging choices in Gardiner, including Bed and Breakfasts. The Lamar Valley is one of the most active areas of the Park for wildlife watching, so if you're hoping for a wolf sighting, you'll need to be up early in the morning or out when dusk comes, so Gardiner is a great option if this is your goal. In addition, the town is just down the road from two hot springs, Chico and Yellowstone Hot Springs. Perfect for relaxing and warming up during winter.
Staying in West Yellowstone
Known as one of the top snowmobiling destinations in the U.S., West Yellowstone is a fun town for families, sledheads, and Nordic skiers! There are several tour companies in and out of the Park, and since it's a bigger town, there are more lodging options. It's also home to the Grizzly and Wolf Discovery Center, a favorite for all who visit, the Yellowstone Giant Screen Theater, and several family-friendly activities like Kids 'N' Snow and the Moonlight Ski events at Rendezvous Trails.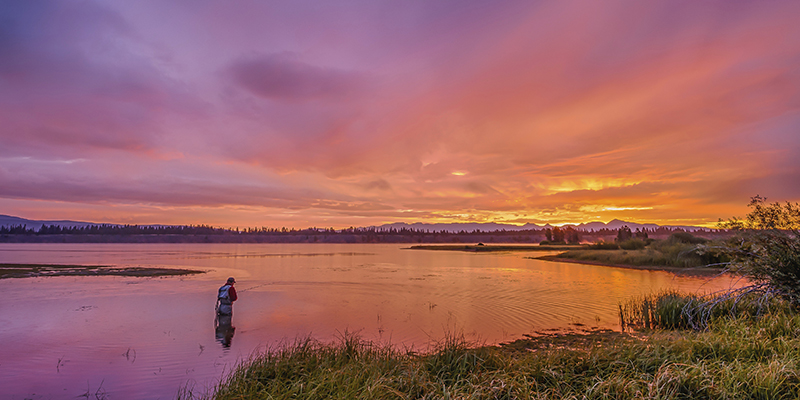 Dining In and Around Yellowstone National Park
Going hungry is one thing you won't have to worry about wherever you stay. Montanan's love food, and we're fortunate to have some exceptional chefs who call this area home. From casual bistro fare to fine dining, you'll find locally sourced ingredients and extra care in using them. In West Yellowstone, check out Madison Crossing Lounge or Firehole BBQ Company.
In Gardiner, The Grizzly Grille (it's a great food truck found parked in the Sinclair Gas Station) is a favorite for takeout; rice bowls, burgers, and po' boys are local favorites. Check out their up-to-date restaurant list for dining options and hours.
In Cooke City, you'll want to be sure to try the Bearclaw Bakery and The Bistro. But all the restaurants serve tasty fare.
Dining inside the Park is delicious as well. Yellowstone has exceptionally incorporated local products into its menus, and the food is wholesome and handmade.
Remember, beginning Nov. 1, the park closes to vehicular travel everywhere except for Highway 89 between Cooke City and Gardiner, which remains open year-round.
Be sure to check NPS.gov/yell for the latest travel updates.