Enjoying Yellowstone National Park with Kids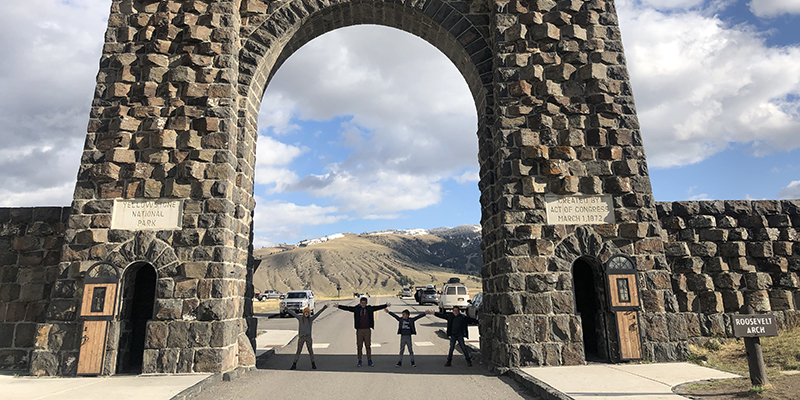 Photo by Crazy Family Adventure
Yellowstone is full of sensory exploration. It's a great environment to learn about the earth's natural wonders, particularly if you're bringing the kids! However, covering all of the park takes some driving, something the kiddos don't always love. But, with a bit of planning, you can slow down, get out of the car, and experience Yellowstone. Visitation is increasing, and while there is food available in the park, we suggest packing a cooler full of food and drinks and stopping for a picnic along the way!
One way of organizing your trip is to participate in the Junior Ranger Program. For $3, kids get a full-color booklet full of activities that teach them about the park resources, issues, and concepts. Once they complete the booklet, attend a ranger-led program, and go for a hike on a trail or boardwalk, they get certified and receive a Junior Ranger badge! The brochures are available at park visitor centers, but you can plan your trip based on the activities if you order them ahead of time!
A great spot to learn about the thermal features in the park is Fountain Paint Pot. This half-mile loop is easy for any age, and you can see all four kinds of features: fumaroles, geysers, hot springs, and mud pots! (Kids love the bubbling mud!) Some kids like the Mud Volcano with its stinky, rotten egg smell from the hydrogen sulfide gas.
Old Faithful is another must-see, and the Visitor Education Center located here is fantastic. The center is full of interactive exhibits, including the Young Scientist room, which includes a geyser model and other hands-on activities. You can find ranger-led talks in the evenings, and in the winter, there is even an ice-skating rink! While you're here, it might be a good time for an ice cream cone.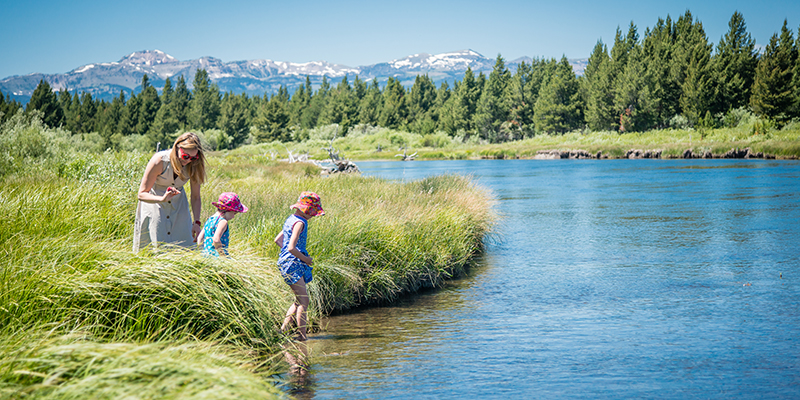 Photo by Audrey Hall
Yellowstone Lake is a great place to explore for water lovers—fishing, skipping rocks, and picnics are all great pastimes. This is the highest elevation lake in North America, twenty miles long and 14 miles across. Keep in mind; the lake is only 41 degrees, much too cold for swimming. However, canoes, kayaks, paddleboards, and other non-motorized boats are permitted. You can also take a Scenicruise, rent a powerboat, or take a guided fishing trip.
Photo by Crazy Family Adventure
Don't forget your binoculars or spotting scope if you have them. The wildlife watching is one of the best parts of the trip! Hayden and Lamar Valleys are great places to see bison herds, along with black bears, grizzly bears, and, if you're lucky, the elusive wolves. Animals are most active early in the morning and late in the evening, so while it might be hard to get the little ruggers up early, it's certainly worth it.

Be sure to stop at Artist's Point. This is a beautiful view of the Grand Canyon and the lower falls of the Yellowstone River. The size, sound, and spray of the waterfalls are exhilarating, and the short 0.2-mile hike is an easy one. If hiking is something your family enjoys, there are several easy hikes. A few of our favorites can be found here.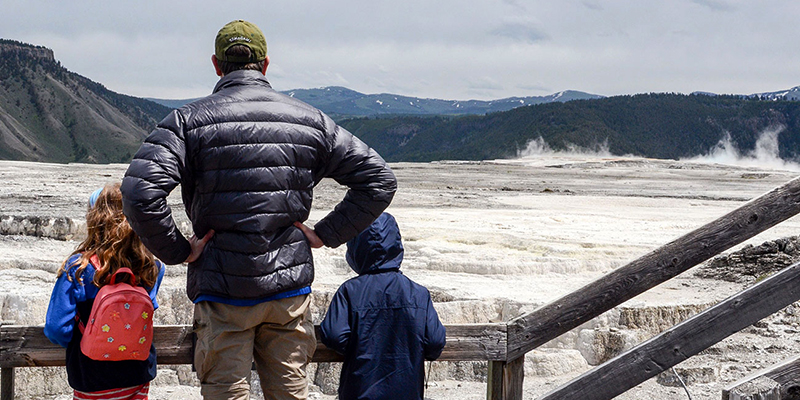 Photo by Sarah Bond
At Mammoth Hot Springs, a stop at the Albright Visitor's Center is an excellent place to learn about the park's history and wildlife. The terraces are beautiful, and the boardwalks are a perfect way to stretch your legs. Plus, kids love seeing the resident elk herd that grazes around town.
At the end of the day, a stop for pizza is always a hit! In Gardiner, Yellowstone Pizza Company or Outlaw's Pizza are excellent, and in West Yellowstone, Wild West Pizzaria or Pete's Rocky Mountain Pizzaria is delicious.