December Events in Yellowstone Country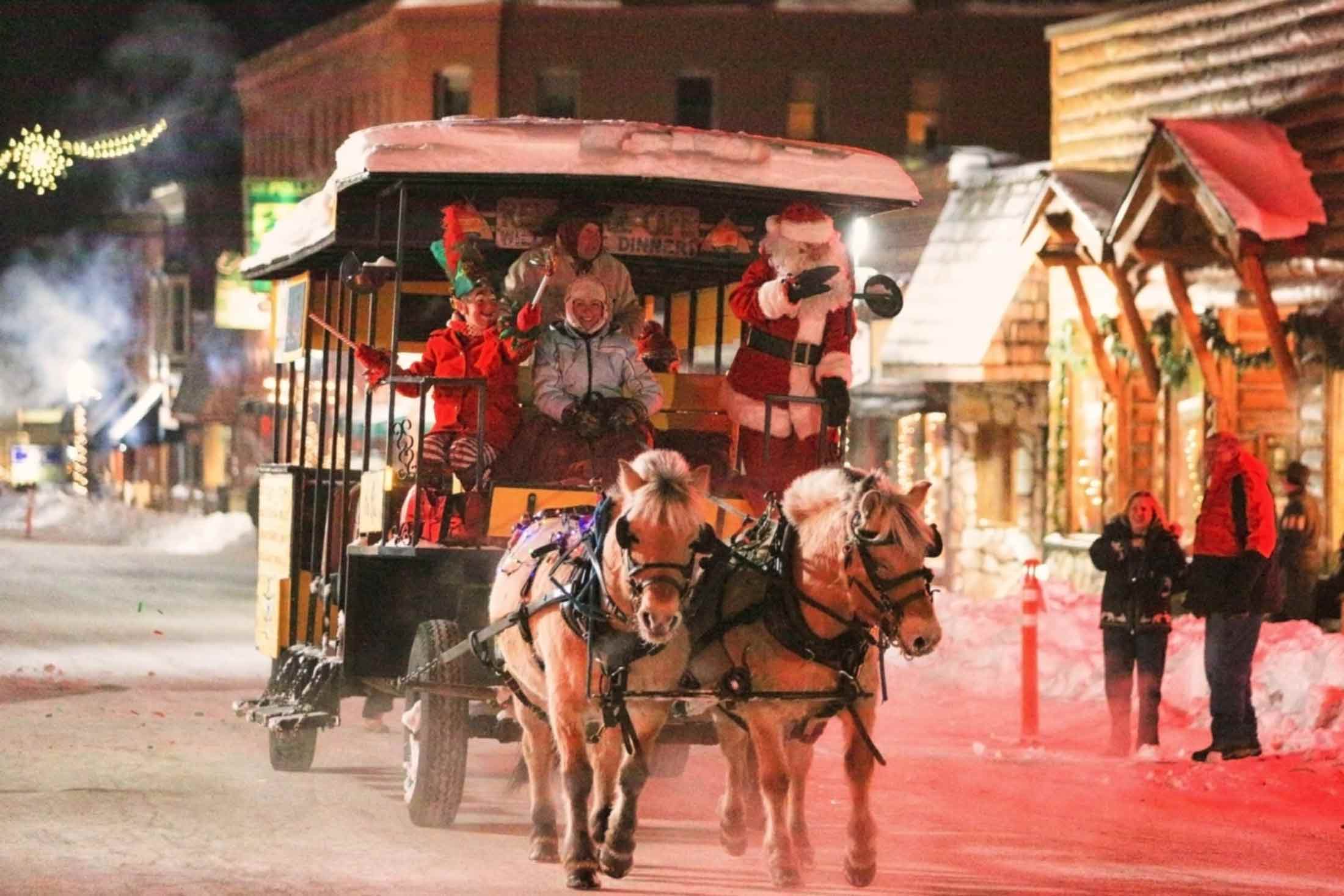 Photo, Merv Coleman
Winter is serious business in the mountains of Montana, and December starts it off with a bang. If you haven't experienced a good old-fashioned holiday celebration, add it to your itinerary! The festivities take place from one end of the region to the other and give a whole new meaning to "small town charm."
Big Timber Hometown Holiday Lighted Parade
Big Timber, Montana
November 30, 2018, 6 p.m. – 8 p.m.
A lighted parade is the highlight of this holiday kick-off. Hold off on decorating your tree, this year's theme is "Parade of Trees," with floats depicting some outrageous decorating ideas. Get started on your holiday shopping with special deals from local retailers and end the evening with fireworks! (Have the kids keep their eye out for the Grinch; no stealing Christmas!)
Christmas Stroll in Red Lodge
Red Lodge, Montana
November 30 – December 1, 2018, 6 p.m. – 9 p.m.
This quintessential mountain town puts on a stroll reminiscent of the 1840s. The festivities start Friday evening with a Community Lantern Walk down Broadway Street. The Blade Parade follows with snow plows decorated more ways than you can imagine. The fun continues throughout Saturday with wagon rides, sleigh rides, yummy food and, of course, Santa!
Montana Ballet Company, Nutcracker
Bozeman, Montana
November 30 – December 1, 2018
This year's annual production of The Nutcracker brings fresh choreography and exciting new theatrical elements. Montana Ballet Company brings together local and national dancers, musicians and designers; trust us, this is an artistic collaboration at its finest.
Gardiner Christmas Stroll
Gardiner, Montana
Thursday, December 6, 2018, 4 p.m. – 8 p.m.
Consider spending a weekend in Yellowstone National Park and kick it off with the Gardiner Christmas Stroll! Located at the North entrance of the park, the town comes alive with a craft fair, live music, food, libations, Santa, and a slew of children's activities.
Annual Snowflake Festival
Absarokee, MT
Friday, December 7, 2018, 10 a.m. – midnight
This little town knows how to pack in some big holiday fun. The day starts with open houses and a chance to win $500 to area business. Round out the fun with hay rides, Santa pictures, a spaghetti dinner, lighted parade, fireworks and Christmas Karaoke. Bring your dancing shoes!
Three Forks Christmas Stroll
Three Forks, Montana
Friday, December 7, 2018, 4 p.m. – 8 p.m.
Experience a classic Christmas with carriage rides, caroling and the ever-popular candy cane lane. Check out the Gingerbread House contest, and the beautifully decorated and donated trees and wreaths for the "Silent Tree Auction."
The Shane Lalani Center for the Arts, Holiday Vaudeville Extravaganza
Livingston, Montana
December 7 – 20, 2018
The comedy, song, and dance of Vaudeville is an art that never gets old. One of Livingston's favorite holiday events, the whole family will love the performances ranging from "sublime to spastic."
Belgrade Festival of Lights
Belgrade, Montana
Saturday, December 8, 2018, 8 a.m. – 8 p.m.
The town of Belgrade shows up in full force for a day of holiday celebration. Enjoy a live nativity, caroling, and the Holiday Battle of the Bands. A carnival, complete with bounce houses, crafts and activities entertains the kiddos while a craft fair makes it a one-stop holiday shop. Check out the culinary and gingerbread house contests. Food trucks and fireworks round out the evening.
Holiday Home Tour
Big Sky, Montana
Saturday, December 8, 2018, 3 p.m. – 6 p.m.
Tour three of Big Sky's beautiful homes for architectural inspiration and ideas for holiday décor. Enjoy drinks and hors d'oeuvres at each stop. The tour ends with a holiday bizarre showcasing the work of local artists and vendors. Transportation is available on a first-come, first-served basis.
Parade of Lights
Columbus, Montana
Friday, December 14, 2018, 7 p.m.
"Rocking Around the Christmas Tree" is the theme of this year's Parade of Lights. (We're already intrigued!) Don't miss the chili feed, late night shopping and the joy of celebrating the season with friends and family.
Kids'N'Snow
West Yellowstone, Montana
December 15 – 16, 2108
This award-winning program is a favorite year after year. Get the kiddos excited about winter activities with a weekend of snowshoeing, ice skating, sledding and cross country skiing. Once they're worn out, warm them up with some hot cocoa and s'mores!
To keep abreast of all the events in Yellowstone Country, go to visityellowstonecountry.com/events.