Cooke City: Big Mountains, Deep Powder

Photos by Dan Armstrong
Aside from the population (140 residents), there is nothing small about
Cooke City
, Montana. Sitting at an elevation of 7,600 feet between 
Yellowstone National Park
 and the Beartooth Mountain Range, this mountain town is poised for serious recreation.
Why the hype?
Anyone in the know will tell you: big mountains, long seasons and deep powder.
Sixty miles of groomed snowmobiling trails lead to amazing backcountry. One of the most popular trails, Daisy Pass, rises to 10,000 feet with terrain for both novice and technical riders. There's plenty of tree riding for boondockers, highmarking mountains and large meadows deep with untouched snow.
In the winter, Cooke City can only be accessed through the northeast entrance to 
Yellowstone National Park
. Meaning, you literally reach the end of the road. (In the summer, the jaw-dropping 
Beartooth Pass
 opens, and the drive to 
Red Lodge
 is an absolute must.)
Snowmobile season generally begins in early November and can last until late June or even July. (We're not kidding.) That stands to reason, since the average annual snowfall measures over 200 inches and heavy spring snowstorms are frequent.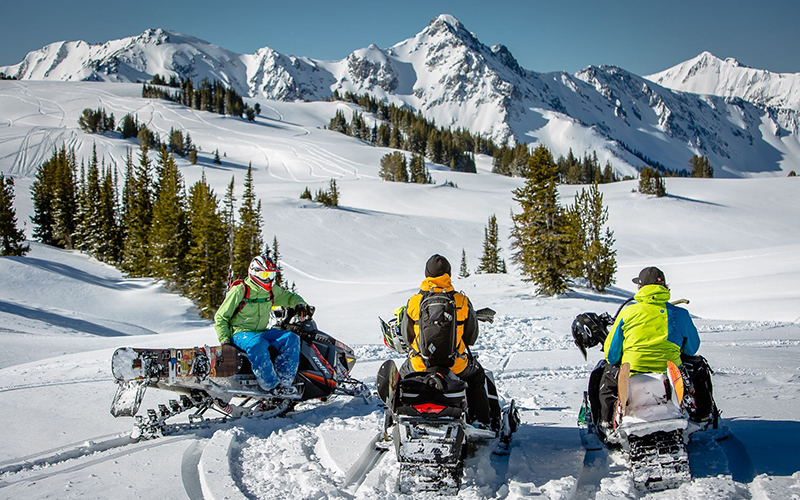 Incredible sledding aside, Cooke City has a unique vibe. For a town spanning a total of four blocks, the food is delicious, the taverns are entertaining and the scenery is spectacular.
We asked a serious rider and longtime visitor what he likes best about this region. His response was spot on: "Riding right from your doorstep to an amazing outdoor playground."
Keep in mind, steep terrain and deep snow bring avalanche danger. Always wear a transceiver, be sure check with local shops about snow conditions and 
monitor current avalanche activity
. For more information, contact the 
Cooke City Chamber of Commerce
.
Photo, Dan Armstrong