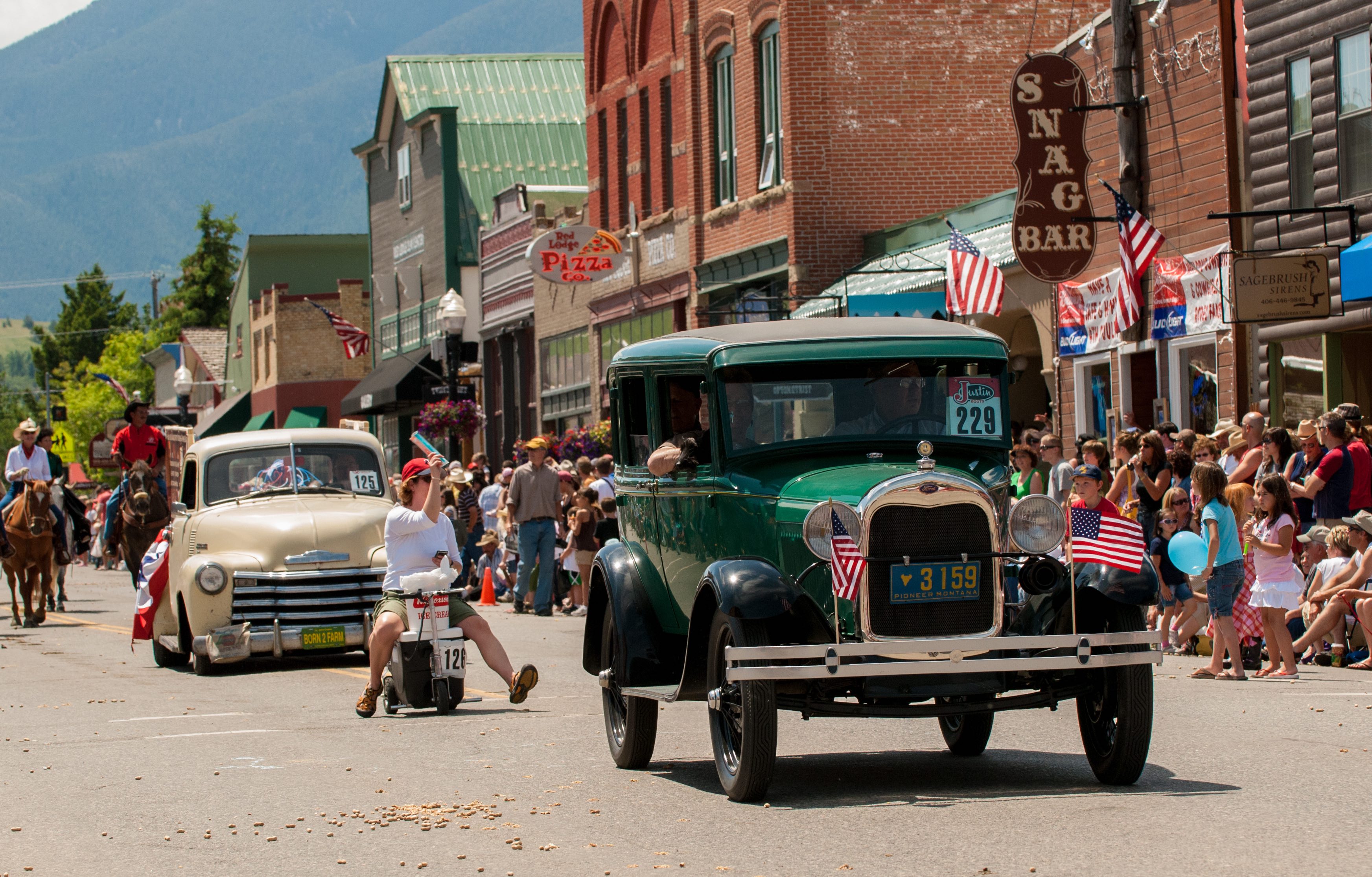 Home of Champions Rodeo & Parade, Red Lodge, MT
Photo, Donnie Sexton
In Yellowstone Country, we celebrate the Fourth of July with gusto. It's a time when everybody stops to have fun, enjoy time with family and friends, and celebrate our independence. Communities host events ranging from rodeos to art shows, with live music, parades, fun for the kiddos, and, of course, fireworks—a lot of fireworks. We've listed some of the larger events, but whatever town you are in, you're sure to find some fun!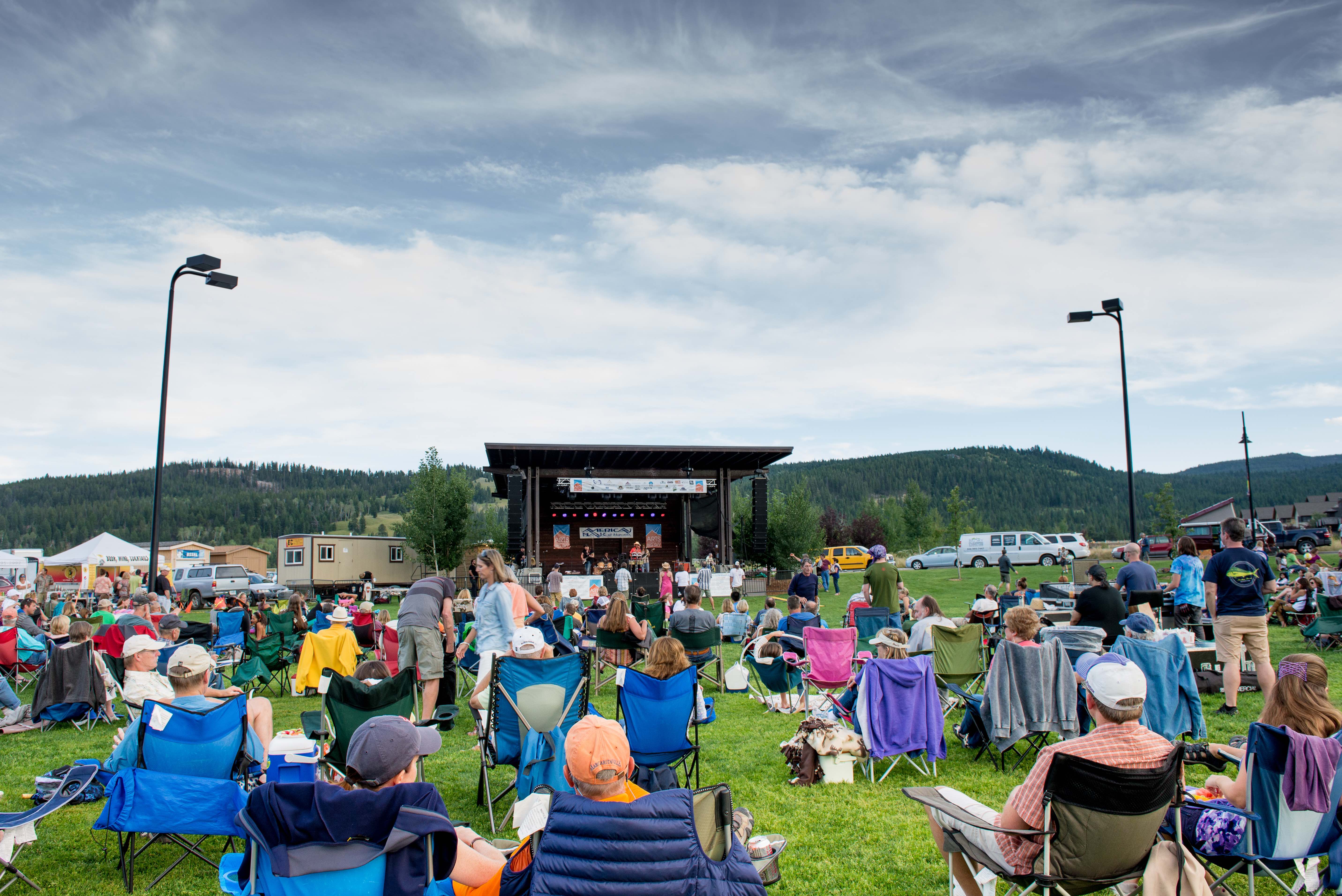 A crowd gathers for live evening music in Big Sky Town Center, Big Sky, Montana.
Photo, Donnie Sexton
Golf, food, music and fireworks; in that order. The celebration begins with the Firecracker Open Golf Tournament from 10 a.m. – 2 p.m. Unwind at the farmers
market starting at 5 p.m., then get ready to boogie to live music by The Tiny Band at 7 p.m.
There's not a bad seat in Bozeman when it comes to the Festival of the Fourth fireworks show. Local parks, hillside trails and front porches fill up with people enjoying the camaraderie of sitting back and watching the brilliant bursts of light. To be close to the action, watch from the Gallatin County Fairgrounds, which usually include a prelude of live music!
This small town puts on a big family-friendly party, kicking it off with a parade at 10 a.m. The annual Fireman's Picnic starts at 11 a.m., followed by games for the kids at 2 p.m. Come evening, you'll have a little time to rest up before the fireworks show!
An exceptionally high number of artists and cowboys are attracted to the charming town of Livingston, so it seems fitting that the Fourth of July celebrations include both an arts festival and a rodeo! The
Livingston Depot Festival of the Arts
, a juried show featuring over 100 skilled artists and craftspersons is not to be missed. (Be sure to stop at the Depot Foundation's famed pie booth!) The
Livingston Roundup Rodeo
attracts some of the best PRCA rodeo cowboys and cowgirls from around the nation. This high-performance rodeo sells out each year, so book your tickets early! Both events run from Monday, July 2 through Wednesday, July 4, 2018.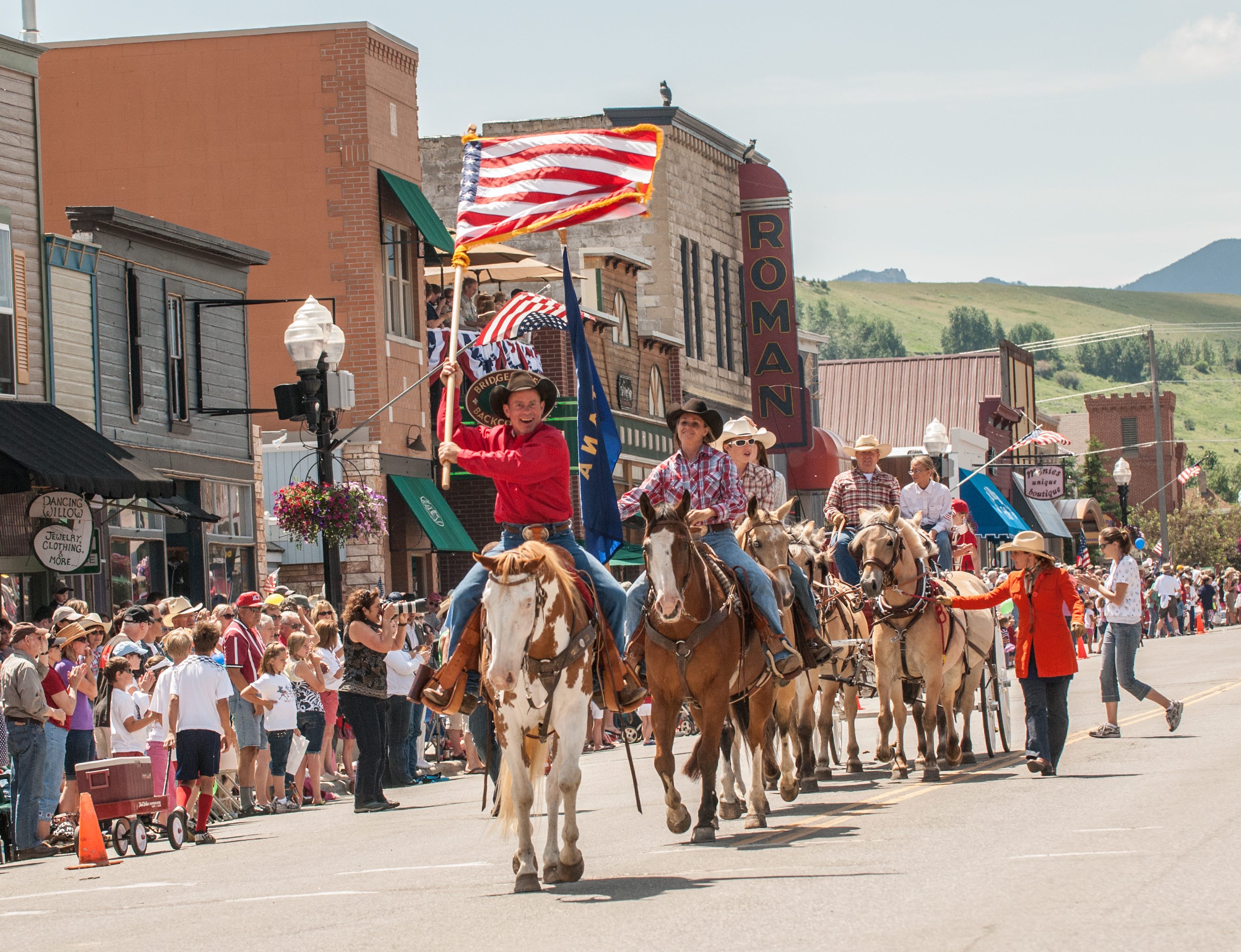 For good old-fashioned western fun, plan a stay around the
Home of Champions Rodeo
in Red Lodge, July 2 – 4. The festivities kick off each day with a parade starting at noon. Spend the afternoon enjoying the eateries and taverns before heading to the rodeo! What started with a group of cowboys coming together on a Sunday afternoon to ride exhibition broncos, has turned into 89 years of full-fledged competition with cowboys and cowgirls coming from around the country.
The folks in this little town know how to bring some serious Americana to the table. Start the day at 11 a.m. with the Fire Department BBQ, then have dessert at the Yellowstone Historic Center's "Pie on the Porch."
Catch a little entertainment at the Buffalo Chip Chuck taking place at the baseball diamond, and, if you think you can handle it, consider participating in the Hot Dog Eating Contest! Round out the day with a parade at 6 p.m., followed by live music and, of course, fireworks.