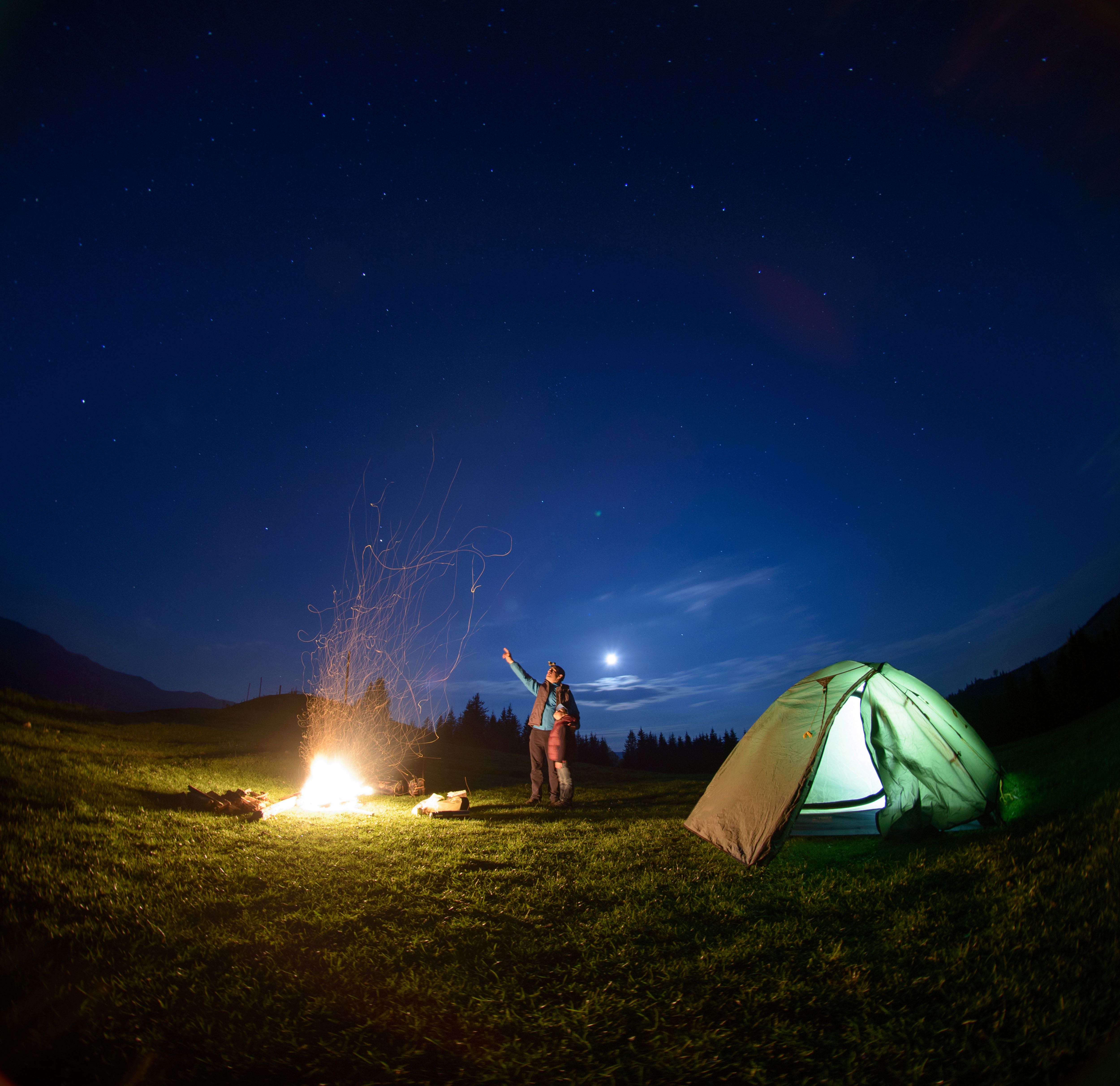 "The mountains are calling and I must go." – John Muir
Camping
is more than just a vacation. For some, it's a lifestyle. The fresh mountain air, cool evenings and summer scents make for some serious R&R. Think: campfires and s'mores, long hikes, refreshing waters and dark, starry nights.
Your camping options are seemingly endless in Yellowstone Country. Whether you prefer lakeside, riverside or to be as remote as possible, there isn't a bad spot to be found. There's a lot to navigate, so we're giving you the lay of the land. (Fair warning, you might get hooked!)
Campsites fill up quickly, so plan ahead.
Yellowstone has 12 campgrounds with over 2,000 campsites. There are also over 300
primitive backcountry sites
(permit needed). Five campgrounds will take reservations through
Yellowstone National Park Lodges
, but the rest are first come, first served. Sites generally fill up by early morning, so you've got to be on your toes! As they say, the early bird gets the worm.
Montana State Parks
There are two state parks in Yellowstone Country,
Cooney State Park
and
Missouri Headwaters State Park
. The terrain is vastly different between the two parks, but the experience is wonderful at both.
Cooney Reservoir is a popular place for motor sports, as well as walleye and trout fishing. Camping lakeside? Yes, please!
Missouri Headwaters encompasses the confluence of the Jefferson, Madison and Gallatin rivers and is one of the camping locations from the Lewis and Clark Expedition. Seventeen campsites and a tipi rental are available. Recreation is varied, from fishing and floating in the river, to bike trails, walking trails, interpretive displays and a summer speaker series every Saturday at 7 p.m.
National Forests
Custer Gallatin National Forest
, bordering Yellowstone National Park, spans more than 3 million acres from West Yellowstone to South Dakota. Neighboring the Absaroka-Beartooth Wilderness and the Lee Metcalf Wilderness, the mountains seemingly never end! This national forest is home to the tallest peak in Montana, Granite Peak, at 12,808 feet. For reservations, visit
recreation.gov.
Wilderness Areas
The National Wilderness Preservation System exists to protect our primitive wilderness. These areas must be left in their natural state, without development or disruption. Only non-motorized vehicles are allowed in designated wilderness areas. These spaces truly are the last best places.
The
Absaroka-Beartooth Wilderness
is at the juncture of two mountain ranges: the Absaroka, having volcanic origin, and the Beartooth, formed mainly from granite. The terrain is extremely rugged and picturesque, with hundreds of lakes, high plateaus and deep valleys formed by glaciers.
With 300 miles of trails and 28 trailheads, you won't run out of hiking options in the
Lee Metcalf Wilderness
. Wildlife is abundant here, including mountain goats and bighorn sheep, black bears and grizzly bears, moose, elk, cougars and wolves. Cutthroat, rainbow and brook trout can be found in the lakes and streams.
Be bear aware
—this is grizzly country!
For a real treat, rent one of multiple Forest Service cabins in the Custer Gallatin National Forest. These cabins were built in the 1920s and 1930s for use by Forest Service rangers. Some cabins have electricity, and all have either wood or electric stoves for heating and cooking. (None of them have indoor plumbing.) Some of the cabins are easily accessed from the road, or, for a more remote experience, reserve one that you have to hike to, (or ski or snowmobile to)!
Backcountry
Backpacking in the remote areas of Montana is uniquely special. The dark skies, bright stars and calming silence are surreal and relaxing. If you are new to backpacking, try a
guided tour
. If you're an experienced backpacker, your only problem will be deciding where to go!
There are numerous private campgrounds and RV parks throughout the region, from basic sites to those with various amenities, such as bike rentals and swimming pools. Some even have small grocery stores. For more information, go to
visityellowstonecountry.com
.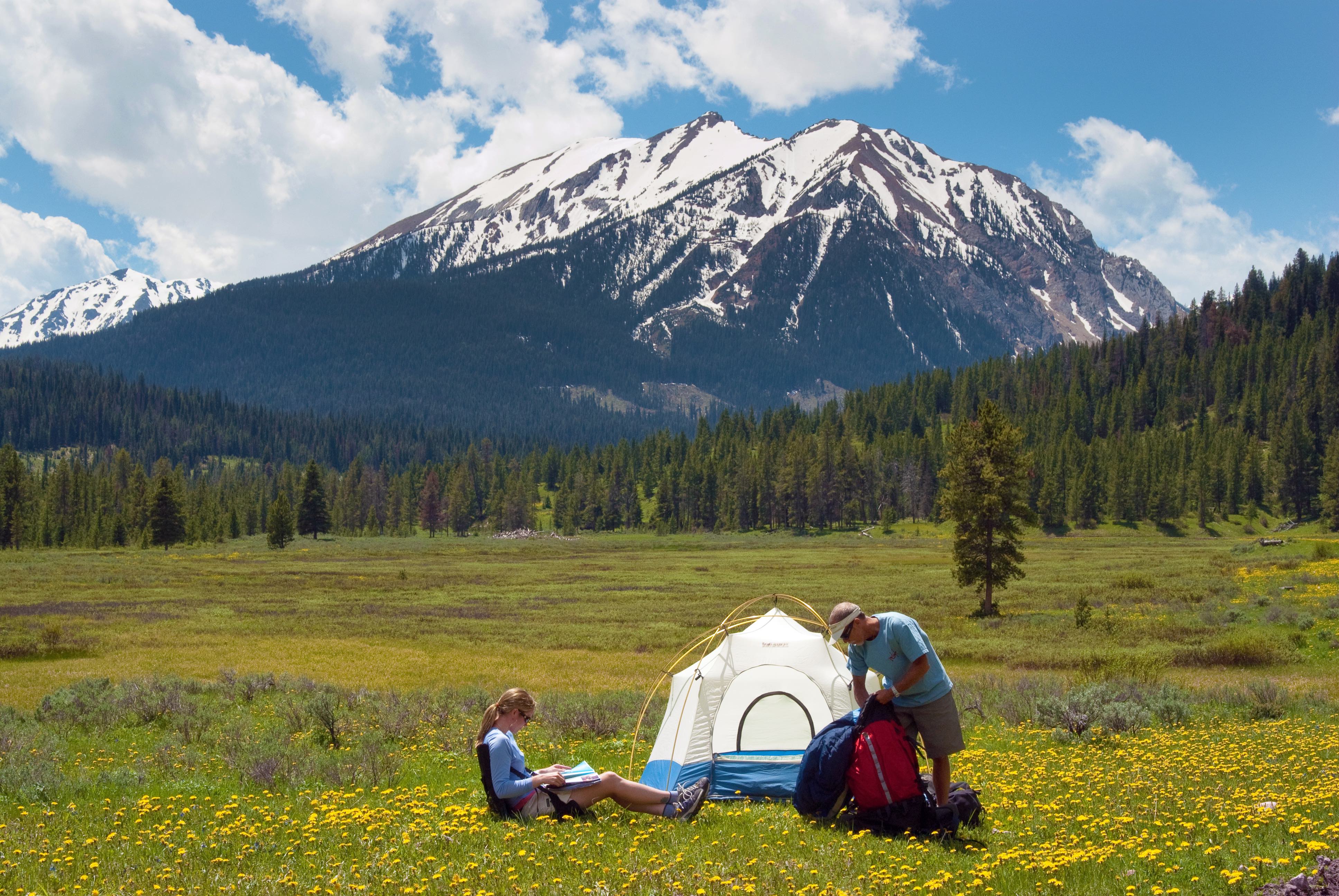 Camping, Gallatin National Forest near Big Sky