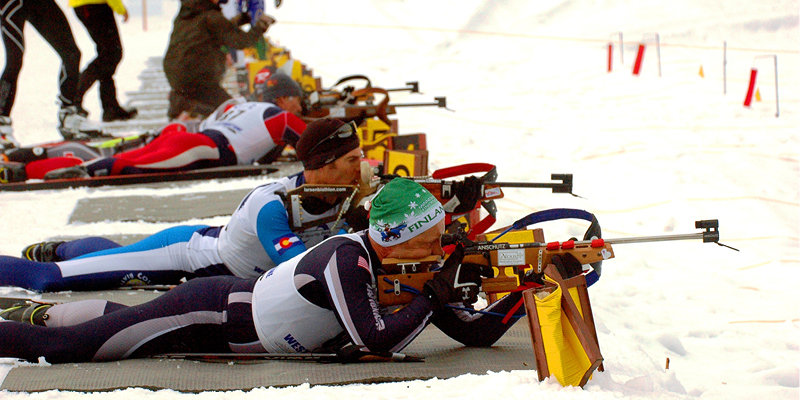 Photos courtesy West Yellowstone Chamber of Commerce
If you are unfamiliar, biathlon is a cross-country skate ski race coupled with target shooting. Racers, heart pumping, make loops around hilly courses, stopping to target shoot along the way. It's a game of endurance, strength, and skill. Dave Jesson, coach of the adult biathlon program at Crosscut Mountain Sports Center, says, "Biathlon has been described as a cross country ski race, where you get to stop and play something like a video game in the middle of it."
But the targets aren't virtual; they are actual, and going from a rigorous aerobic activity to a fine motor skill activity takes practice. "It's very visual," Jesson says, "The targets flip from black to white when you hit them; it's very obvious and very satisfying." If a competitor misses, they incur a 150-meter penalty loop. "Coming in, there is a lot of incentive to shoot quickly," Jesson says, but this could create more penalty loops, which takes about 30 seconds. So, you are always balancing trying to go fast with being sure you're accurate. The fastest skier doesn't always win."
History of Biathlon
Biathlon didn't start as a sport. Originating in Norway and Finland, it was a means of national protection, playing a significant role in military life. In the late 1930s, the Finnish army, carrying rifles and outnumbered 10 to 1, routed the Russians from their border on skis. As a sport, the first known biathlon contests were held in Norway in the 1700s. Today, it is one of the most-watched sports in Europe, second only to soccer.
In the United States, interest is growing, but it has reached the level of Northern Europe, mainly due to the small number of facilities. There is only a handful here, and none are near significant metro areas. Instead, they are in places like Vermont, Maine, Lake Placid, Salt Lake City, Washington state, and Casper, WY. Yellowstone Country is proud to be home to two biathlon centers, Crosscut Mountain Sports Center, outside of Bozeman, and Rendezvous Ski Trails in West Yellowstone.
Biathlon in Yellowstone Country
Biathlon has been a part of Rendezvous Ski Area since the 1980s, undergoing several remodels and upgrades along the way. There are eight courses, and in the summer, they also host a mountain bike biathlon race. While Biathlon was always a part of the Bohart Ranch, today, what is now Crosscut Mountain Sports Center, has expanded the program to include youth, adult, and elite teams and a new range built for World Cup races. "It's a stadium designed to host some exciting biathlon events in the future," Jesson said. "It's as good as any in Europe or around the world." The new facility has 30 shooting lanes, electronic targets, and the system is lit so you can practice in the evenings. 
In West Yellowstone, program director Mark Sheppard creates several opportunities to try Biathlon. "In normal years, we would have a biathlon race once per month throughout the season," Sheppard says. "For any of our events, we invite people to do Biathlon who have never done it before. We give lessons and provide a safe place to learn to shoot." You can also buy a season or daily pass to the range, but you must reserve your time in advance. (More information can be found here.)
In Bozeman, the Crosscut course isn't open to the public due to the need for a safety officer to be present. Still, you can take individual or group lessons through their Nordic center for those wanting an introduction to the sport. In addition, Crosscut does offer two clinics during the season, one specifically for women and one open to anyone. 
Most years, the adult team at Crosscut has had more women than men. "Women tend to shoot better than men," Jesson says. "They have more fine motor skills and are less amped up. It's been a blast!"
Jesson explains it takes a long time to learn to ski well, plus managing your heart rate and learning to shoot quickly takes a long time. He says people tend to peak in biathlon in their late 20's to early '30s. After that, their skiing may slow down as people age, but their shooting generally improves.
"What I've enjoyed about coaching the adult team is people think it's fun," Jesson says. "Skate skiing is a lot of work, but you feel better after you have done it. Then to combine target shooting with one of the top aerobic activities in the world makes it plenty hard; it can be extremely satisfying."